Fast Fashion: What to Wear on Two Wheels
BY: Daphne Sidor |
Aug 16, 2013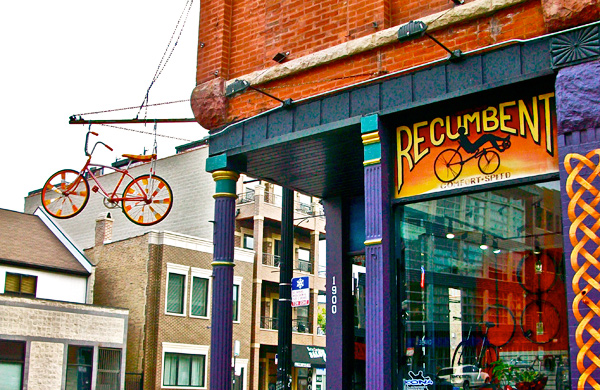 Although it may sometimes seem the majority of cycling wear is designed for the sinewy racing types who whiz past on the Lakefront trail, it's not all lycra, spandex, and reflective tape. In fact, several local bike shops carry clothes and accessories designed with the style-conscious commuter in mind. The next time you stop into one of these shops to fix a flat or replace a chain, take a closer look at the shelves—you'll spot plenty of apparel that's both comfortable and fashionable.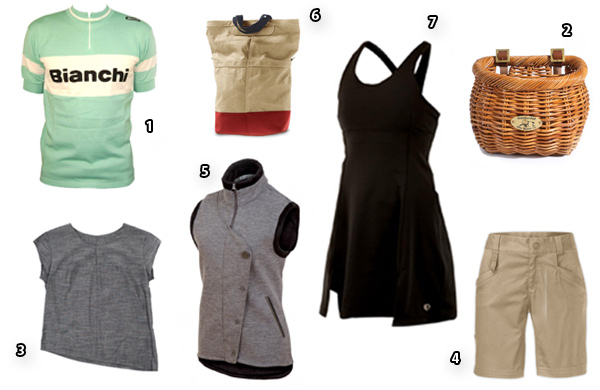 Boulevard Bikes
| Logan Square Planted in the heart of Logan Square for the past decade, Boulevard Bikes serves both athletes and everyday neighborhood riders. For a vintage, unusually adorable take on the cycling jersey, try on a limited-edition, Italian-made
Bianchi Celeste wool jersey
(1). The logo is rendered in nubbly stitching, the back pockets button shut, and the design could help you infiltrate the Bianchi racing squad of 1955. Alternatively, go for New England style with a woven rattan front basket from the
Nantucket Bike Basket Company
(2). When winter comes, hang it over a towel bar, bannister, or closet rail and you'll have a storage container that's fit for public display.
Heritage General Store
| Lakeview A softly lit nook at the back of the store holds shelves of boutique bike gear, some of it locally made. Before you get there, though, stop up front and grab a cup of exceedingly rich, creamy iced coffee to sip while you browse. Chicago-made Artless organic-cotton T-shirts with smartphone-size plaid pockets and
Rozik
slim-cut trousers are both designed for men, although Heritage carries small enough sizes that women might want to try their luck as well. The shop is also a rare Midwestern source for the
Iva Jean
line, including the
Daily Blouse
(3). The asymmetrical hem of the chambray shell both adds some edge and gives extra coverage when the wearer is bent over the handlebars. As for the
Cleverhood rain capes
, they prove that even a downpour doesn't need to cramp your style, marrying meticulous waterproofing to runway-ready design.
Kozy's Cyclery
| Avondale, Lakeview, River North, and South Loop Kozy's selection skews sporty, but it's extensive enough to harbor a number of flexible basics from national outdoor brands.
Hennepin twill shorts
(4) from the North Face add stretch, streamlined coverage and a special U-lock holster to a classic summer silhouette. For days that straddle the line between fall and summer weather, Pearl Izumi's
Beakay vest
(5) is built with asymmetrical curves, quirky hardware, and a plush, silky lining.
Rapid Transit Cycleshop
| Wicker Park and Pilsen Most of the floorspace here is dedicated to bikes and repairs, but one wall holds an especially well-curated selection of versatile biking bags. The
Linus Sac
(6) is a deep, preppy-styled tote bag that would look at home on the shoulder of a farmer's market shopper, or tossed onto the deck of a sailboat. Discreet clips on the back turn the waxed-canvas bag into an equally sleek pannier. Earth-toned
Po Campo
bags fit right in at the office or on a weekend getaway—plus, they're designed and made right in Chicago.
Roll
| Lincoln Park This Chicago newcomer is as sleek and spacious as you'd expect from its surroundings, a stretch of Clybourn stocked with upscale chain stores. (There's even enough room for indoor bike parking.) The racks hold a wide range of apparel for men and women. Guys can cruise in cowboy style with
Western-cut button-ups from Club Ride
, which look like standard streetwear until you examine the ultra-light wicking fabric, hidden zipper front, underarm vents, and pocket designed to securely hold a phone or iPod. For women, there's a bike-friendly take on the little black dress in Pearl Izumi's
Superstar cycling dress
(7), a versatile base layer that conceals a detachable liner and chamois shorts. To add a pop of color, try a brightly patterned
Electra basket liner
, which can transform into a wristlet once you put the kickstand down.
Photo: © Daphne Sidor, Groupon
BY: Daphne Sidor
When she's not busy writing, Daphne is an indie-pop musician, year-round bike commuter, and newbie gardener.