Fasten Your Safety Pins: Punk Fashion Hits the Met
BY: Mel Kassel |
Jun 23, 2014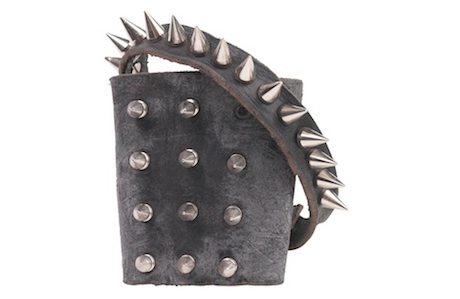 Andrew Bolton admits that he tried to spike his hair as a kid, but the look didn't suit him. "Whatever I did, I looked preppy," he told the
New Yorker
. Luckily, Bolton's fascination with the punk aesthetic would outlive this initial letdown. Bolton is now curating the Metropolitan Museum of Art's spring 2013 Costume Institute exhibition,
PUNK: Chaos to Couture
, opening May 9. Through more than 100 pieces spread across seven galleries, he hopes to celebrate a paradox: that a style centered around the anti-establishment movement would go on to inspire the heads of high fashion. To demonstrate punk's influence on the modern aesthetic, Bolton has juxtaposed pictures of punk icons—Johnny Rotten, Richard Hell, Joe Strummer—against glamorous shots of models in similar duds. On one side, Sid Vicious plucks his guitar wearing a torn tank top; on the other, a model poses in a black Chanel suit covered in jagged holes, the fabric intentionally destroyed by Karl Lagerfeld. The exhibition is set to feature several famous pieces, such as Zandra Rhodes's black rayon dress with beaded safety pins. Four of the galleries showcase punk's DIY foundation, with repurposed trash bags, zippers, and buckles arrayed on mannequins. The first three galleries, however, explore the history of the style, opening with a room that recalls the infamous club CBGB. For many, a museum replica is the closest they'll come to stepping foot inside the famous club and others like it. Both CBGB and Max's Kansas City, the favorite nightclub hangouts of Joey Ramone, are no more. But just because punk has infiltrated New York's museums doesn't mean its presence on the streets is dead. The punk aesthetic is still alive and well in plenty of venues, shops, and hangouts across the city, so plan a visit—ironically or otherwise—in preparation for a day at the Met:
John Varvatos, formerly CBGB
315 Bowery
The Ramones—and perhaps the entire punk movement—got their start at CBGB in the '70s. Today, a John Varvatos store pays homage to the building's history with graffiti-covered walls, vintage music for sale, and an industrial vibe. The tribute stops there, though, as a
leather jacket
will run you about $2,000.
Any Old Iron
149 Orchard St.
Any Old Iron calls itself a "music inspired menswear shop," and specializes in uniquely British designs. Though it might get you labeled as a "poseur," you could snag a
faux-distressed flag T-shirt
($357) by Vivienne Westwood, one of the first designers to start drawing from punk motifs in the 1970s.
Trash and Vaudeville
4 St. Marks Place
Ray Goodman has been catering to punk rockers in St. Marks since 1975. A frequenter of CBGB and other nearby clubs, he established Trash and Vaudeville as a way to honor the music he loved. Grab a
gold pyramid stud belt
($42) and a
matching cuff
($11) and keep your eyes peeled: Alice Cooper, Ryan Roxie, and other famous musicians have been known to drop in from time to time.
Mudhoney Hair Salon
148 Sullivan St.
The Misfits' skull logo hovers above the sink at Mudhoney Hair Salon, where stylists don't shy from bold colors and mohawks.
Time Out New York
says that your new do will "attract just as much attention as you want."
ABC No Rio
156 Rivington St.
ABC No Rio serves as a communal breeding ground for counterculture art. From poetry readings to film screenings, its events have historically promoted "positive outrage" and social justice. One loud expression of this mission occurs on Saturday afternoons, when independent punk and hardcore bands play all-ages
shows
.