GROUPON GUIDE TO NEW YORK
Favorite Present-Day Haunts of New York's Pioneers
BY: Courtney Ryan |
Apr 15, 2013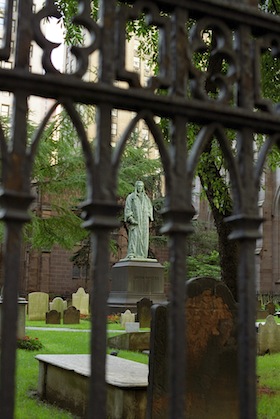 Even though they died about 200 years ago, it might not be too late to interact with some of the city's—and nation's—founding fathers. At least not according to the numerous accounts of paranormal activity throughout Manhattan, supposedly spurred by prominent historic figures. Take Aaron Burr, for example. Reports of his ghost go back to 1836, when New Yorkers first encountered his apparition in front of his former home on Wall Street. Since then he's turned into the city's ghost-about-town, stopping by the New York University campus where his stable once stood and dropping in on upscale meals at West Village bistro
One if By Land, Two if By Sea
—his former carriage house. Others say they have seen him forlornly wandering Battery Park, waiting for his daughter, whose ship disappeared when she was attempting to visit Burr in 1812. Elise Gainer, owner of
Ghosts, Murders, and Mayhem Walking Tours
, shares stories of paranormal encounters with historic figures such as Burr on her
blog
and in her forthcoming book,
Ghosts and Murders of Manhattan.
"There are two types of hauntings," Gainer explains. "Residual haunting and intelligent haunting." Intelligent haunting, she says, is when there is a consciousness present—when someone is "stuck" or has returned. It's when mediums claim they interact with a ghost, asking it questions or telling it to go away. Residual haunting, on the other hand, is when a traumatic or powerful event has occurred and the "emotional energy of that event becomes the fabric of that space." One such event occurred at
Fraunces Tavern
in Lower Manhattan when, on December 4, 1783, George Washington held a farewell luncheon for the executive officers of his Continental Army in the tavern's
Long Room
. As he tearfully bid adieu to those who had served him, he famously declared, "With a heart full of love and gratitude I now take leave of you." Despite this proclamation, the spirit of the day never did take leave: patrons at Fraunces' have reported hearing the sentimental murmurs of voices, clinking of glasses, and even the crossing of swords. The residual emotion of the day lingers.
The Merchant's House
"We tell ghost stories because [we] would like to believe life continues after death and ghost stories point to life after death," says Gainer, who also feels paranormal events do not have to be negative. And she's not alone. The Merchant's House is often considered New York's most active site due to the frequency and consistency of reported occurrences. "We have never felt threatened," board member Anthony Bellov says of the ghosts allegedly haunting the mansion. "We talk to them, at times we ask them for help. … We feel like part of the family." That family would be the Tredwells, a dynasty that contributed to the merchant class that came to define New York as a premier city. Today, the Merchant's House Museum preserves the legacy of the Tredwell family by maintaining a nearly intact display of what the house looked like between 1835 and 1865. The authenticity of the atmosphere apparently fosters an ideal breeding ground for paranormal events. The first report arrived in October 1933, only a few months after the last resident of the home, Gertrude Tredwell, passed away, and the reports have continued until present day. Several neighbors and workers in the home spotted Gertrude chasing off rowdy kids from the front of the house that October, but witnesses have seen the family's patriarch, Seabury Tredwell, strolling the mansion's halls. Docents have made eye contact with servants at least 200 years old, objects seem to disappear only to reappear in a different room, and Mrs. Tredwell's bedroom is sometimes discovered to already have its lights out and windows shut before any staff could get to it at the end of the day. "It is possible that the Tredwells continue to exist in their world as we exist in ours," Bellov says of the strange activity. "Time is not linear."
Trinity Church Cemetery
Despite the Merchant House's status as the most haunted place in New York, Trinity Church Cemetery can probably claim the most historic ghosts, says
Amada Anderson
, a tour guide and intuitive for
Ghosts of New York
. Burr's political rival, Alexander Hamilton, has been glimpsed staring mournfully at his own grave, and Robert Fulton—inventor of the first commercial steamship—has been seen carrying a model ship and reportedly appears most often when New York Harbor is closed. Trinity is also linked to the strange accounts of Lord Cornbury, born Edward Hyde—the first British governor of New York. According to Elise Gainer, when Lord Cornbury arrived in New Amsterdam in 1702, he wasted no time cultivating a reputation for eccentricity. He encouraged men to touch his wife's ears, boasting of their "velvety softness." He arrived at a public assembly dressed as Queen Anne, claiming that the colonists deserved to see their queen. Shortly after Cornbury was removed from power due to scandal, a rumor began to circulate that a man dressed as woman had been tugging the ears of the Custom House's watchmen. Today, the
National Museum of the American Indian
is located within the US Custom House, and some of its visitors claim to have seen Lord Cornbury skipping away toward Trinity—perhaps in pursuit of his wife's grave or a new pair of velvety-soft ears to touch. Both Gainer and Anderson agree that there is no one reason a person or energy lingers past their lifetime, but perhaps Bellov's explanation for why the Tredwells remain in their earthly home can be applied to New York as a whole: "It's a beautiful place. They just couldn't leave."
Want to encounter more? Check out these other haunted spots:
Morris-Jumel Mansion | Washington Heights
Aaron Burr and George Washington are among the apparitions that haunt this beautifully preserved mansion.
St. Mark's Church in-the-Bowery | Lower East Side
This still-active church is home to Dutch Director-General Peter Stuyvesant's grave and, presumably, his ghost. The church bells reportedly ring when the church is empty and were even heard ringing the night of Abraham Lincoln's assassination, says Gainer.
Grand Central Terminal | Midtown
Franklin Roosevelt and financier August Belmont supposedly still visit this legendary terminal.
BY: Courtney Ryan
Guide Staff Writer
Courtney Ryan is a Chicago-based writer and Derrick Rose fan. She spends almost 100% of her time making or eating popcorn.