Feasting on Lobster Rolls
BY: FIONA COXE | 3.3.2014 |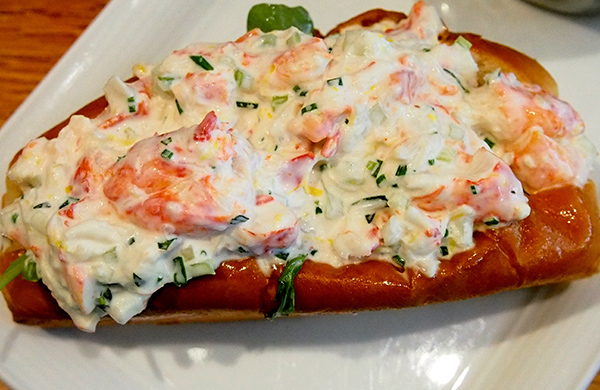 Lobster; simply say the word and almost immediately sighs of pleasure are audibly heard.  There is something about the sweet meat of this crustacean that makes us all giddy with excitement.  Served whole with a bib and shell crackers in a seaside village, or just the tail accompanying a perfect steak in the finest restaurant, or, perhaps best of all, casually tossed into a toasted hot dog bun for on the go meals- lobster is a much loved protein.  Of course, lobster isn't an everyday food.  Lobster is a luxury, however, it wasn't always that way. In the 18th and 19th centuries lobsters were so plentiful in the New England waters that they would wash ashore and form massive piles on the beaches.  They were known as a poor man's food, they were used as bait, as fertilizer, and routinely served to prisoners.  It wasn't until the mid 1800's that people began to see the greatness of the lobster and began eating it as a delicacy.  By World War II, lobster had become a hot commodity and prices skyrocketed.
Today, Lobster prices keep its status as a special treat, however there are no shortages of great spots to indulge in a decadent lobster roll around Boston. We make them in both the traditional style (lobster meat tossed with just drawn butter and served warm) and in the state of Maine's signature style which uses mayonnaise and chilled meat.  Both varieties are plentiful, and luckily Boston knows how to make an appropriate lobster roll - which means each roll is packed to the gills with fresh lobster meat.
Kicking off the Maine-style lobster rolls is James Hook and Co., a lobster and seafood shipping company that opened its doors in 1925.  Primarily a lobster distributer, the Hook ships its lobsters all over the US, both in wholesale and to individuals through their online store.  The real treat of the James Hook, however, lies in its walk-in storefront/counter service restaurant.  Sitting right on the Harborwalk, at the gateway to Boston's newly redeveloped Seaport district, the unassuming structure is easily missed. However those who find it are treated to bowls of fresh chowder, select entrée options, such as lobster mac and cheese, and, above all else, lobster rolls made to order.  There isn't anything "fancy" about this roll, a simple top opened hot dog roll, toasted or not (customers preference) and then stuffed full of huge hunks of lobster meat dressed lightly with mayonnaise alone. Take it to go, and enjoy on the gorgeous harborwalk, it's a perfect Boston meal.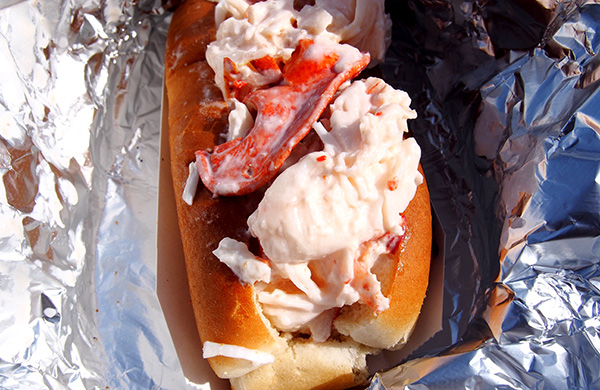 Further into the Seaport area there sit two more spots to feast on lobster rolls, the newly opened Row 34, and Yankee Lobster which has been in operation both in wholesale and retail since 1950.  Row 34 is owned by the management team behind Island Creek Oyster Bar in Kenmore Square and Lineage in Brookline.  This means that chef Jeremy Sewall has once again reached out to his cousin, the lobster fisherman, to source fresh lobster every day.  They have a few lobster rolls on the menu, and encompass both the traditional and the Maine style, and both come in the standard top split hot dog roll, lightly buttered and grilled to perfection.  Yankee Lobster creates their roll in the Maine style, chilled lobster meat spilling from the bun, dressed with mayonnaise and then enhanced with just a bit of celery and seasoning.  Yankee Lobster is a very low key restaurant, with their wholesale operation in the back, and their location directly on the water in the seaport district.  Eating here is like taking a step back in time when the area was full of seafood processing facilities, and before the fancy new spots moved in.  It's no frills approach is often referred to as "real Boston", and is definitely one for the books.
The most talked about lobster roll in Boston however is served at a tiny restaurant in the North End known as Neptune Oyster.  The wait for a table can be quite long, however their roll, served in either variety is well worth it.  My preference here is their warm traditional roll.  This decadent feast can only be eaten with a fork and knife as it is far too large to handle otherwise.  My favorite thing to do, wander in here at an off time in the afternoon, dine on an enormous lobster roll with its accompanying French fries and sip a class of something sparkling.  That is a truly perfect meal.
While lobsters may not be as readily available as they once were, no matter your preference for lobster rolls, you won't be disappointed in Boston.  They are made throughout the city, each in their own signature way, and are sure to satisfy!
BY: Fiona Coxe
A Boston Food Diary
Fiona is a free-lance food writer living in the city of Boston.  Born with an extreme love of food, she put her passion to paper in 2008 with the creation of her own blog, A Boston Food Diary.  It began as a way to keep track of her own kitchen adventures, and record her dining experiences in and around Boston.  Since its inception, A Boston Food Diary, showcasing its extreme love of both food and the city of Boston, has become a well-known resource for both the people of Boston and visitors to the city.  Fiona has also written for various publications around the city, as well as spot pieces for national publications.