Fight the Winter Blues with Seven Nights of Blues (and Jazz)
BY: EMILY WACHOWIAK | 1.7.2014 |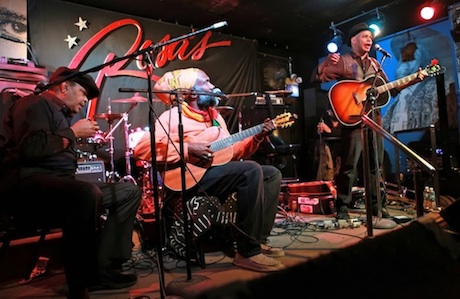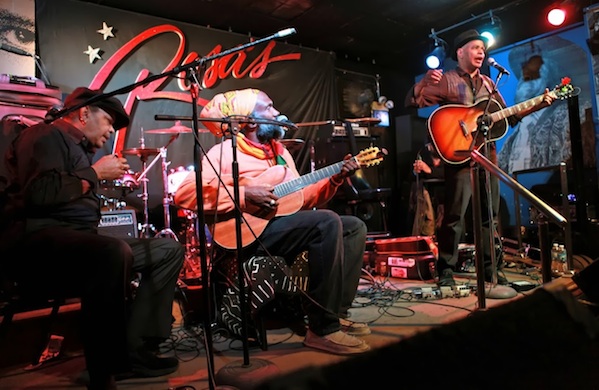 An inevitable blanket of gray settles over Chicago come January. It's the slush on the sidewalk, the caked dirt on the CTA buses, and the dull, snowy sky with no end in sight. Though it's tempting to hole up inside a warm apartment for the next four months, it may be more comforting to seek out others who share and understand your pain.
Each night, in dimly lit bars across the city, some of Chicago's finest musicians take the stage to croon about lonely nights, lost lovers from the other side of town, and Ventra cards that never seem to work at rush hour. The soulful strains of blues are alive and well in Chicago, as are the frenetic beats of jazz. As this seven-day itinerary shows, the winter doldrums are no match for the city's musical heart.
Monday, January 13 | Pistol Pete at B.L.U.E.S. on Halsted (2519 N. Halsted St.)
Shake off the painful start of another work week at B.L.U.E.S., where guitarist Pistol Pete has earned comparisons to the legendary Jimi Hendrix. Though flattering, these comparisons don't come out of nowhere. Pete actually opened for Hendrix's original Band of Gypsies—not to mention Buddy Guy, Cheap Trick, and Blues Traveler. Elbow room is usually in high demand at this notoriously packed Lincoln Park venue, but weeknight shows tend to draw a more intimate crowd. In any case, Pete's masterful guitar work and onstage stunts (such as chugging an entire beer while playing) will likely draw you toward the front. (9:30 p.m. Tickets: $5. This Groupon can get you in the door with two included drinks.)
Tuesday, January 14 | Jasmine Kwong Presents Kids In Danger Fundraiser at Jazz Showcase (806 S. Plymouth Ct.)
If there's anything that will make you forget it's only Tuesday, it's a booze-soaked birthday party at Jazz Showcase. The lovely Jasmine Kwong is turning 30, and she's celebrating the milestone by hosting a jazz-themed fundraiser for Kids In Danger, an organization dedicated to improving the safety of children's products. A five-person ensemble will fill the 67-year-old South Loop club with the sounds of jazz vocals backed by sax, piano, drums, and bass. Don't feel too guilty when you order up another weeknight G&T—after all, it's for a good cause. (7 p.m. Tickets: $30+)
Wednesday, January 15 | Sugar Blue Unplugged at Rosa's Lounge (3420 W. Armitage Ave.)
By Wednesday, you'll be in need of some quiet time (and probably a little hair of the dog). This Logan Square blues joint delivers with an all-acoustic set of mellow blues and jazz. The soulful harmonica wailings of Sugar Blue—who has shared the stage with Prince, Bob Dylan, and the Rolling Stones—blend seamlessly with the chords of guitarist Harry Hmura as the duo runs through a set list of original and classic tunes. (9 p.m. Tickets: $8–$10)
Thursday, January 16 | Buddy Guy with the Mike Wheeler Band at Buddy Guy's Legends (700 S. Wabash Ave.)
If 77-year-old Buddy Guy can jam past midnight on a weeknight, so can you. When he's in town, the six-time Grammy Award–winning guitarist still takes the stage at his very own South Loop club to play electrifying classics and cuts off his 2013 album, Rhythm & Blues. You'll want to get there early to secure a prime spot from which to view this living legend, but that's okay because you can snack on fried Southern treats and catch opening acts as early as 5:30 p.m. (9 p.m. Tickets: $55)
Friday, January 17 | The "Flipside" Show with Chris Foreman at the Green Mill (4802 N. Broadway)
It's Friday, and your head's probably hurting (not to mention your wallet). Luckily, Chicago's oldest jazz venue has you covered. This free show highlights the swinging phrases and pedal-powered bass lines of Chris Foreman on the B-3 organ, and the Green Mill's strict "no talking" policy will help you savor every second of the music. It just so happens that we've included this trip on our list of suggested New Year's resolutions. (5 p.m. Free admission.)
Saturday, January 18 | Lonie Walker and her Big Bad Ass Company Band at Underground Wonder Bar (710 N. Clark St.)
Saturday is a good time to pay a visit to an old friend of Chicago's jazz scene. After spending her first 20 years cramped inside a miniscule Rush Street location, Lonie Walker moved her Wonder Bar to a more spacious Near North Side venue in 2011. The digs may be new, but Walker still reigns supreme over the stage. "Real Fun Music" is Wonder Bar's motto, and Walker more than lives up to it as she belts out Janis Joplin–style rock and jazz hits from behind her piano into the wee hours of the morning. (10:30 p.m. Tickets: $15. This Groupon gets you admission and drinks for up to four people.)
Sunday, January 19 | Sharon Lewis and Linsey Alexander at Kingston Mines (2548 N. Halsted St.)
Sunday's show completes our weeklong jazz fest with a trip back to Lincoln Park. Sharon Lewis's raw blues vocals and Linsey Alexander's soulful guitar vie for attention on Kingston Mines' two historic stages. Taking in the tunes, audiences rev up for another week with wings and Cajun cooking at Doc's Rib Joint. (Sharon Lewis starts at 9:30 p.m.; Linsey Alexander starts at 10:30 p.m. Tickets: $12, or free before 8:30 p.m.)
Photo courtesy of Rosa's Lounge.
BY: Emily Wachowiak
Guide Staff Writer
Emily Wachowiak is a Chicago-based writer and editor.