Finally! A Brain That's Acceptable to Eat
BY: Katie Cortese |
Mar 29, 2013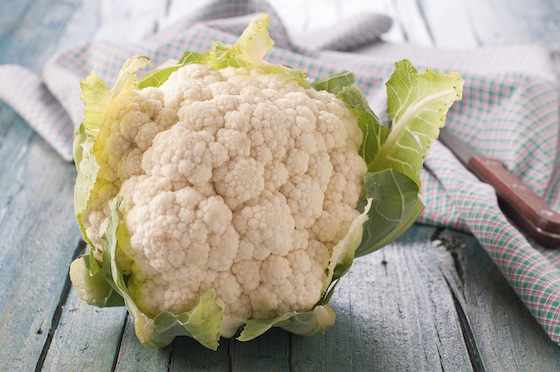 Some people think cauliflower resembles a brain. Others liken the cruciferous vegetable to a piece of coral. But pretty much everyone agrees that dumping the head into a pot of boiling water results in quite a shock to the nasal cavity—a repeated childhood experience Riley Huddleston remembers with a shudder. "As a kid, my mom would boil it, and it just stinks," the executive chef at
Prasino
in Wicker Park laments. "It makes the whole kitchen smell." Now that Chef Riley has grown up, his aversion to cauliflower has been replaced with a fond admiration of the veggie. "Cauliflower is so versatile," he says. "It has a mild flavor compared to other veggies and can go into anything from a stir-fry to pasta." So it is not a surprise that cauliflower finds itself inserted into a number of dishes on Prasino's menu. The eatery takes pride in its vast selection of organic veggies, as well as its hormone- and antibiotic-free meats and sustainable seafood. Chef Riley—a 10-year veteran in the industry—has created a simple cauliflower recipe that brings out the veggie's "sweet, earthy tone" and can easily be re-created at home.
Caramelized Cauliflower with a Lemon Parmesan Crust
What You Need:
1 head cauliflower 2 tablespoons olive oil 1 teaspoon honey ½ teaspoon salt ¼ teaspoon pepper ¼ cup grated parmesan Zest of 1 lemon
To easily veganize this recipe, substitute agave nectar for honey and vegan cheese for the parmesan.
What to Do:
1. Preheat oven to 375 degrees. 2. Wash the cauliflower. Slice vertically into ¼ inch slices and season with the salt and pepper. 3. Heat the oil in a sauté pan. 4. Add the honey and sliced cauliflower. Brown the cauliflower on one side for about 4 minutes over medium-high heat. Flip the cauliflower over, then add parmesan and lemon zest. 5. Place in the oven for 6 minutes. 6. Remove from the oven and dig into this gluten-free dish.
Chef Riley created this recipe as a simpler take on the cauliflower gratin on the menu at Prasino. Try the original recipe, which includes white cheddar and truffles, along with some of Chef Riley's other favorite dishes, such as buckwheat soba noodles ribboned around black cod, and a rubbed and grilled skirt steak with tomato jam.