Find a Piece of Old Chicago Along Grand Avenue's Design District
BY: Amelia Buzzell |
Aug 13, 2013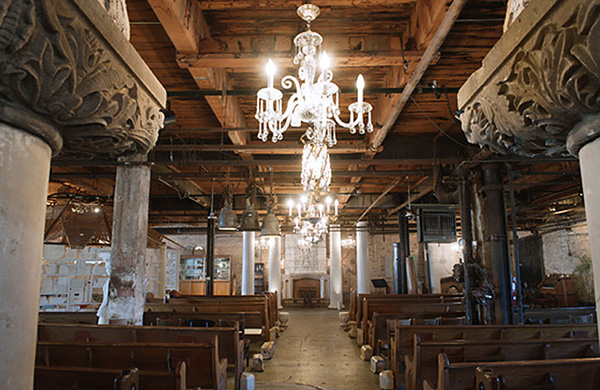 "You can't let stuff like this just get thrown away," says Salvage One buyer and manager Collin Hattaway as he admires his collection. The assemblage of treasures large and small includes factory molds, pressed-tin signs, archways, statues, and other curios rescued from estate sales, basements, and demolitions across the country. "People always ask me, 'Where do you find your stuff?'" Collin says. "And I just have to say, 'Wherever I can.'" Historical pieces large and small await new lives, not just in Collin's shop, but in many of the showrooms and warehouses that make up the
Grand Avenue Design District
. Here, shopkeepers and artisans employ new parts, new coats of paint, or just a simple polish to revive yesterday's treasures and preserve a little piece of the past.
Salvage One | 1840 W. Hubbard St.
On any given day, Collin's treasured neon sign—which was rescued from
Blue Chicago
jazz club—might cast its light over scores of brass doorknobs, columns from a federal bank, or a door with an imposing gargoyle-shaped knocker scooped from a former Lake Shore Drive mansion-turned-orphanage. The three-level, 60,000-square-foot former furniture factory also hosts more than 150 weddings and other events throughout the year, and was crowned the Best Place to Get Married by the
Chicago Reader
.
Aesthetic:
Time-machine chic
One of a Kind Find:
Flame Sculpture
, a handmade, torch-corrugated chandelier by famed Brutalist artist Tom Greene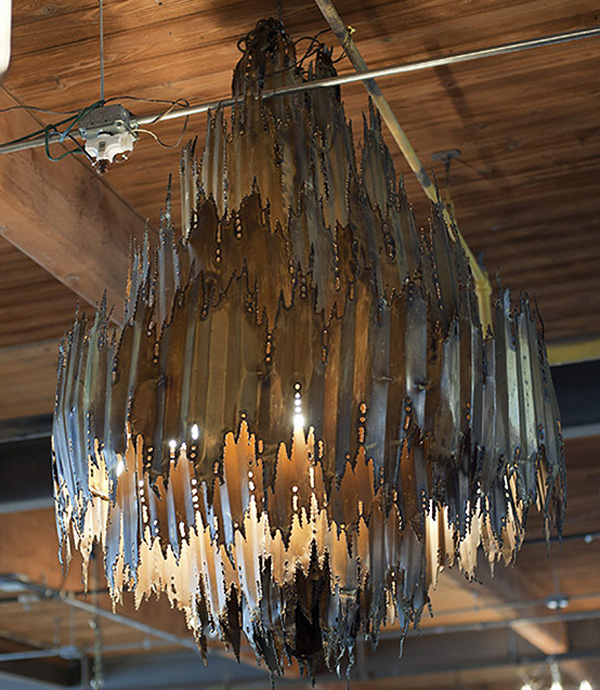 The Painted Lady | 1819 W. Grand Ave.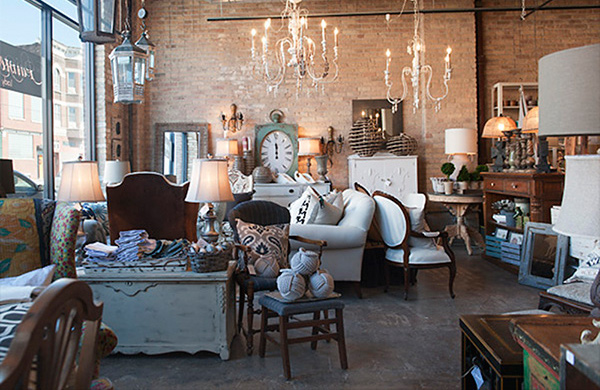 The Painted Lady dreams up a new, softer life for forgotten furniture from the 1920s.  Each dresser, buffet, and farm-style dining-room table is painted and distressed in-house for a shabby-chic look that complements the shop's collection of brightly upholstered wingback chairs, plush pillows screenprinted with the names of Chicago neighborhoods, and candles poured into jewel-toned crocks. You'll also find chic and unusual lighting choices, from chandeliers strung with wooden beads to industrial cage pendants whose chains are wrapped in soft muslin, as well as work by local artists painted on canvas or slabs of driftwood.
Aesthetic:
French provincial
One of a Kind Find:
Farm tables made from barn doors, stained or painted in the color of your choice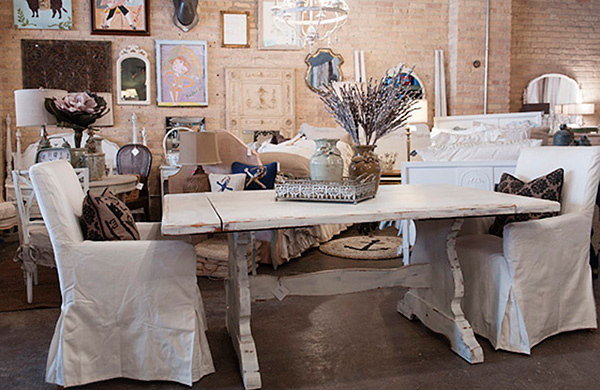 Urban Remains | 1818 W. Grand Ave. (showroom) & 1850 W. Grand Ave. (warehouse)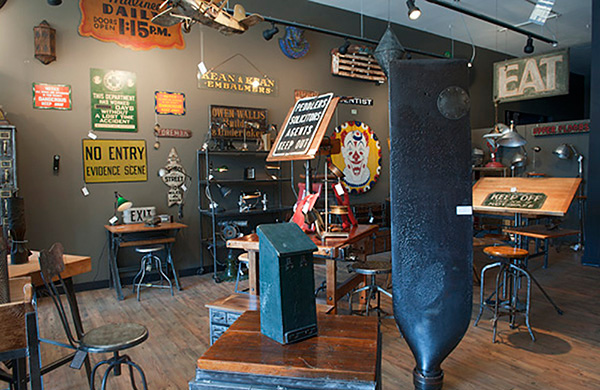 Victorian stained-glass windows
from a LaSalle Street mansion; an early 20th-century
factory lunch-hall table
; glass reproductions of tumors from medical schools of yore. They're all equally at home at Urban Remains, a store that collects industrial, architectural, and medical pieces from deep in Chicago's past. "We really try to choose pieces with a narrative," explains manager Brian Janusheske. His 10-person team also adds each item's backstory to the store's meticulously cataloged website, though a showroom staffer notes that people can find special significance in nearly anything. That includes sets of
bronze horse bookends
given to Chase executives in the 1940s: "People come in and say, 'Oh! My dad had these!'"
Aesthetic:
Edgy, urban, and nostalgic
One of a Kind Find:
Cast-aluminum Chicago Police call box, likely from the late 1800s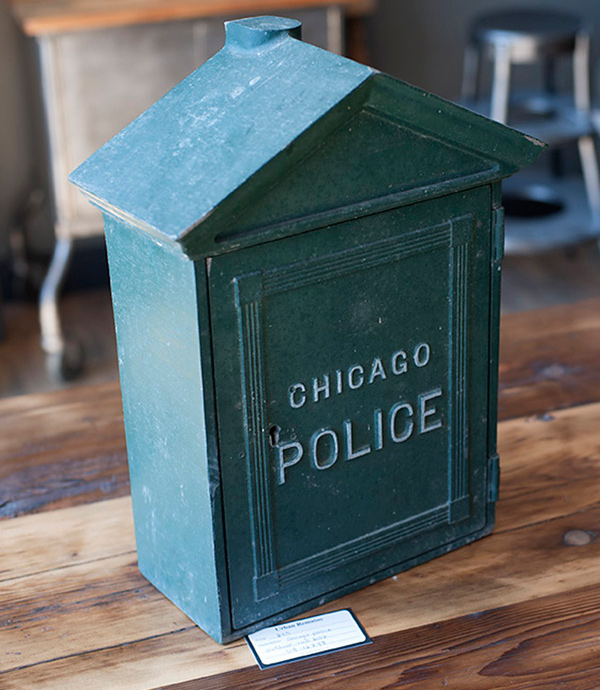 State Street Salvage | 2248 W. Grand Ave.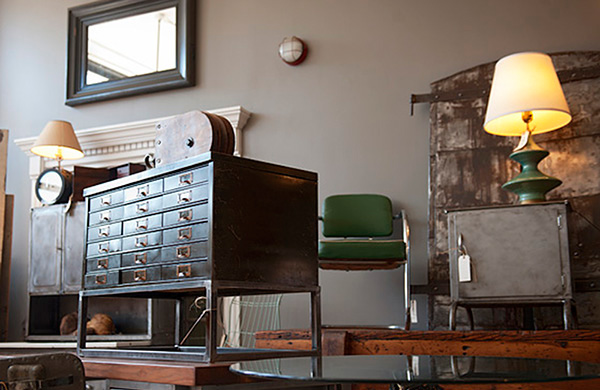 Years before industrial style became all the rage, 80 factory carts arrived at Kevin Hanley's family's store. "I broke down in a heap," Hanley says, as he wondered what to do with the carts, which quickly filled the store's back alley. He ultimately refurbished each cart by hand, with stylish techniques gleaned from his family's design business and a career with Tommy Hilfiger. After selling his carts at flea markets, he started seeing salvaged and industrial pieces everywhere he looked. "I couldn't shut it off, so I decided to start [my own] business," says Hanley, who's since turned pommel horses into adjustable kitchen islands and upgraded custom-built tabletops with food-safe finishes.
Aesthetic:
Industrial with a soft side
One of a Kind Find:
Tables made from the old floor of a South Side steel mill or bowling alley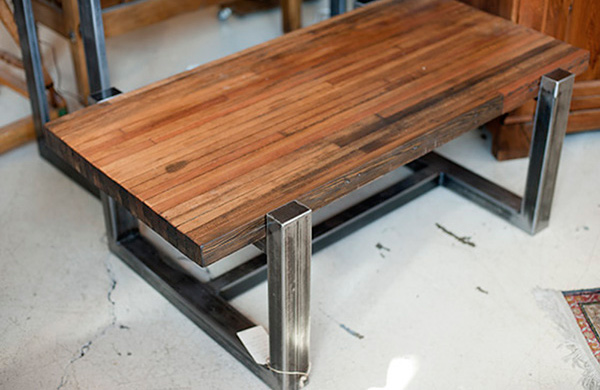 Photo: © Russell Augustine, Groupon
BY: Amelia Buzzell
Guide Staff Writer
Amelia is a Senior Writer who owns about 600 houses' worth of housewares. She daydreams about throwing parties and amassing more housewares.