Find an Umbrella That Fits Your Budget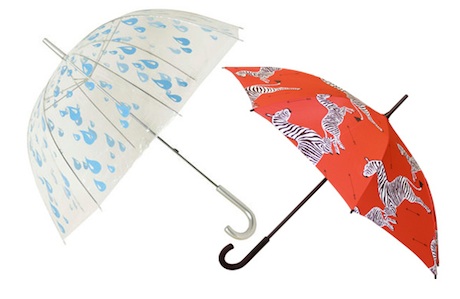 We were promised flowers. We were lied to. April has come and gone, and it's still raining. Luckily, we were able to distract ourselves with these cute umbrellas—one is printed like a daisy! We've included some lower price options, so you don't have to feel bad if you lose yours.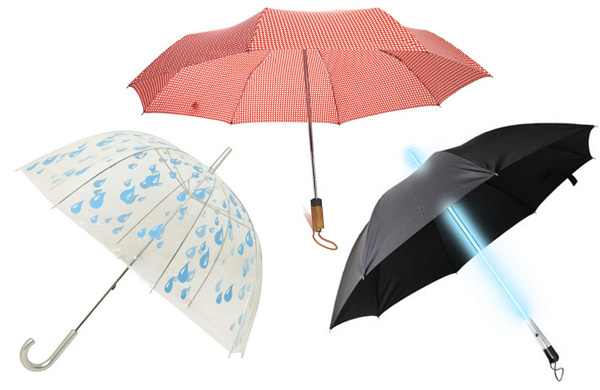 If You Need an Umbrella You Can Feel OK About Forgetting in a Cab
From left: Raindrops Keep Falling Umbrella (ModCloth; $29.99), Rainy-Day Umbrella in Tropical Coral (Madewell; $29.50), Blade Runner–Style LED Umbrella (ThinkGeek; $14.99)
Our pick: The LED umbrella from ThinkGeek is awesome but best appreciated in the dark (or the looming shadows of a cyberpunk city). For an all-purpose umbrella, we like Madewell's cheery coral one—it evokes a picnic blanket, even during storms.
Find umbrellas on Goods.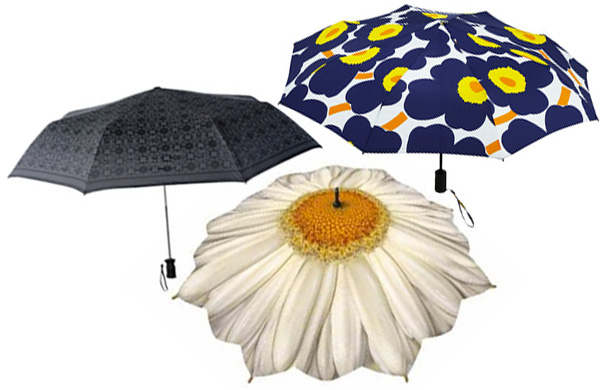 If You're Ready to Settle Down With a Nice, Mid-Price Umbrella
From left: Tibetan Armor Pattern Umbrella (The Metropolitan Museum of Art Store; $45), Daisy Flower Umbrella (Umbrella Heaven; $47.08), Pieni Unikko Auto Open & Close Umbrella (Marimekko; $69)
Our pick: Though daisies are sunny and that Marimekko print is timeless, the Tibetan Armor Pattern umbrella is a droplet deterrent and a conversation starter. Its designs come from the shaffron (a piece of armor that protects a horse's head) of a Tibetan horseman, most likely a commander of high rank, sometime between the 15th and 17th century.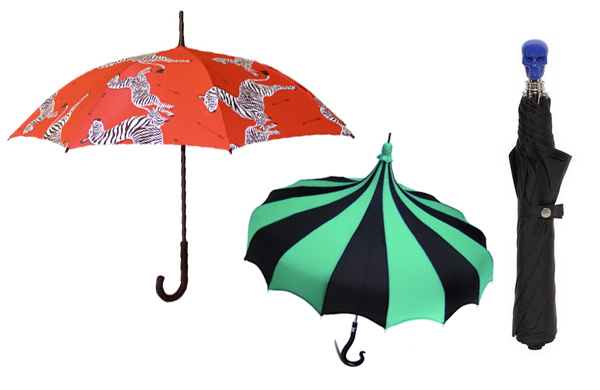 If You Want an Umbrella You Can Be Buried With
From left: Zebra in Masai Red Umbrella (Scalamandre; $95), Black & Aqua Pinwheel Pagoda Umbrella (Bella Umbrella; $188), Resin Skull Short Umbrella (Alexander McQueen; $565)
Our pick: If you have around $600 to drop on an umbrella, why not spring for an Alexander McQueen piece? Its skull handle lends it a subtle grinning gothic edge.