Find Your Perfect DIY Shampoo
BY: Jasmine Feldmann |
Jan 28, 2014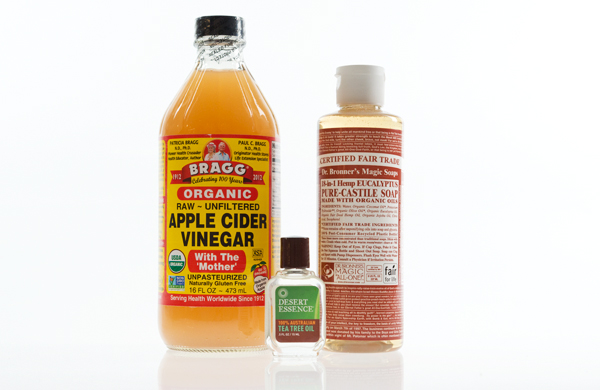 Ammonium laureth sulfate, dimethicone, glycol distearate. These substances might not sound familiar, but they're definitely household names. In fact, you might be slathering them into your hair every morning during your daily shampoo. But the scariest thing about these ingredients isn't their challenging pronunciations, but what they might be doing to your body. In response to concerns over these chemicals, enterprising beauty experts have taken to creating DIY shampoo recipes from a few simple, familiar ingredients. As someone who is concerned with not only my health, but the stylishness of my hair, I decided to try out a few DIY shampoo recipes and figure out what works in what situations.
THE EVERYDAY SHAMPOO
* 1 cup organic castile soap (such as Dr. Bronner's) * 2 tablespoons apple-cider vinegar * 1 tablespoon tea-tree oil * 1/4 cup water Though this recipe (found on
All Women Stalk
) may call for the most ingredients, including a bottle of Dr. Bronner's castile soap, it has the power of both effectiveness and daily use on its side. Though most people might consider using a pre-made soap a cheat, a look at the ingredient list shows it is really just a few oils with some preservatives and Vitamin E. When mixed with apple-cider vinegar, it gives hair a smooth, frizz-free shine, while the antibacterial properties of tea-tree oil combat hair issues such as dandruff and dry skin.
THE CLARIFYING SHAMPOO
If there is one thing I love, it's a dog. But if there were two things, it would be a dog and big hair. However, genetics has doomed me to fine, wavy locks that love lying flat against my head. But with a nice blow dryer and
Lush's Big Shampoo
, I can get a little closer to my giant hair dreams. Sadly, that tiny cup of body-building shampoo comes with a big price tag. Luckily, the folks at Domestic Bliss Squad were on the case, and created a
similar DIY formula
that has the same clarifying and volume-boosting properties as the comparable $27 Lush product…for about one-tenth of the cost. * 3 teaspoons sea salt * 2 tablespoons any shampoo (including the everyday shampoo above!) * 1 teaspoon coconut oil The salt works to remove buildup from other shampoos and hair products, but can be drying. That's where the coconut oil comes in—it rehydrates hair and gives it a sleek shine and a pleasant beachy smell. However, this shampoo can be a bit harsh for everyday use, and is better as a once-a-week option to give hair extra bounce. The rough texture of the salt shampoo might tempt you to add more oil. Don't. I did, and I had to re-shampoo my hair all over again to rid my scalp of the excess oil. It might not feel like your average liquid shampoo, but that one teaspoon of coconut oil is all you need to soften and hydrate your hair.
THE DRY SHAMPOO
For days when hair looks a little greasy, but otherwise great, dry shampoo is a godsend. The powders soak up oil along the scalp to give volume a boost and prevent roots from looking grungy. But dry shampoos can be expensive, and sometimes come with overpowering scents. This
recipe
from the blog Gimme Some Style has neither problem, and to make it, you'll need only a few scoops of products already in your house. * 1/2 cup baking soda * 1/2 cup cornstarch That's it. The two powders work to soak up grease when sprinkled directly onto roots or onto your favorite comb or brush. Note: the powder can leave a white, dusty residue when used on darker hair, but mixing in a bit of cocoa powder (or dark cocoa for very dark hair) allows it to blend in better.
BY: Jasmine Feldmann
Guide Staff Writer
Jasmine is a small-town Iowa girl makin' it in the biggish city. She loves thrifted dresses, pretending to be Mata Hari, Halloween, making her own extra-greasy lotions, sensible shoes, picnics in cemeteries, jet-setting around the world in coach class, and finding ways to incorporate more chilis into her life.