Finding Your Signature Scent at Aroma Workshop
BY: Daphne Sidor |
Sep 5, 2013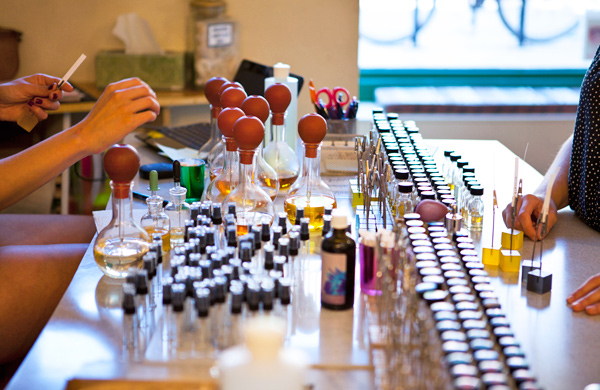 Thankfully, 2050 N. Halsted St. smells much better now than it did a century ago. In the 1890s, the tiny building was a horse stall used by the tavern next door. I learned this bit of trivia from the current tenant: perfumer and aromatherapist Tedd Neenan, who leads Aroma Workshop's team of olfactory experts in creating custom scents for personal wear and spaces in the home.
Although his knowledge of scents and their chemistry runs deep, Neenan hasn't been a perfumer his whole life. His first career was as a dancer in New York. It seems like a leap from there to here, but Neenan said he finds the satisfaction of blending a new scent not unlike that of performing a new dance piece: "I wanted whatever I did to incorporate some creativity. … Somebody walks in, has an experience, leaves with something [unique]—even if it's just a memory."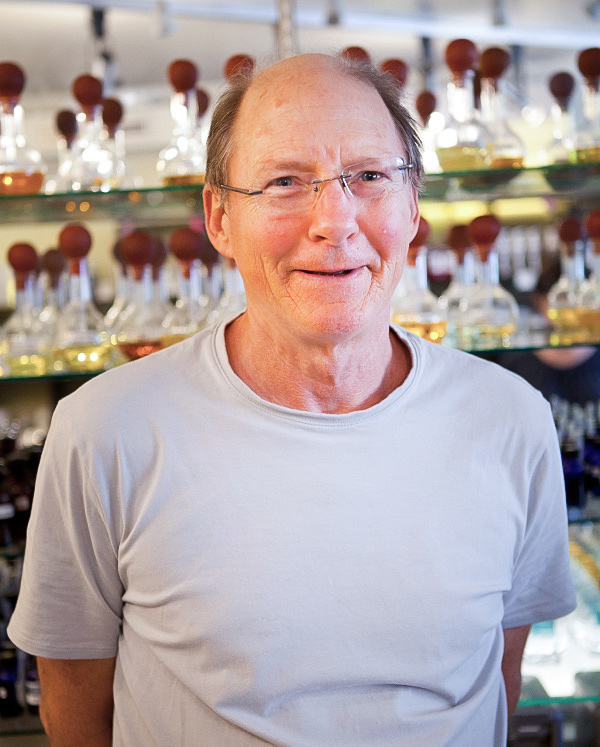 Aroma Workshop is indeed unique—there's nothing quite like its signature scent-creation experience for hundreds of miles around, making it a popular draw for men and women from all over the Midwest. The experience starts with taking a seat at the scent bar, where dozens of tiny jars of perfume oils await. (There's also a shaker full of coffee beans, a palate cleanser in case your nose becomes overwhelmed.) As you sniff, a perfumer watches patiently behind the counter, ready to offer advice or quietly exercise her powers of deduction.

"I'm guessing you're not really into vanilla, huh?" said my guide, Maria, when I had been sampling smells for just a few minutes. And it was true—I may have only ever owned one bottle of perfume in my life, but I know that too much vanilla makes me feel like I'm trapped inside a giant marshmallow.
As you browse, the perfumer sprinkles tiny strips of paper with combinations of the fragrances you've liked and set aside. Neenan has trained all his perfumers in the art of balancing different scents, and the knowledge they share makes it clear that—even if you had a hundred different perfume oils lying around—you couldn't do this at home. One thing I learn: part of the reason why vanilla is so common in commercial fragrances is that it's great at smoothing out harsher notes, such as the amber I'd chosen. And, despite my initial skepticism, the blends that included amber were much improved when Maria added a bit of vanilla to the mix.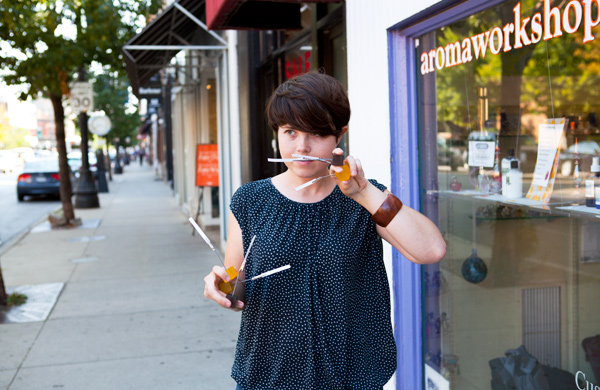 Once you've racked up an assortment of scented strips, the staff asks you to take them outside. This isn't done to get free advertising, though customers have been known to reach out to passersby for their opinion. Instead, it gives the fragrances room to breathe. Blends that had smelled too intense in the confines of the shop seemed much lighter and cleaner in the open air, so much so that a honeysuckle-centered combination I'd nearly written off indoors emerged as my new favorite.
When you've settled on a scent you want to call your own, it goes into a bottle and into Aroma Workshop's database. That doesn't mean you're stuck with only one, though. When I walked in, the customer whose session was just ending told me he had five scents on file and was having a new one made as a gift for his wife.
I loved the scent that I ended up with, but I did wonder whether, as a total newbie to perfume, I should have done something more to prepare. So, after my session, I spent some time chatting with Neenan to get his thoughts on the wide world of fragrance, and how to jump in.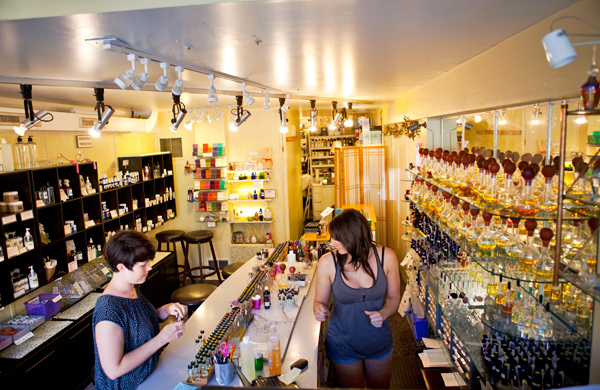 On Keeping an Open Mind
My fears of being underprepared were, as it turned out, unfounded. "If anything, they probably think too much," Neenan said of his customers with a laugh. "Sometimes people come in and go, 'Well, I want to do gardenia and vanilla!' Well, hang on there. You can certainly do that here. But we would like it to be an evolution where we show them, well, if you like gardenia, you might like this other scent called pikake."
Maria said that one of her proudest moments behind the counter was replicating a $400 bottle of perfume one customer brought in. However, she also noted that such results are far from typical. It tends to be far more fun to consider a fragrance you've known and loved as inspiration for something new—maybe even something that couldn't have existed when you bought your last bottle of cologne. "As perfumers, we like new ingredients," Neenan said. "With fragrance, you get things that didn't exist before. Organic chemists are coming up with, you know, the smell of sand."
On What's In Now
Although he's not into imitation, Neenan keeps close tabs on developments in the perfume world. Right now, he's noticed a trend toward bending familiar notes to create "a light patchouli or a clean kind of musk—things that remind you of skin, with maybe a little bit of smokiness in there." As for what his customers seek: "Everybody wants to smell clean. But they also want a twist on it; they want, like, a pomegranate or açai berry. … But they want the base to be something that makes them think of clean sheets or a fresh new shirt."
On the Quest for Perfection
"Sometimes people will come in, and they're going to make the perfect scent," Neenan said. "I mean, we would like it to be! And certainly we have people from the 1990s, they come in to get their fragrance again, and it's wonderful." For most people, however, Neenan recommends looking at your scent session as an opportunity to capture your mood at a given moment in time: "We want it to be successful, but it doesn't have to be the scent to kill all scents."
On Trusting the Pros
If you've never come across a perfume based on, say, mango and patchouli, there's probably a good reason. "We're on your side," Neenan said. "We aren't even going to let you make something that isn't compatible. We just won't show it to you. If somebody says to put together something that won't work, we will, but … maybe it'll disappear somewhere. It won't be what they get in the end. … Not everything goes with cucumber."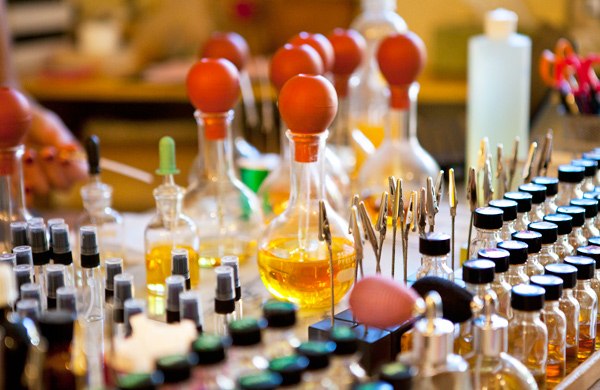 On the Poetics of Scent
The oils that go into your signature scent aren't the same ones that Neenan uses in his aromatherapy workshops; it's hard to create a blend of essential oils that's as stable and as balanced as what's available synthetically. But both kinds of fragrance can operate similarly on the mind. Lilac, for instance, "makes you feel like you're in a bigger space, so if you have a small room it'll make it feel less claustrophobic," Neenan said. "A lot of people have a good memory of lilac because it's always springtime. You know, school's out, the days are warmer. … When you scent something, it's either triggering your memory or, if it doesn't, you're laying down a new memory."
And the connection between humans, plants, and their aromas may go even deeper than that. It's something Neenan enjoys thinking about as he tracks fragrance trends and sources new oils for the shop. He ruminates on how little of the human genome actually sets us apart from other species: "All this other stuff, they don't even know what it does. But they have found that one of the things [on your genome] is the gene that makes flowers open up. It's certainly never turned on. There's no reason for it. But it's there."
Essential Information
When to go: Aroma Workshop is a tiny space—just three counter stations, with a fourth one in the works—and it tends to be booked solid on Saturdays and Sundays. If you want to come in on shorter notice, try making a weekday appointment.
The cost: Pricing starts at $19 for a small sample spray bottle of your signature scent and goes up to $60 for a 2-ounce old-fashioned perfume bottle, complete with pretty cloth-covered bulb. The blending experience is included in the price.
Other options: The staff can also help you create a scent for a room spray or spa mister. Calming, citrus, or spruce scents are often recommended for use around the home.
Photo: © Stephanie Bassos, Groupon
Shop Goods for discounted designer fragrances from Calvin Klein, Michael Kors, Marc Jacobs, and more.
BY: Daphne Sidor
When she's not busy writing, Daphne is an indie-pop musician, year-round bike commuter, and newbie gardener.