GROUPON GUIDE TO WASHINGTON-DC
Experts Show Us How to Snag the Most Common Freshwater Fish
BY: Courtney Ryan |
Oct 22, 2014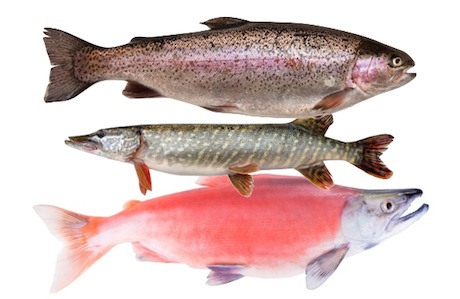 Despite its reputation for being a quiet, meditative activity, fishing can seem pretty intimidating if it's your first time out on the water. But sometimes just knowing the basics about a topic can lead to a deeper interest, so we talked to three expert fishing guides from across the country to learn a few simple facts about their preferred sport.
Check out these tips to learn when, where, and how to catch some of the most common freshwater fish. Chances are, you'll want to go out and try it for yourself.
Brown, Rainbow, and Cutthroat Trout
Rainbow trout.
Where to fish: These spotted fish can be found in rivers across the country, but they're especially common in Colorado, Montana, and Wyoming. "They're a coldwater fish, so you're looking for coldwater, mountainous areas," explains Jay Baichi, the owner and guide at 5280 Angler in Denver.
Best time to catch: Baichi loves fishing for trout in October, a month when the water tends to be low and clear. "The weather's mild and the fish are getting ready for winter, so they're eating," he explains.
Which bait to use: A fly, of course. But not the real kind—an artificial fly that tricks the fish into thinking it's a food source.
How to reel them in: "Presentation is the most important thing with any kind of fishing, especially fly fishing," Baichi says. "Even if you have the right flies, the right tackle, the right gear––it's all presentation." He often sees people throwing in too much or not enough line because they're so focused on catching the fish. The most important part, though, is working on "how to present the fly to the fish so they think it's real and want to eat it."
Walleye, Northern Pike, Bass, and Perch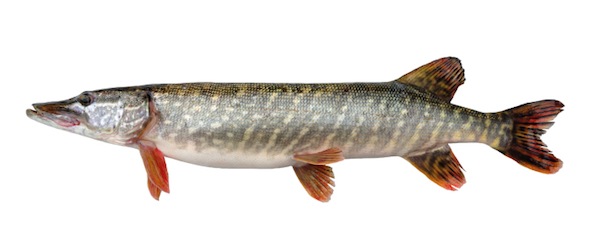 Northern pike.
Where to fish: Daron Stenvold is perhaps a little biased when he recommends Lake Mille Lacs in Isle, Minnesota. After all, his own outpost, Fishermen's Wharf Resort, is located there. Still, he makes a compelling case: it's the second largest lake in a state widely known for them. Also, it lacks a thermocline, meaning temperatures don't rapidly change from layer to layer within the water. "In the absence of a thermocline, walleyes and other fish species comfortably use the entire lake since it's well-oxygenated," Stenvold explains. This makes Mille Lacs a "prime spawning ground for billions of fish eggs."
Best time to catch: Stenvold recommends mid to late May, but he also loves fishing during the full moon in September and October. And Minnesota's chilly winter is a boon for some; the first three weeks in January are prime ice-fishing time.
Which bait to use: To catch walleye, Stenvold advises using red-hook live leeches in the summer and live sucker minnows in the winter (his secret is to drop them one foot off the bottom). For northern pike, "white, yellow, and chartreuse are great lure colors. Heavy in-line spinners or spinner bait is great to use along ledges," he says. If you're looking for an easier catch, "waxies, minnows, or worms work fine" for catching perch.
How to reel them in: Start by stalking weedy or rocky areas in the bays. When it comes to catching walleye, Stenvold has an extra pro tip: "Let them take your bait for a few seconds before setting your hook and dragging them in."
Salmon and Steelhead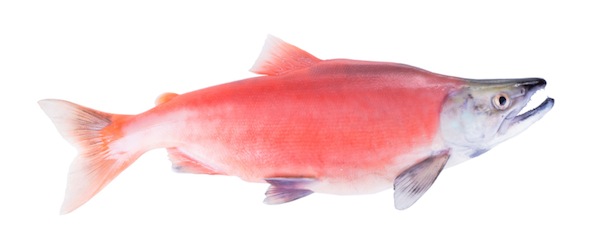 Kokanee salmon.
Where to fish: If you can't make it to Alaska, there's still hope in the Pacific Northwest. "The best place in the lower 48 to fish for salmon and steelhead is Forks, Washington," explains Justin Tenzler, the guide and owner of Olympic Peninsula Outfitters. He cheerfully refers to the region as "the last good stronghold for anadromous fish" (that is, fish that migrate up rivers to spawn).
Best time to catch: "Salmon begin their journey to their home rivers in late summer and early fall, peaking in October," Tenzler explains. "While steelhead will start to show in good numbers from January to April."
Which bait to use: Roe, especially if you're trying to catch steelhead—the fish's natural instinct is to kill other fish's eggs.
How to reel them in: Tenzler stresses patience over any tricks or special bait. "It takes a long time to learn the different skills and techniques," he says. "Taking notes, keeping a journal, and watching weather patterns will help you more than any flashy new lure."
Ready to try it out for yourself? Discover fishing deals in your city.
Shop Goods for fishing gear:
Read about more fall activities on the The Guide:
| | |
| --- | --- |
| | |
| 10 Reasons to Plan a Camping Trip This Fall | Five Underappreciated Hikes and Drives for Fall Colors |