Five Beauty Lessons I Learned from My Childhood BFF
BY: Favin the Maven |
Jun 18, 2014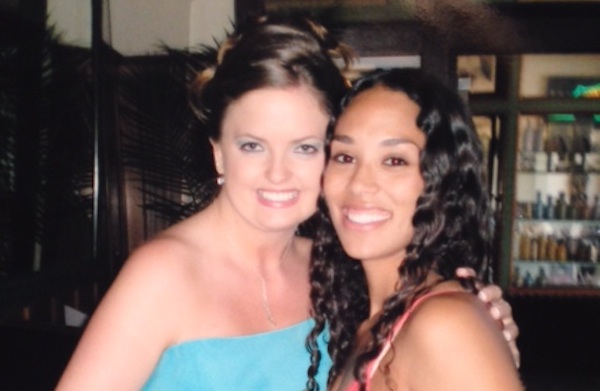 This weekend, I'm going to Phoenix to see my oldest friend, Katie, get married. She and I met when I was going into first grade and she was going into second. My family had just moved into the house two doors down from hers, and I first spotted her in her yard, playing with a doll. A
4-foot-tall
doll. It was friend-love at first sight. I figured with a doll that big, she must be really cool—and even though my logic was bad, I was right! For years after that, Katie and I did everything together. We painted rocks together. We started a band together. We even planned a dog wedding together, complete with a dog-veil—that's what's happening in the picture below. (The dogs are our dogs, and Katie is about to officiate.)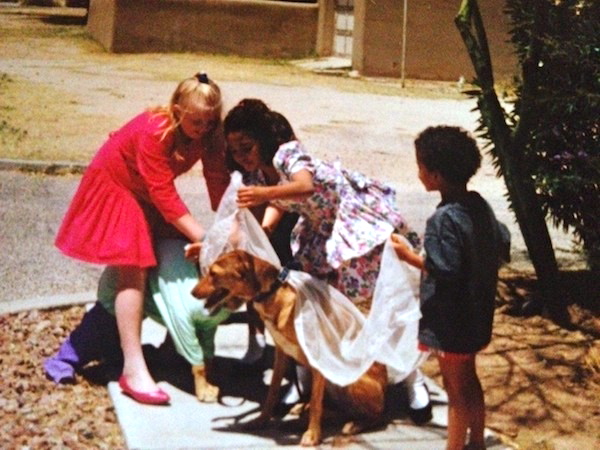 Most relevant to my blog, though, is that Katie taught me
everything
I knew about beauty growing up. Which isn't surprising, considering she loved playing with hair and makeup ever since she had that giant doll. "Already, I was a little beautician," said Katie when I called her to reminisce. "I was doing blue eye shadow on the doll, just making like she was one of our girlfriends." Here are the five best beauty lessons she taught me.
1. Some makeup shouldn't be shared.
When we were kids, Katie and I would dress as twins and sometimes that even included makeup. "We're a few shades different in skin color," Katie said, laughing, "but I would put your face powder on, and you would put [mine] on. And I curled my hair so I would have hair like yours." The powder didn't really suit me, though—especially when we wore matching cropped polos that suited basically no one. From those twin days, though, I learned the importance of wearing the right shade.
2. Beauty skills take practice.
One Christmas, Katie got a celebrity-caliber vanity. It had huge lights and a
ton
of makeup. I was so jealous. We used to spend so much time in front of it, looking at ourselves, putting on white eyeliner, checking our teeth. We also hung out with Katie's sister a lot, so the vanity was like our fourth friend. It seems like a waste of time now, and it kind of was—but we also got a
lot
better at doing our makeup!
3. Wearing makeup and crashing a basketball game isn't a great flirting technique.
In middle school, Katie and I had crushes on the boys who played basketball at the park across the street. When we saw them playing, we would put on full faces of makeup and walk our dogs near the court. The dogs would always bark and try to eat the ball and generally interrupt the game. We thought that those boys would fall madly in love with us, but I'm pretty sure they thought we were ruining their game.
4. Eye makeup makes a big difference.
"I'm all about eyes" has been Katie's unofficial motto since we were teens. (When I called her for this post, she confirmed that she was wearing shadow, liner,
and
mascara but hadn't reapplied her lip gloss all day.) Those words of wisdom will always linger in my mind, and they may have had something to do with my decision to get
permanent eyeliner
.
5. Life is easier when you embrace your natural hair texture.
"I [used to] blow-dry your hair and 'straighten' it," Katie remembered. She put blood, sweat, and tears (maybe just her sweat) into that process, but without product, my hair just turned into a frizzy mess. That was how I learned embracing my natural texture could make things a lot easier—especially in Tucson, where it's over 100 degrees and humid most summer days.
BY: Favin the Maven
For me, both beauty and fashion need to be accessible and not intimidating. I love a great deal and a good DIY beauty treatment. I pride myself on trying new trends, being open minded and getting a great treatment without breaking the bank. In the name of beauty I will try anything once.