Five Colorful Beaches You Haven't Heard Of
BY: Lisa Farver |
Apr 24, 2015

It's a familiar daydream: instead of sitting at your desk, you're sitting on a white-sand beach, basking in the sun with a tropical cocktail in hand. Imagine instead that you're building bright-green sand castles or digging your toes into sand streaked with lilac. Add an otherworldly tint to your daydream with this roundup of colorful beaches that offer something more than the typical white sand.
Red Beach | Santorini, Greece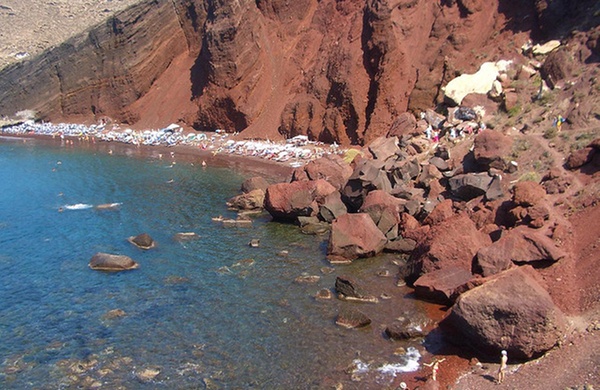 Where it is: A short hike from the ancient ruins of Akrotiri, on the southwest peninsula of the island of Thera
Why it's worth the trip: Jagged red cliffs frame the ruddy beach. You'd think you stepped on to Mars if it weren't for the bright-blue water; wade in and perch yourself on a big red boulder.
How it got that way: The colorful beach sand is formed from small pieces of red volcanic rock.
What's nearby: Examine ancient murals and pottery in Akrotiri, which was buried in volcanic ash for thousands of years, and savor fresh seafood at a local taverna.
Glass Beach | Fort Bragg, California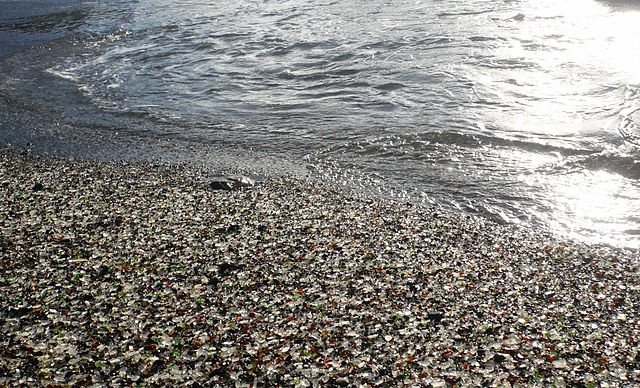 Where it is: 15 minutes north of Mendocino
Why it's worth the trip: The beach is covered with tiny green, white, red, and blue glass pebbles that glisten in the sun.
How it got that way: Until about 50 years ago, this colorful beach was a dumping site. Over time, the waves wore down the bits of discarded bottles—and even cars—into smooth, shiny pebbles called sea glass.
What's nearby: Head south along the Mendocino Coast to sample wine at eco-friendly vineyards, and then east to see some of the world's oldest redwood trees at Montgomery Woods State Reserve.
Papakolea Beach | Hawaii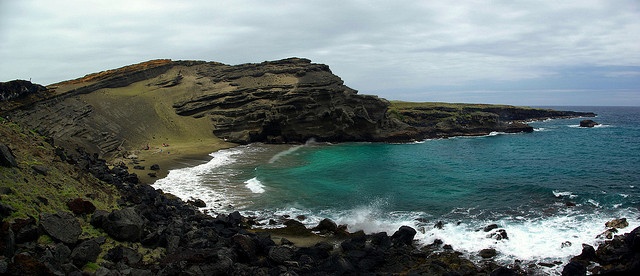 Where it is: The southern tip of Hawaii's Big Island. About 45 minutes south of Punaluu, one of the island's more famous colorful beaches.
Why it's worth the trip: From afar, the deep-green hills resemble something out of Ireland. Close up, you'll see that crystalline flecks of green sand blanket the shore.
How it got that way: About 50,0000 years ago, a volcano erupted off the coast. Lava full of the heavy green mineral known as olivine was swept onto the beaches.
What's nearby: Look for endangered birds at Ka'ū Forest Preserve to the north. Its trails are fringed by lush fern trees and tiny mountainside waterfalls.
Pink Sands Beach | Harbour Island, Bahamas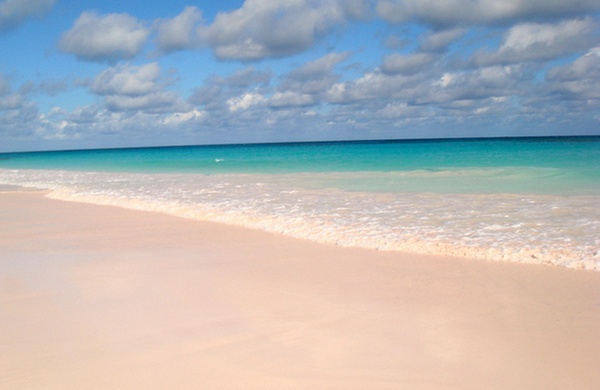 Where it is: Harbour Island's east coast
Why it's worth the trip: The Caribbean's turquoise waters lap up against a 3.5-mile stretch of cotton-candy-pink sand that's been touted as the "new St. Barts."
How it got that way: When the crimson shells of tiny marine life called foraminifera break down and mingle with bright-white sand, the result is a dazzling pink shoreline.
What's nearby: Snorkeling sites where you can swim through coral tunnels and over century-old sunken ships
Pfeiffer Beach | Big Sur, California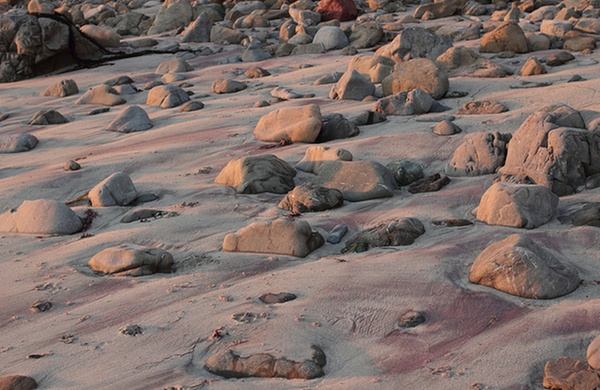 Where it is: California's Monterey Coast
Why it's worth the trip: The sand has enough shades of purple to rival the beach's best sunsets. Wander down to Pfeiffer Rock to watch the sun's rays beam through the arch-like formation.
How it got that way: Waves crash against Big Sur's seaside bluffs and bring back shards of manganese garnet that give the sand its lavender tint.
What's nearby: Hike in Pfeiffer Big Sur State Park to see fog hanging on redwood and willow trees that helped inspire Jack Kerouac's novel Big Sur.

Photos: Red beach, Thira by Mich973 under CC BY-SA 2.5 SI; Fort Bragg CA Glass Beach by Ellin Beltz under public domain; Green Sand Beach by David J Laporte under CC BY 2.0; Pink Sands Beach, Harbour Island, Bahamas by Mike's Birds under CC BY-SA 2.0; Mars by John Loo under CC BY 2.0
BY: Lisa Farver
Lisa is a travel writer who once drove from Chicago to Tybee Island in the middle of the night on a whim. In her spare time, she bakes cakes that resemble faces.