Five Finds: Art Meets Play at Rotofugi in Lincoln Park
BY: Rachel Matuch |
Mar 28, 2013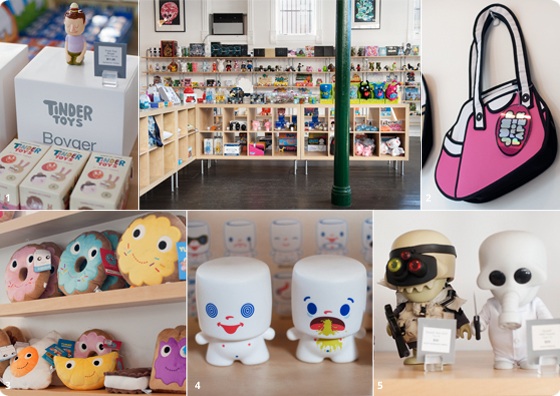 Cap'n Cornstarch looks a lot like a certain cereal mascot, except that his buttons seem about to burst off his bulging belly. The vinyl figurine, created by artist Ron English, is a critique of manipulative advertising. It's not your everyday toy, but the juxtaposition of art and play makes it fit in perfectly at
Rotofugi
, a designer toy boutique in Lincoln Park. "We focus on toys by artists and smaller, independent toy companies," says Kirby Kerr, who owns the shop with his wife, Whitney. "So a lot of what we're doing blurs the line between art and toy." Before discovering designer toys, Kirby and Whitney satisfied their passion for collecting with snow globes, lunchboxes, and cameras. But the toys tap into their other love for art—half the shop is a traditional art gallery—as well as their desire to help artists find commercial success. "It's just so hard for an artist to make a living," Kirby says. "It's just so undervalued." Here are five favorites from the Rotofugi shop:
1. Tinder Toys by Jeremy Tinder: $11.95
When the folks at Rotofugi really want to see a specific artist design a toy, they'll partner with Squibbles Ink to put things into production. These quirky Tinder Toys were designed by Jeremy Tinder, a Chicago-based artist and comic-book author, and produced by Squibbles Ink + Rotofugi.
2. Jump from Paper Bags: $79–$90
These bags look straight out of a cartoon with "highly stylized, thick black lines." Kirby says these are well-suited to carrying laptops, though the bottom does expand to fit more three-dimensional objects. The bags aren't toys, strictly speaking, but Kirby and Whitney love it when smaller companies come out with such artistic concepts.
3. Yummy Plushes: $7.95–$99
Kirby says these "adorably cute" treat-themed plushes, designed by artist Heidi Kenney for Kidrobot, are "quite popular with the 10–14 girl range, but it's not limited to that." "I always found the pancakes great," Kirby says, picking up a stack of smiling pancakes with butter pats for noses.
4. Toasted Marshall: $9.95+
"There's nothing to not like about it," Kirby declares. "He's a happy, cute little marshmallow boy."
5. Squadt Jack s003 [FORT BURNOUT-DSRT]: $95
"These are a really great example of what designer toys are about," Kirby says of the Squadt toys by Ferg. "It's a single artist who wanted to make things he liked," and due in part to his fan following, he found success. In April, Kirby's team will mix up their traditional gallery exhibitions with a pop-up store called Squadt Assembly. "You'll be able to choose from a range of limited-edition figures and accessories and build your own figures," he says.