Five Finds: Farmers'-Market Essentials at Evelyn Jane Boutique
BY: Rachel Matuch |
May 31, 2013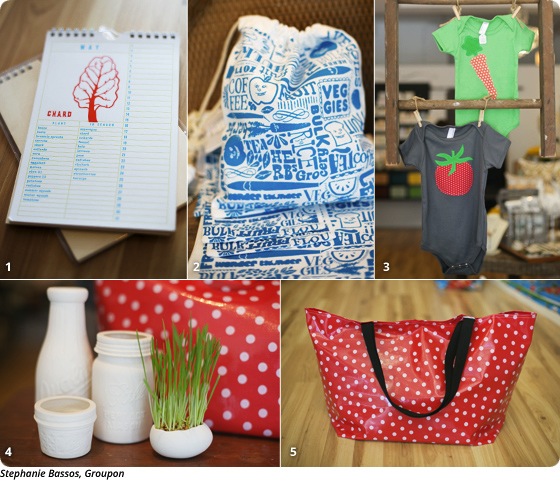 When
Evelyn Jane Boutique
opened in Downers Grove, Illinois, in early April, I was instantly smitten. It was beautiful, breezy, and smartly curated—especially for such a new, independent shop. When I came in to chat with owner Amy Brown, I discovered why: in addition to having a natural eye for handcrafted, artisan wares, Amy is fresh off a 16-year stint with
Crate & Barrel
. While her career with the chain was "wonderful," she also admits it wasn't her dream job. So after a summer hitting up Chicagoland arts-and-crafts markets, she opened Evelyn Jane, which is named to honor her grandmother. The shop is filled with unique, artfully made pieces ranging from women's accessories to home decor. Most items are from small producers, and some are even one of a kind. "I would say 85 to 95 percent is [handmade]," Amy says. "If it's not handmade, there's some kind of artisan quality to it." Evelyn Jane Boutique is just a block away from the Main Street train station where the weekly Downers Grove Farmers Market sets up shop each Saturday in summer, tempting locals with colorful produce, rows of handmade jewelry, and the heavenly aroma of fresh donuts made on the spot. Since she found herself a stone's throw from the action, Amy decided to join the fun by pulling together a collection of farmers'- market essentials.
1. Midwest Produce Calendar from Krank Press ($24)
Before you hit the market, consult this hand-letterpress-printed calendar, which pairs colorful prints with two columns: one for what you should plant that month and another for what's in season. A blank list with the days of the month helps gardeners keep track of when they planted what, and because the calendars are perpetual, they can be referenced year after year. Amy also suggests using them to do some in-season meal-planning for a dinner party.
2. Produce Bags from Wonder Thunder ($20 for three)
These screen-printed bags are made from organic cotton muslin, allowing them to be tossed into the washing machine for a quick cleanup in between trips to the farmers' market or grocery store. "It's great from an environmental standpoint and better for your produce," Amy says of the "breathable" bags. "Plastic just suffocates produce."
3. Farmers'-Market Onesies from Neemies ($24)
Amy doesn't normally stock baby items, but she asked Downers Grove artist Heather O'Donnell, the force behind Neemies, if she'd consider doing a special project for the collection. The result: these adorable American Apparel onesies hand-appliqued with delicious fruit and vegetable designs. Amy remembers one customer who bought two for her baby and said, "Now she has something to wear to the farmers market."
4. Porcelain Pieces from Revisions Design Studio ($10–32)
For market style at home, these pretty items are both useful and stylish. The vintage-inspired designs include a bottle made from the mold of an old Chicago brewery bottle and a votive candle holder that looks like a squat Ball jar. "The outside of it just glows when it's lit," Amy says of the dense, unglazed porcelain, which feels like glass to the touch. Another piece, shaped like a broken egg, also comes with the seeds to grow wheatgrass.
5. Oilcloth Bag ($20)
To carry everything home, grab one of these RBT bags, which are handmade in Georgia. "They're a good size for the farmers' market or the beach," Amy says. "And because they're oilcloth, they're easy to clean."