Five Finds: Spring Fashion at Comet Vintage in Pilsen
BY: Rachel Matuch |
Jun 25, 2013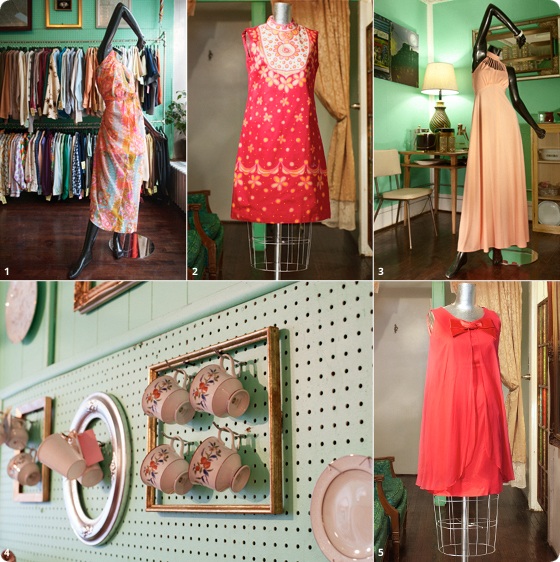 When I walk into
Comet Vintage
, I find Walter, the unofficial shop dog, gnawing on a discarded shoulder pad. Co-owner Jen Thomas confesses that, at the shop, they'll sometimes remove some of the more egregious pads from the clothing, but not because they've run out of chew toys. It's part of Comet Vintage's commitment to what Jen calls "modern vintage"—pieces that have the construction and durability of bygone eras, but also mesh with contemporary closets. "We're looking for pieces that are going to fit into your wardrobe now that are still vintage," she says. She and co-owner Jamie Roelofs met in the vintage business and "just had a really great flow," Jen says. Jamie, whose experience includes a position as fashion editor for
Jettison
magazine, handles a lot of the style and design decisions, while Jen channels her lifelong love of vintage and antique pieces. Today, they curate vintage clothing for men and women, as well as accessories, housewares, and even furniture. Here are a few of the staff's top picks to get your modern wardrobe vintage-ready for spring: 1. Jen admits that a yen for warmer weather is part of why she loves this
Saks Fifth Avenue dress from the mid-'60s ($45)
. "It's a good transition into summer," she says. 2. The staff picks up
Vera Neumann pieces
whenever they can. "She used to hand paint all of her prints," Jen says of the designer. "She would put her signature at the bottom like it was a work of art." Jen says this particular pattern was likely printed on, not painted on, and will be priced at $60 or higher. The bright colors and cheerful flowers make it a perfect summer shift. 3. "A lot of people like to shorten these maxi dresses, which makes them more wearable," Jen says. The staff has a tailor they recommend, who works "cheap—especially if you say you're coming from us," Jen says. Left long,
this melon-toned dress ($32)
would bring a touch of spring to a special occasion or fit with office-mandated Formal Fridays. 4. Jen and Jamie don't limit themselves to clothing. Almost everything inside is for sale, from the chandelier glowing above the changing rooms to shadowboxed butterflies they mounted themselves. Jen loves the
"mismatched" look of these mugs ($2+)
. 5. Jen loves this
Saba dress ($65) for the satin fitted bodice, the bow, and the chiffon flare top
. "It's just a beautiful design," she says. She estimates it to be from the '50s or early '60s.