Five Finds: The Boring Store Is Anything But
BY: MAE RICE | 5.1.2013 |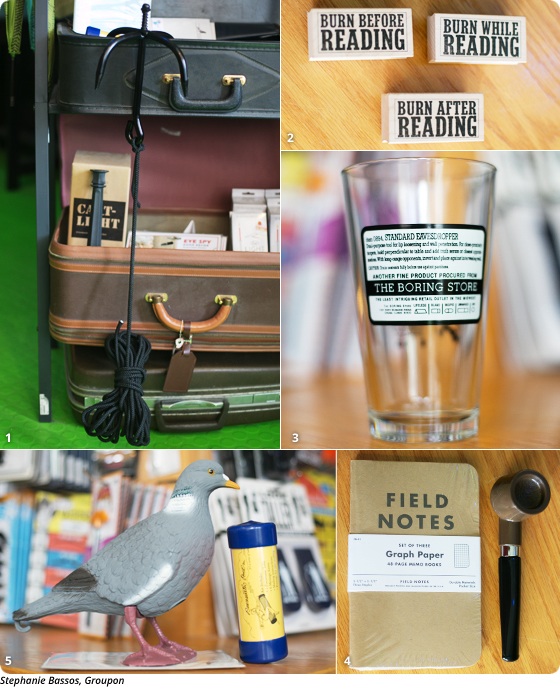 From the outside, The Boring Store isn't particularly inviting. Squint at the small gray font on the large awning and you'll discover the shop to be a purveyor of "characterless, dreary, banal, mundane, tiresome, and tedious merchandise." The awning, which was designed by celebrated cartoonist Chris Ware, insists the shop is "most certainly not a secret agent store."
The shop's name and curiously banal (and mundane, and tiresome, and tedious) exterior is, of course, just an elaborate cover for the secret-agent supply store inside. Once they make it past the network of security cameras at the front entrance, shoppers will find shelves lined with all manner of "items incognito," from invisible-ink pens to shaving-cream cans with secret compartments (perfect for hiding jewelry or dinosaur DNA). Confused? You aren't the only one. Store manager Molly Walsh says that often "people come in and are like, 'This place isn't boring! I don't get it!'"
To make matters even more confusing, the spy store itself is yet another cover. The Boring Store is actually the home base for 826CHI, a nonprofit writing-focused tutoring center for local kids, and all the proceeds from spy-gear sales go to fund the program. Of course, some of The Boring Store's merchandise betrays its affiliation with the literacy nonprofit. Sharing space with the false mustaches and spy glasses are a number of books and magazines, ranging from A Hologram for the King by 826 founder Dave Eggers, to Sunday Afternoon Hotdog Meal, a student-written guide to Chicago. That last one is stocked with "sometimes completely impractical advice," Molly says. "Like, 'you should get spaghetti at my grandma's house, that's where the best spaghetti in town is.'"
If you're currently considering a career in espionage (or just want to help a worthy cause), check out some of The Boring Store's top top-secret wares.
1. Grappling Hook ($34)
"We may be the only place in town where you can buy a grappling hook," Molly says. The hook is strong enough to hold the weight of an adult, and is only available to customers aged 18 and older.
2. Burn After Reading Stamp Set ($12)
This set of stamps—which read "Burn After Reading," "Burn While Reading," and "Burn Before Reading"—were originally for in-store use only, but customers liked them so much that the store began selling them, too.
3. "The Standard Eavesdropper" Glass ($8)
This house-brand glass is good for serving drinks—or as Molly puts it, "plying your target with truth serum"—but can also be used for eavesdropping. To overhear top-secret conversations, simply place the opening against a wall and press your ear against the bottom.
4. Pipe Pen ($7)
The pipe pen serves two purposes: it can disguise its owner as a sophisticated pipe-smoker, or help them sneak a pen into a place where pens are forbidden. "Apparently in the intelligence biz, you're not allowed to enter work with a pencil or paper," Molly notes. "All the work you do there can't leave with you...so we have a lot of disguised pencils and pens and stationery."
5. Messenger-Pigeon Letter-Writing Kit ($30)
"We're really pro analog, written correspondence...we're also obviously way pro pigeons," Molly says. This kit by the Letter Writers Alliance includes a set of stationery and a hollow messenger-pigeon statue; to use it, you write a note, stuff it in the pigeon, and slap on an address label and postage. The kit tells you how much postage is necessary, and the pigeon is reusable.
BY: Mae Rice
Guide Staff Writer
Mae Rice is a Groupon Guide staff writer who writes about eyelash extensions, French food, what "business casual" even means, and other style and food topics.