Five Finds: Waxes, Makeup, and Skincare Products at Trim
BY: Mae Rice |
Sep 13, 2013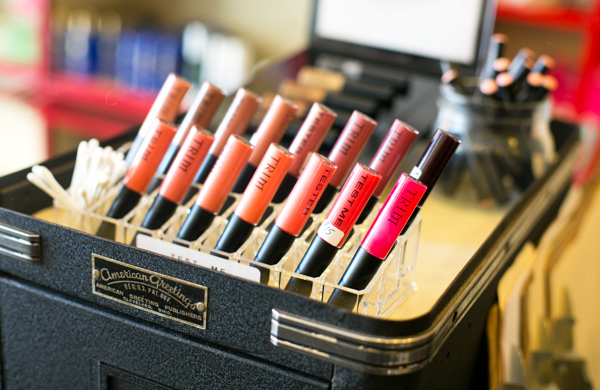 Trim
was founded seven years ago on a simple belief: waxing shouldn't be an afterthought. Instead, it should be an expertly administered step in your primping routine, one that's just as luxurious as any facial. According to general manager Bianca C., the waxing-only salon—the first of its kind in Chicago—gives hair removal the attention it deserves, all the while treating skin gently. For their delicate task, Trim's rigorously trained aestheticians use high-quality wax and secret hair-stripping techniques. They've also curated an impressive array of post-waxing skincare products, which they showcase at the front of their Lincoln Park and Bucktown salons alongside lingerie, makeup, and jewelry. Below are five products and waxes recommended by Bianca and the salon's communications manager, Mareva L.
1. Eyebrow shaping ($25)
Eyebrow shaping at Trim is an art form. During an initial consultation, the client explains her desired look, and the aesthetician recommends touches that will flatter the client's face shape. The aesthetician also measures the client's face, ensuring that waxed brows align precisely with the client's features. Occasionally, the aesthetician will even white-out hairs that she plans to remove, helping clients visualize the finished product. A dose of pencil, powder, or eyebrow tint finishes off newly manicured brows.
2. Brazilian wax ($55)
Trim's Brazilian waxing methods minimize pain and maximize efficiency. "It's science," Bianca explains—a science that the salon's aestheticians have studied extensively. They know the ideal strip size and pull angle, as well as special methods for holding skin taut. The wax itself enhances comfort, too. Typical Brazilians are done with soft wax, but Trim's aestheticians use a mix of soft and hard. The hard wax generally causes less pain, because "it doesn't adhere to the skin as much," Bianca says. The wax's high quality helps prevent ingrown hairs, and there's also a special hypoallergenic formula for clients with sensitive skin.
3. PFB Vanish ($15 for a small; $22 for a large)
Crafted by
PFB
, this roll-on treatment helps prevent ingrown hairs after a wax. The formula works as a chemical exfoliant, removing dead surface skin with a blend of acids and alcohol. It can be used on any area that you get waxed, from the bikini line to the armpits, and it also works as a post-shaving treatment. "We've had men that come in and get it for their face, men that tend to break out after shaving," Bianca says.
4. Trim Eyebrow Tints and Lip Gloss ($15 each)
The salon's eyebrow tints come in five colors, including a clear option, and serve as a convenient alternative to eyebrow penciling. Their color lasts all day, and their portable tubes fit in a purse for easy touchups. The high-shine lip glosses, meanwhile, plump and hydrate lips. Bianca vouches for their endurance, saying that they last "forever and ever."
5. Renude Body Serum ($22)
Trim's owner, Theodora K., designed the Renude skincare line herself. Though the Renude body scrub has been featured in
Time Out Chicago
, Bianca views the Renude body serum as the line's sleeper hit. The serum aims to prevent wrinkles on the body's most vulnerable areas—the neck and décolletage, for example—by boosting collagen production, thereby restoring the skin's elasticity. The paraben-free formula brims with natural ingredients such as sea algae, green tea, and clover extracts.
Photo: © Stephanie Bassos, Groupon