Five Handmade Gifts at Christkindlmarket
BY: Michelle Schuman |
Dec 9, 2013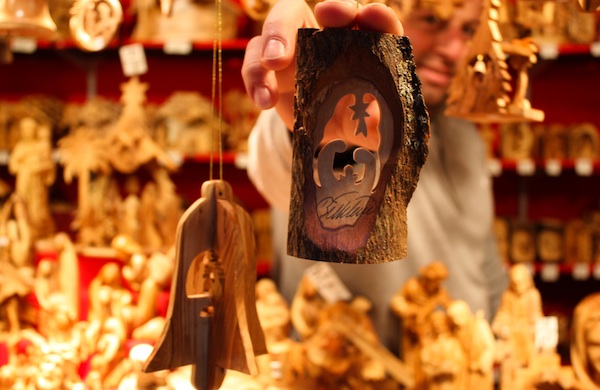 Two steps into Chicago's annual
Christkindlmarket
was all it took to get me excited about the holidays—a rarer and rarer feat these days as I stumble further into adulthood. Daley Plaza had again been transformed into a quaint little marketplace, all dressed up with bright lights, festive candy stripes, and a giant Christmas tree. The deep chimes of nearby church bells sang through the plaza. Were it not for the telltale honks of city drivers or the iconic Picasso statue slicing through the sky, you might've convinced me I'd traveled back in time, perhaps to Germany's first-ever Christkindlmarket in 1545. Bustling crowds of all ages jostled for better footing in front of tiny wooden storefronts, which were dressed in festive green garlands and strings of dazzling lights. Beneath their little peaked roofs, treasure troves of handmade goods from all over the world welcomed discovery. Besides the traditional German gifts—ornaments, engraved wood figurines, and of course the famous
Fehrenbach Black Forest
cuckoo clocks—there were also wool sweaters from Ireland, glass jewelry from Poland, and teas from Nepal. As I poked around the shops, carried effortlessly along in a current of sightseers, I nibbled away at a juicy bratwurst, wishing I'd stopped for the hot spiced wine…or the tasty-looking homemade strudels…or the sweet roasted almonds whose enticing scent permeated every corner of the outdoor market. There were just as many foreign foods as crafts, and shoppers were all too happy to pause for a quick bite to eat. And though it was nearly impossible to avoid the distractions of glittering, far-away objects or the alluring music of foreign tongues, a few items still managed to catch my eye.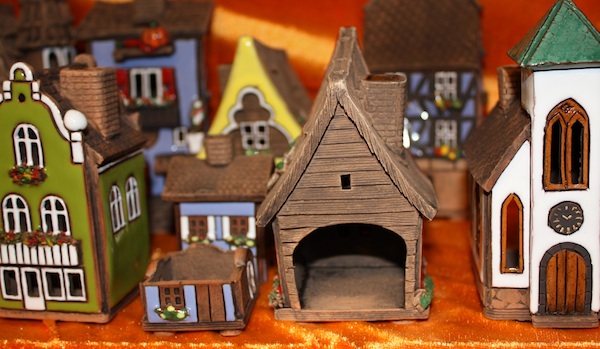 1. Handmade incense holders ($19) and tealight holders ($28–$45) from Georg's Winterzauber; Strullendorf, Germany
The colorful, ornate faces of these entirely handcrafted houses and churches peered out at me between the shoulders of curious shoppers. I was delighted when the kind shopkeep, William, began turning around the sturdy little structures and lifting the roofs off of others. The larger houses have an opening in back for a tealight candle—William explained that the light shines through the open windows, and that the chimneys should be filled with essential oils. The smallest houses, meanwhile, are too tiny for tealights. Instead, aromatic smoke from incense cones curl through their chimneys to freshen the air. "You'll see them everywhere in Lithuania," William commented as I marveled at the handiwork involved in each building.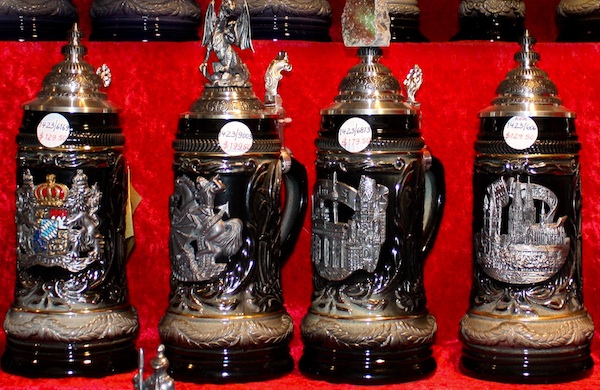 2. Handmade beer steins ($29.50+) from Zöller & Born; Jößnitz, Germany
These beautiful steins are an ideal gift for any beer-lover on your list. For more than 50 years, the artisans at Zöller & Born have been hand-making and painting these detailed, traditional German mugs. They source their pottery and stoneware locally within Germany, and top each stein with a high-quality tin lid. Whether they become a beloved, oft-used vessel or merely sit amongst collections of fine china, these authentic steins are sure to earn compliments.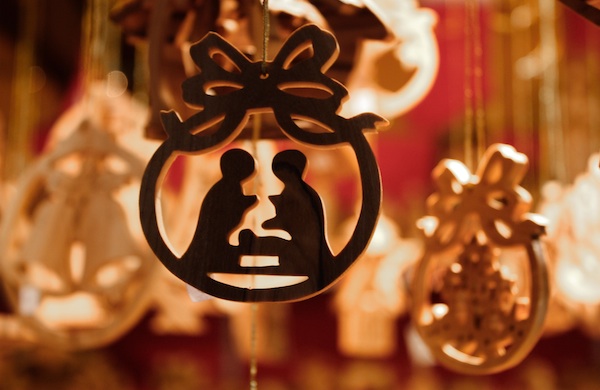 3. Hand-carved ornaments ($6–$12) from Bethlehem Nativity Products; Bethlehem, Israel
These striking ornaments are more than mere decoration—they're actually religious objects. Christian artisans from Bethlehem and Jerusalem hand-carve them from pure olive wood. Bethlehem Nativity Products is authorized by St. Catherine's at the Basilica of the Nativity, as well as the Archdiocese of Chicago, to sell the religious items on the artisans' behalf. It's no surprise that Christian motifs abound in the little shop. Nativity scenes, stars, and wise men dangled from the ceiling by delicate string.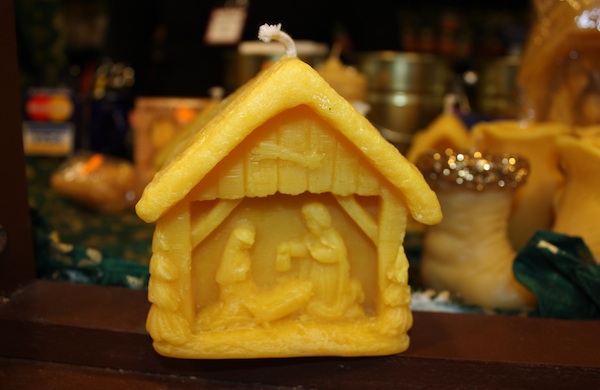 4. Handmade nativity candles ($29.90) from Bienes Honighaus; Augsburg, Germany
Sabine Korger makes all her candles with 100% beeswax. Nothing else. And though they're often cast in molds, she makes these molds from her own hand-carved sculptures. The same is true of these quaint nativity candles, which bear intricate details on all sides. Because they're pure beeswax, they emit a slightly sweet smell with an enticing hint of honey. Speaking of honey, Korger also makes candies and flavored honeys for the little shop as well. She even let me try an all-natural Twin Bear, a candy closely related to gummy bears but made without corn syrup.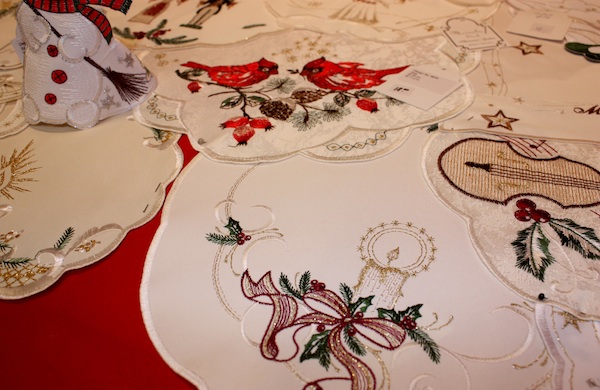 5. Embroidered table ribbons ($26–$53) from Meinels Stick; Muldenhammer, Germany
These decorative table ribbons—which are basically thin table runners—are not nearly as delicate as they appear, despite their complex embroidery. They're entirely machine made, which may sound less-than-glamorous until the shopkeeper tells you they're also machine washable, a huge perk for anything that goes on a holiday table. "They'll pretty much last forever," quipped a knowledgeable associate named Pam. "We've had people come back and tell us they bought one 10 years ago…and they're still using it." On a quainter note, the festive table decorations
are
family-made high up in the picturesque Saxony Mountains and have been for a century.
Photo: Michelle Schuman, Groupon
BY: Michelle Schuman
Michelle is a freelance fashion designer and dancer from Detroit. She has traveled the US extensively (and loves it!), but her biggest goal is to travel abroad.