Five New Movie Trailers That Could Use an M.I.A. Song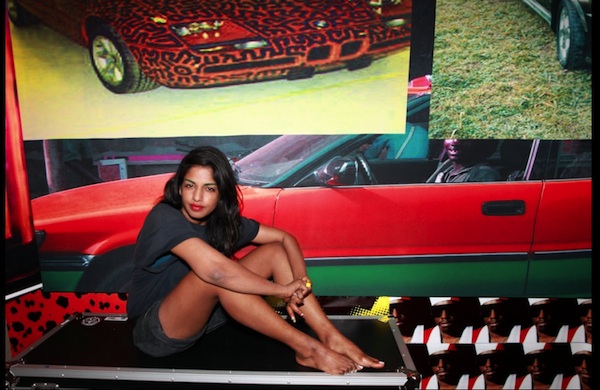 M.I.A.'s "Paper Planes" conquered the club scene long before the
Pineapple Express
crew happened upon it, but its inclusion in the stoner comedy's viral
trailer
catapulted it into the cultural consciousness. Strangely, M.I.A.'s hyperactive tunes have been strangely, well, M.I.A. from Hollywood's coming attractions since then. To remedy this, we paired five songs off last year's excellent
Matangi
—tracks you'll likely hear during M.I.A.'s current tour—with five trailers for
upcoming movies
.
1. "Warriors" + Teenage Mutant Ninja Turtles
Why?
M.I.A.'s propulsive flow and muscular beats dovetail nicely with the Michael Bay aesthetic, which blends frenetic editing with exquisitely crafted chaos. Though he's credited solely as a producer, Bay's fingerprints are all over the trailer, which naturally lends itself to the battle cry that is "Warriors." Aggressive in its repetition, the song sounds as if it should underscore the main boss battle of the video-game adaptation. That's a good thing.
2. "Come Walk With Me" + Palo Alto
Why?
"Come Walk With Me" is all about possibility, a testament to the countless avenues made available to us at every moment.
Palo Alto
, adapted from the book by James Franco, isn't much different. Set against the backdrop of a Bay Area high school, the film follows a group of kids with their whole lives ahead of them. The song's wistful intro not only provides a gentle, yet hopeful accompaniment to the melancholic footage, but also a rare glimpse at M.I.A.'s vulnerable side.
3. "Lights" + Alien Abduction
Why?
Alien Abduction
isn't trying to reinvent the wheel here, and that's fine. There's something refreshing about an extraterrestrial horror flick getting back to basics: UFOs, tractor beams, stick-thin aliens with big heads. "Lights" provides a similarly straightforward accompaniment: "Lights they bend and jump and always move really fast," M.I.A. sings against subdued percussion, her voice as otherworldly as those lights in the sky.
4. "Bring the Noize" + Sabotage
Why?
Because M.I.A.'s spastic vocals sound like a machine gun and this is a balls-to-the-wall meathead movie starring Arnold Schwarzenegger and a bunch of dudes with huge guns. She wants noize? This movie's got it.
5. "Sexodus" + Only Lovers Left Alive
Why?
"Baby you can have it all / Tell me what for," goes the refrain of "Sexodus," a song that resonates all the more when paired with the themes of immortality and doomed romance at the heart of Jim Jarmusch's latest. "My blood type is no negative," M.I.A. continues. That's a good thing, considering the film's bloodsucking protagonists are especially partial to type O negative.
M.I.A. will be at Chicago's Riviera Theatre on Thursday, May 1, at 8 p.m. A$AP Ferg opens. Buy tickets here.
BY: Randall Colburn
Randall Colburn