Five Reasons Small Coffee Roasters Don't Do Direct Trade
BY: Nathalie Lagerfeld |
Feb 21, 2014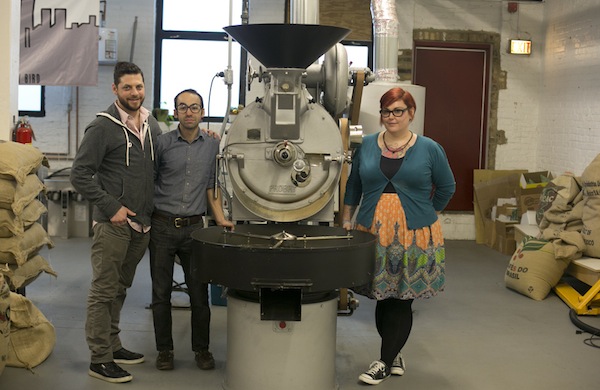 Shannon Steele with Head Roaster Joshua Millman and Creative and Operations Manager John Mook at Passion House HQ.
From stalwarts like Intelligentsia (multiple locations) to newcomers like La Colombe (955 W. Randolph St., 1552 N. Damen Ave.), it seems like all the roasters in Chicago are crowing about their direct-trade coffee. Direct trade means that the roasters purchase raw beans straight from the farmers, without going through middleman brokers or certification organizations such as Fair Trade USA. (It also means they get to post envy-inducing travel photos to their Instagram accounts.) Proponents say that direct trade means more profits for farmers as well as more carefully calibrated flavors in the final cup.
But not everyone's on board. Shannon Steele of
Passion House Coffee
(2021 W. Fulton Ave.), for one. "Direct trade when you are a small roaster, like us, [is] hard," the roaster, green buyer, and trainer told us over email. Here are her reasons why many small roasters don't do direct trade—and why that shouldn't worry their customers.
1. Direct-trade lots are too big for small roasters to handle.
"I know that we will eventually start utilizing direct trade as we grow and start opening cafés, which gives us more of an outlet to showcase the coffees we love…[Right now] we don't have enough capital to bring in coffee by direct trade, just because the size of the lots would be so huge. We don't have the warehousing space or the turnover in order to make that happen in a smart way where the beans are still in season and respected, and we still have a nice variety. So we have to go through brokers as much as we can."
2. Visiting a farm isn't the only way to learn about it.
"I am a bit obsessed about finding out about the farm before we bring in a coffee. We cup all samples blind on the cupping table, I find the lots I like, research the farm, their practices and stories. Coffees that stand out on the cupping table tend to meet standards that I desire in farming practices. These include recycling water, utilizing the discarded pulp as compost or natural insecticide or the way they care about their workers."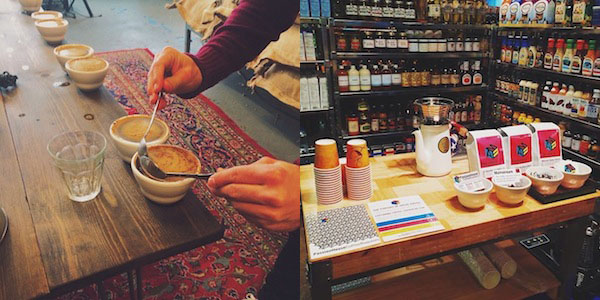 Left: a blind cupping lets Passion House's roasters test samples of new coffee. Right: a retail display of Passion House coffees at Olivia's Market (2014 W. Wabansia Ave.).
3. A good broker can get them the skinny on every bean.
"When you work with most brokers, if you have a question someone can answer it directly for you. No information is more than an email away, it just depends on the amount of effort you want to put forth…By building a relationship with [the broker], they know what I would love, what I need and will send updates of what is coming in months before the coffee arrives in the states. There is a level of trust that you have with your brokers and that just takes a lot of hard work, sending samples both ways, and a lot of communication in the beginning."
4. Small roasters' staffs have to stay in town.
"We currently have five people who work with Passion House, [so] when even one person is out for a day, it is felt. So, leaving for a week to go to origin often feels overwhelming. Sometimes I do feel like I am missing out, because I want these really special small lots of coffee that are often blended into larger lots to support larger roasters. (That has more to do with wanting to support an individual's effort for creating a beautiful product.)"
5. Certifications aren't everything.
"Here is a bit of realness. Buzzwords like fair trade, direct trade, shade grown, bird friendly, etc., mean zilch to me. Fair trade is just a minimum wage that is acceptable. All of these certifications cost money, which is what we are trying to give back to the farmer and workers. Some of our coffees are fair-trade certified, just like some are certified organic, but I don't buy coffee based on any one of these certifications because they aren't indicative of quality. Quality and care are what I look for, not labels. If your Kraft mac 'n' cheese is organic and fair trade, does it make it taste better? Not really, it just makes
you
feel better."
Top photo credit: Stephanie Bassos, Groupon; inline photos courtesy of Passion House
BY: Nathalie Lagerfeld
Guide Staff Writer
Nathalie is a writer and editor on the Guide's food team. Originally from Virginia, she now lives in Chicago, where she regularly indulges her love of tortas, bibimbap, and Cheez-Its. Follow her on Twitter @maviswillsaveus.