Five Tips for the Beginner Rock Climber
BY: JORIE LARSEN | 6.20.2014 |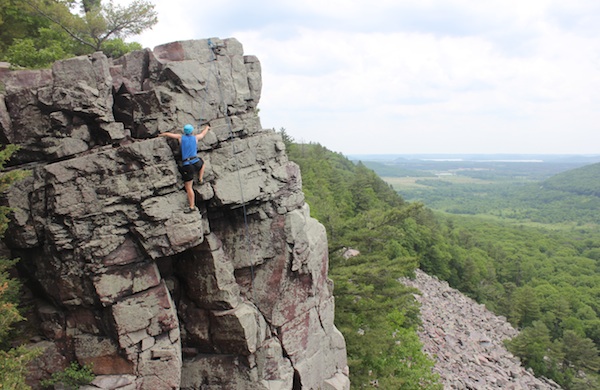 Midwesterners who dream of scaling mountains are largely out of luck. Prairies and plains are the region's predominant geological features, and neither makes for the best rock climbing. But there's one glaring exception to all that flatness: Wisconsin's Devil's Lake State Park, where rocky outcroppings and quartzite cliffs rise hundreds of feet above the glassy waters of Devil's Lake.
Nobody is more familiar with these rocks than Nick Wilkes, the owner and head guide of Devils Lake Climbing Guides. Wilkes is a Wisconsin native who spent several years leading climbing excursions in Wyoming, New Hampshire, and Utah. A few years ago, the perpetual wanderer returned home to launch his company. "Wisconsin isn't the climbing capital of anywhere," said Wilkes, "[but] Devil's Lake has a deep, storied climbing history."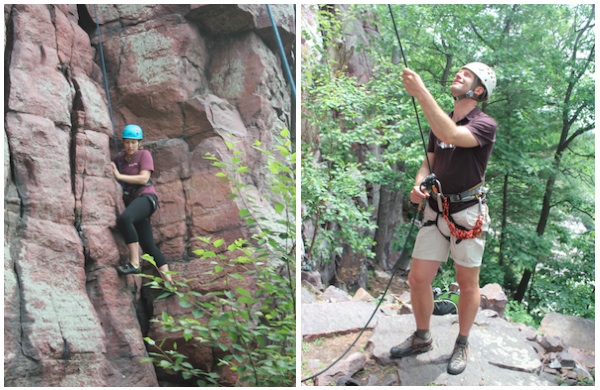 Wilkes regularly leads small groups of novices up the cliffs at Devil's Lake. We signed up for one of his introductory classes, and within hours we were scaling cliffs with ease. After dusting off a bit, we asked Wilkes to share his top five tips for beginner rock climbers.
1. Climb often. When you're starting out, there are exactly three keys to rock climbing: practice, practice, and practice. Head to an indoor gym or a crag whenever you can. As long as you're climbing regularly, Wilkes said, "it's impossible not to get a lot better within the first few weeks and months."
2. Find climbing shoes that are snug but comfortable. Wilkes said more advanced climbers often prefer painfully tight shoes, but he recommends beginners start with a comfortably snug pair.
3. Take a class or a guided trip to learn more about technique from a seasoned pro. "The experience will … expand your picture of what climbing can be and what direction you might want to take with it," he said.
4. Don't get hurt. If you do, give yourself time to heal. A mistake many novice climbers make is doing too much too fast—especially when their bodies might not be ready for that kind of intensity. If you get hurt, Wilkes recommends letting your body heal for at least a month or two. When you do get back on the mountain, go easy on yourself and listen to your body if you feel pain.
5. Have fun. Wilkes said there many different directions rock climbing can take. "Try bouldering, sport climbing, trad climbing, ice climbing, mountaineering—whatever opportunities come your way," he advised. "Some [disciplines] will appeal more to an athlete, and others to a gear geek or a climbing socialite."
Find more ways to get outside with Groupon's deals for events and activities in Chicago.
Photos: Jorie Larsen, Groupon.
BY: Jorie Larsen
Guide Staff Writer
Jorie would love to bend your ear about historic cities, national parks, and wildlife encounters. She's determined to visit Louisiana soon—her 50th state.