Groupon GUIDE TO SAN FRANCISCO
Five Toddler-Friendly Places Approved by a 2-Year-Old
BY: ANITA CHU | 8.11.2014 |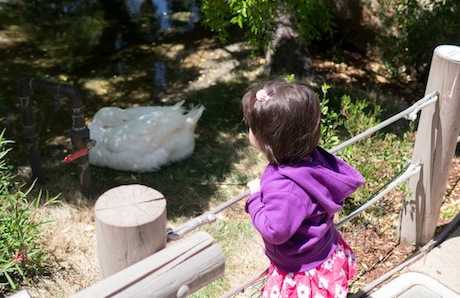 The Bay Area abounds with fantastic family attractions. However, they aren't always appropriate for the whole family. Children who have just learned to walk often run the risk of getting jostled by older kids, and won't understand most museum exhibits.
Fortunately, there are places that cater specifically to small tots. These venues allow toddlers to play, test their walking (and grabbing) skills, and most importantly, explore in safety. I can personally vouch for the five spots below—or rather, my 18-month-old daughter Isabelle can.
Though some of these attractions do allow older children, they all have spaces set aside for guests aged 4 and younger. Some of them have areas for infants, too!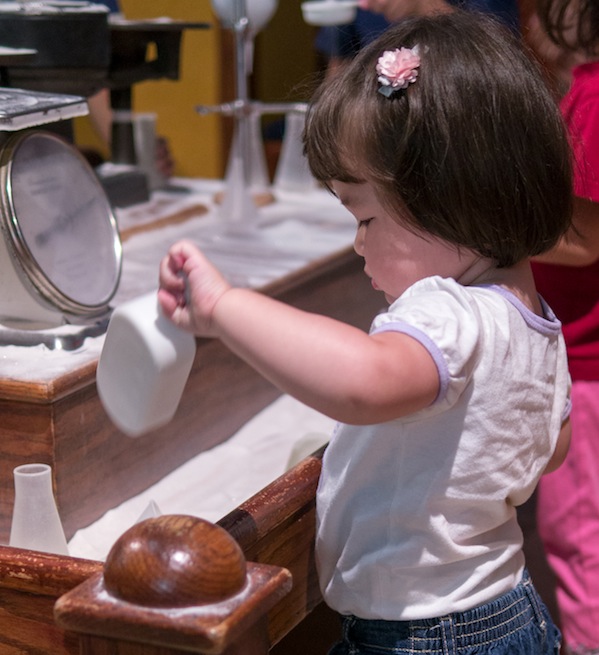 Children's Discovery Museum of San Jose
180 Woz Way, San Jose
It's impossible to miss this big purple building from the highway. Head to the upper floor to find the Wonder Cabinet, a play area designed for toddlers aged 4 and younger, with attractions such as a dress-up closet, a sand play area, and ball machines. There's even a separate Crawl Space in the back for very young babies. The ever-popular Waterways exhibit on the ground floor also has a section for toddlers, with water features scaled down to their size.
Baby Belle's Pick: Little toddlers seem irresistibly attracted to balls they can throw, and Isabelle is no exception. She loved the Wonder Cabinet's ball funnel table, where you could toss a ball in, watch it spiral down, and pick it up at the bottom before starting all over.
Admission: $12 for adults and children older than 1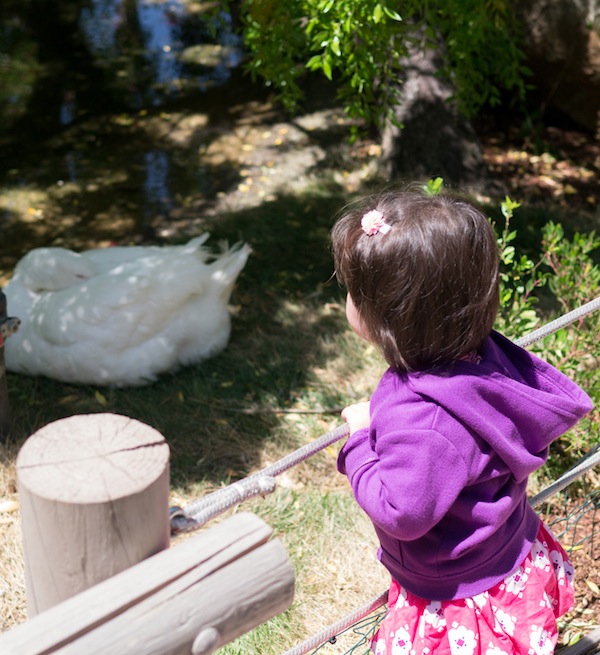 Junior Museum and Zoo of Palo Alto
1451 Middlefield Rd., Palo Alto
As its name implies, this little gem in Palo Alto is geared toward the toddler set. The museum grounds look small to a grownup, but they're just the right size for children who may be overwhelmed by larger parks. Inside, the museum has interactive science and nature exhibits, plus the Babies' Bramble, a gated area with toys and books for small crawlers. The outdoor zoo, meanwhile, has more than 50 species of small animals, including raccoons, peacocks, bats, and a tortoise.
Baby Belle's Pick: Belle was fascinated by the Clean Energy Green Machines—an exhibit where you (surprise) load balls into systems made of pulleys and springs, then watch the balls rise, fall, and spin around. It was a fun way for her to learn how her actions cause reactions.
Admission: Free, although there's a $5 suggested donation per person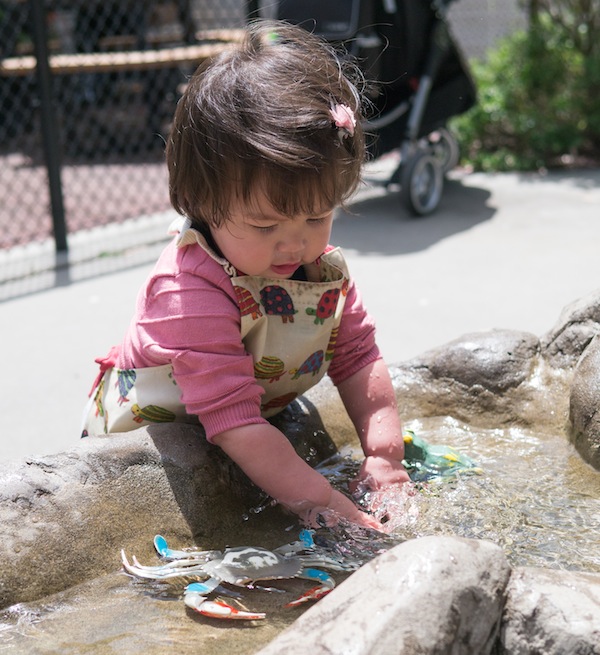 557 McReynolds Rd., Sausalito
Located just north of San Francisco at an old Army site, this museum affords some of the most gorgeous views of the Golden Gate Bridge. For toddlers, there's the Tot Spot, an indoor play area with two rooms themed around the wetlands and woodlands. The space serves as a haven away from the big kids, and lets little ones crawl, climb, and bounce over the scenery. Outside, a cleverly constructed "stream" invites them to indulge in water play. Pro tip: bring layers. Many of the activities are outdoors, and it can be chilly on foggy days.
Baby Belle's Pick: The Tot Spot was a huge hit, but the outdoor stream won the battle for Belle's affections. She could have splashed around all afternoon, pushing the toy fish and frogs downstream and just watching the water flow by.
Admission: $12 for adults, $11 for children older than 6 months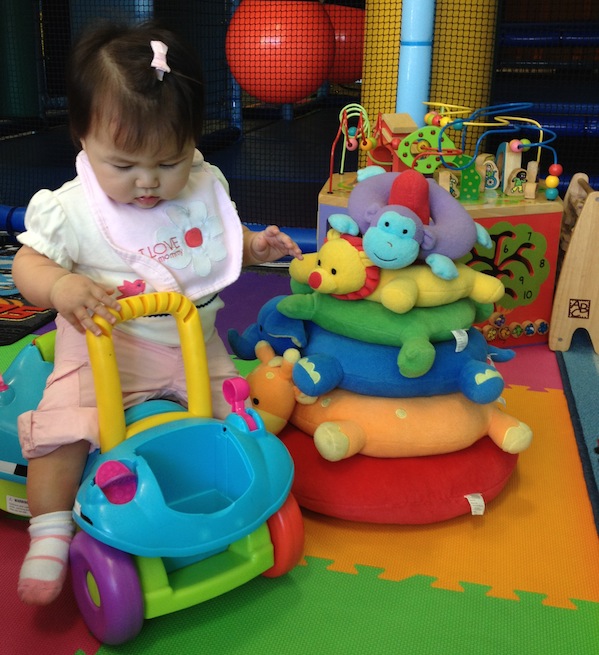 544 San Mateo Ave., San Bruno
Although this play center is essentially one room, it's big enough for its target demographic. Toddlers play with its bountiful toys and navigate a giant padded play structure, while parents remain confident that no one will get bowled over or dirty. There's a small café in the back, but families can bring their own food, too. The private nursing rooms are a nice bonus for guests with infants.
Baby Belle's Pick: It's a tossup between the dishes and fake food inside the well-stocked play kitchen, and the numerous ride-on vehicles that she happily pushed around and around.
Admission: $13 per child (with a discounted rate for any siblings after that), or $8 after 5 p.m.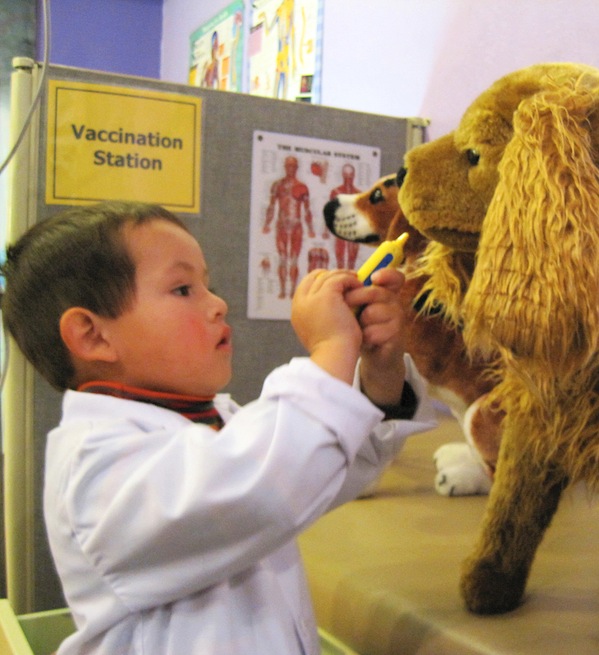 2065 Kittredge St., Berkeley
With a focus on playing pretend and crafting, Habitot features a rocket ship, a grocery store, and a fire station, as well as art areas with paint, clay, and other materials. The space is geared toward children younger than 6, but infants and early walkers get their own gated area with padded climbing blocks and soft toys. Visit while you can—Habitot's website notes that they have outgrown their space and are actively searching for a larger facility.
Baby Belle's Pick: Like all toddlers, Belle loves making a mess. Habitot's painting wall allowed her to scribble and paint to her heart's content; she couldn't spend enough time there.
Admission: $8 for adults and $10 for children older than 1
Photos by Anita Chu; bottom photo courtesy of Habitot Children's Museum
BY: Anita Chu
Dessert First
Anita Chu, also known as pastrygirl, is the creator of Dessert First, an award-winning blog dedicated to all things sweet. Dessert First was nominated for Best Baking and Dessert Blog in Saveur's First Annual Best Food Blog Awards in 2010. Anita is a native of the San Francisco Bay Area and she is always trying out the latest sweet spots in town. She is the author of Field Guide to Cookies and Field Guide to Candy. Anita's books and blog have been profiled in the New York Times, Sunset and The Washington Post. She contributes her writing and photography to several online and print publications.