Five Ways to Protect Your Boots This Winter
BY: RACHEL MATUCH | 11.26.2013 |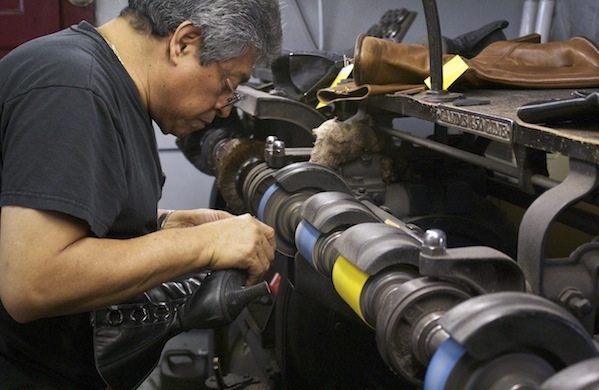 To find out how to protect boots from this winter's slush-filled streets and salt-encrusted walkways, I turned to one of Downers Grove's most reliable shoe-care spots: Lyzun's Shoe Service.
Gene Lyzun was in grade school when he started helping out at the shop (1009 Curtiss St.), which his dad bought 51 years ago in 1962. "My dad had a real good business here and he needed help. … For him to do it all by himself was too much," Lyzun said, chatting over the counter with me at the small shop located in the suburban downtown shopping district. "We were able to work together and make the business into what it is today."
His father passed away in 2005, but the shoe-repair business is still going strong under Gene's leadership. And with more than 40 years of shoe-mending experience under his belt, he knows a thing or two about how to keep footwear from falling apart in the first place. Below, he shared some of his biggest tips for protecting boots (and other shoes!) from winter weather.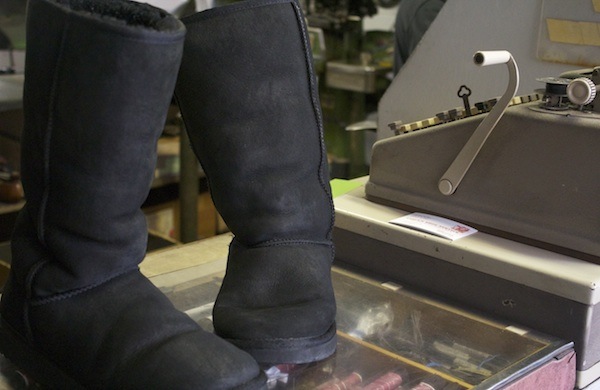 Apply protectant regularly
Whether your boots are made of leather, suede, or manmade materials, you should use a protectant on them before wearing. (This is nonnegotiable for Ugg-like boots made of soft material.)
But it's not just a one-and-done affair—you'll want to reapply protectant several times throughout the season. How often depends on weather conditions and the frequency with which you wear the shoes. For shoes that are worn often, Lyzun recommends reapplying about once every three to four weeks, but don't be shy about applying protectant more regularly if the shoes are starting to look weather-beaten.
"When you notice something's not right, don't wait," Lyzun cautioned. "Don't just keep wearing it and think it's gonna heal itself." Take care of any stains, then reapply. "It's like with any other stain in carpeting or clothing," he said, meaning that the longer you wait, the harder it will be to remove any stains.
Polish patiently
Boots made of leather and other smooth materials need to be polished regularly. "[Leather] is like our skin," Lyzun said. "If you don't moisturize it, it starts to dry out."
If you're wearing leather dress shoes or boots three or four times a week, try and polish them once a week. If you're only wearing them about once a week, shoot for every two-and-a-half to three weeks. Lyzun recommended using a paste of cream polish. "Liquid polish is definitely a no-no," he said. "I don't even sell any liquid polish. It just stays on top of leather, … doesn't soak too good into the pores."
Besides frequency, the other key to polishing is patience. "Don't be in a hurry with polish," Lyzun said. "Put some elbow grease into it." After you apply the polish, wait 15–30 minutes so the polish can dry and penetrate into the material before using a brush or soft cloth to buff the shoes. Waiting will keep the polish from rubbing right back off when you go to buff the shoes and will also give them a long-lasting shine.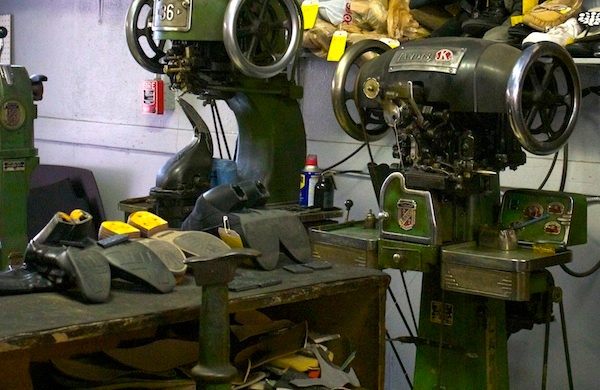 Shield your dress shoes
Lyzun recommended rubber overshoes for men who wear their dress shoes through the winter. He picks up a luxe-looking pair of Allen Edmonds shoes from his workbench, estimating they probably cost $300 or more.
"It just makes common sense to go another step to protect your shoes," he said. "If you're going to invest that amount of money, care for it."
When buying new, focus on fit
When I asked Lyzun if he had any advice for those of us springing for new boots this winter, he emphasized the importance of a good fit. "I would suggest this to anyone, whether they buy at Walmart or Nordstrom: the first thing they should do is make sure to try both of the shoes on," he said. Walk in both of the shoes. Do a few laps around the shoe department. "Everybody just tries the right shoe on," he lamented.
While he can usually stretch a boot a bit, he sometimes sees people who buy the completely wrong size ("Oh, but they were just on sale," he hears). Usually, they're out of luck.
When you take the boots home, wear them around the house before taking them outside. That way, you can make sure they fit right—and if they don't, you haven't worn them outside, so you'll still be able to return them. "You've saved yourself grief and money," Lyzun said.
Shop Goods and ideel for new shoes:

Pay attention
"A lot of people are in a hurry," Lyzun said. "If you want your shoes to look good and feel comfortable and to last, you've got to spend some time to be aware of your shoes." Wait too long, and "maybe you can't fix it like you could have."
That's because each problem can cause new problems. He picks up a pair of pointy-toed women's boots and shows me how the front tip of the sole has come off. That's an easy fix—but because the owner kept wearing the boots, they developed a hole in the front, which is a bigger problem.
"If you've made an investment, it's good to take care of it," Lyzun said. "You've got to be proactive."
Photos by Rachel Matuch, Groupon
BY: Rachel Matuch
Guide Staff Writer
When she's not writing at Groupon, Rachel pillages her local library, plays board games, and cooks (but never, ever bakes).