Five Wicker Park Restaurants with Outdoor Seating for Everyone
BY: Nathalie Lagerfeld |
May 31, 2013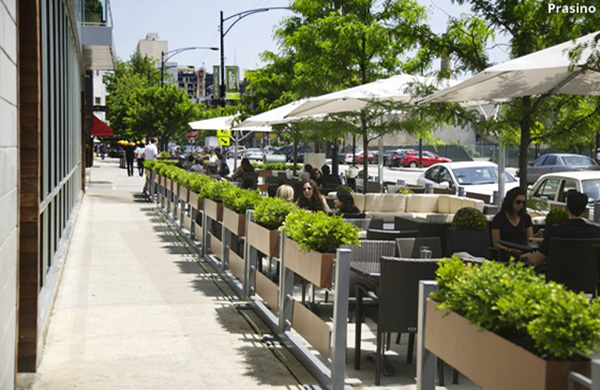 If you're a giant fern: 
Prasino
| 1846 W. Division St. Large beige umbrellas cast cool shadows across the sidewalk café (pictured) of this farm-to-table restaurant, welcoming shade-loving houseplants to savor brunch. Feel the wind in your fronds as you browse a menu of eggs benedicts, french toast, and other breakfast fare made with locally sourced, sustainable ingredients.
If you're a frustrated abstract-expressionist painter: 
Smoke Daddy
| 1804 W. Division St. Three types of sauce sit bottled on each table at this casual barbecue joint, which recently added a large outdoor patio. Though they're meant to flavor succulent ribs and brisket, the colorful condiments also look great drizzled on a canvas or all over a
Life
magazine profile of that spotlight-stealing jerk Jackson Pollock.
If you're a player in a game of hide-and-seek:
Enoteca Roma
| 2146 W. Division St. Your playmates will never find you in the beer garden behind this Michelin Guide–recommended Italian restaurant, which is tucked away from the street. When the waiter isn't looking, slip your imaginary friend some juicy, perfectly tender, and entirely imaginary meatballs.
If you were a pro soccer player in a past life:
SmallBar
| 2049 W. Division St. As you nurse your glass of carefully curated craft beer on the patio, the faraway cries of fans watching the game indoors may awaken some long-lost memory of your former glory in the 1958 World Cup. Bra-zeal! (Or poor Sweden.)
If you're an alien fueled by pure Malört:  
Bangers & Lace
| 1670 W. Division St. Taking a seat near the flung-wide french doors at this upscale beer and sausage joint lets you watch the sky as you suck down shots of bitter but life-sustaining liquor. The mothership will be coming to pick you up any day now, but until then, at least you've found a bar with a staff too kind to stare at the antenna you forgot to tuck into your human suit.
Photo by Stephanie Bassos, Groupon
BY: Nathalie Lagerfeld
Guide Staff Writer
Nathalie is a writer and editor on the Guide's food team. Originally from Virginia, she now lives in Chicago, where she regularly indulges her love of tortas, bibimbap, and Cheez-Its. Follow her on Twitter @maviswillsaveus.