Five Yellow and Green Nail Polishes That Don't Look Like Fungus
BY: Amelia Buzzell |
Apr 14, 2014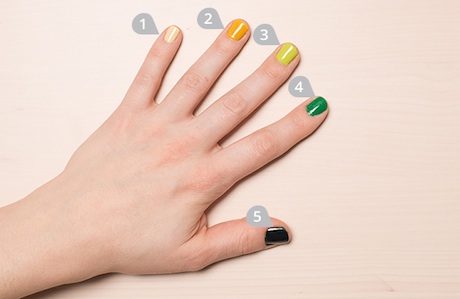 True, some yellow and green polishes look like something you'd find floating in a bog. But they can also look like shamrocks, Big Bird, or
The West Wing
's Donna Moss.
When I was finally old enough to pick out makeup beyond Dr. Pepper–flavored Lip Smackers, my mom guided me through the Walgreens cosmetics aisle, helping me choose subtle shades of lipstick and modest tubes of concealer. While she begrudgingly agreed to let me bring home 1999's hottest nail-polish shade (metallic navy blue), she made a sweeping comment about the yellow and green polishes that I've never been able to shake: "Those colors make your nails look like they have a fungus." Her words still echo through my head every time I browse the nail-polish aisle—although I did manage to block out her voice long enough to try the mint and seafoam-green polish trends (I still love them). But whenever I spot non-minty greens and yellows of any kind on the shelves, I'm baffled. Who wears them? Of course, no color is without a gross association—red is a classic manicure color, but it's also the color of blood, an F on a school paper, or an F on a school paper written in blood. With that in mind, I decided to give yellow and green nail polishes a fair shake. Below, I analyzed five shades and tried to pinpoint exactly what they reminded me of, fungus or otherwise.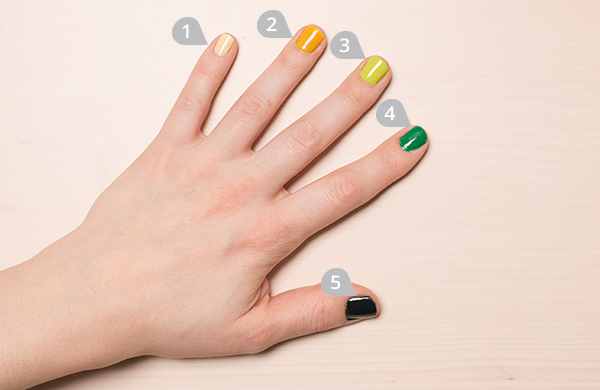 1: Sinful Colors in "Unicorn"
If it was a fungus, it would be:
This doesn't resemble a fungus so much as a moss—specifically Donna Moss from
The West Wing
. It's the color of her hair, and just like Donna, the polish seemed a little bland at first, but finally won me over.
But it looks more like:
Lemon icing on a Girl Scout cookie.
2: Sally Hansen I Heart Nail Art in "Sunny Side Up"
If it was a fungus, it would be:
Scrambled-egg lichen (fulgensia fulgens).
But it looks more like:
One of Big Bird's feathers. There's nothing gross about Big Bird.
3: Sinful Colors in "Innocent"
If it was a fungus, it would be:
The scary, nuclear-green algae that floats along the banks of the Mississippi in my hometown. Algae isn't a fungus, per se, but it's still pretty gross.
But it looks more like:
A pear Andy Warhol might have painted.
4: Revlon Nail Enamel in "Posh"
If it was a fungus, it would be:
Boreal felt lichen
(apparently also available in
throw-pillow form
)
But it looks more like:
A shamrock.
5: Maybelline Color Show in "Walk in the Park"
If it was a fungus, it would be:
Not a fungus—more like
peat moss
. At midnight.
But it looks more like:
An extremely wearable shade of nail polish. It's still green, but it's such a dark shade that it looks more like a black polish with a little shimmer.
Photo: Andrew Nawrocki, Groupon