GROUPON GUIDE TO NEW YORK
Flea the City: Five of New York's Eclectic Markets
BY: Andrea Marchiano |
Apr 10, 2013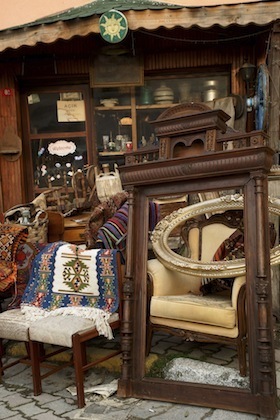 The origin of the term "flea market" is widely contested, but at least one theory traces it to the Big Apple. In the 18th century, the Dutch opened a bazaar near the East River called the Fly Market. Given the riverside location, the market became known as the
vlie
, a Dutch word meaning "valley" and pronounced like "flea." Thus, many New Yorkers began simply referring to the Fly Market as the "flea market," and the term was soon adopted for other outdoor markets of its type. Though others dispute this etymology (Parisians claim the term, too), everyone can agree that flea markets play an integral role in the New York shopping scene, becoming a major draw for the thrifty, the fashionable, and the eclectic. From Manhattan to Brooklyn, the five markets below boast distinct personalities and present numerous opportunities for uncovering a treasure among all the bric-a-brac.
"One of the Great Urban Experiences in New York." – The New York Times Brooklyn Flea |  Fort Greene and Williamsburg
It's hard to believe that the Brooklyn Flea was only founded in April 2008: it has quickly become the quintessential New York flea market and one of the country's 15 best, according to
Travel + Leisure
. Each weekend, visitors can peruse antiques, repurposed furniture, vintage clothing, and handmade jewelry and crafts from nearly 150 vendors. In colder months, it moves indoors to
Skylight One Hanson
, where the towering archways, intricate tile floors, and golden mosaics of the art deco building serve as a stunning backdrop for the colorful wares.
176 Lafayette Ave.: 10 a.m. to 5 p.m. Saturday, April through Thanksgiving
East River State Park (at N. 7th St.): 10 a.m. to 5 p.m. Sunday, April through Thanksgiving
1 Hanson Pl.: Weekends Thanksgiving through March
African Artisans and Braiding Boutiques Malcolm Shabazz Harlem Market | Harlem
Carved figurines and jewelry boxes. Handmade clothes for men, women, and children. Exotic soaps and incense. The handmade goods on display at Malcolm Shabazz Harlem Market come from artisans who specialize in African-style crafting. Others put their dexterous hands on display at braiding boutiques within the semi-open-air bazaar.
52 W. 116th St.: 10 a.m. to 8 p.m. daily
Local Designer Duds The Market NYC | Greenwich Village
The Market NYC is one of the few places to grab designer clothes before the designer hits it big. This Greenwich Village gathering—open Wednesday through Sunday—brings together many of the city's up-and-coming talents, who sell their clothing, jewelry, and accessories at un-designer prices. A tip: don't be afraid to try and negotiate prices.
159 Bleecker St.: noon to 8 p.m. Wednesday, Thursday, and Sunday; noon to 9 p.m. Friday and Saturday
One of the World's Best Shopping Streets Hell's Kitchen Flea Market | Hell's Kitchen
"Antiques, collectibles, memorabilia, junk—all the flotsam and jetsam of the past is here." That's according to
National Geographic
, which noted the eclectic nature of the Hell's Kitchen Flea Market and named it one of
the world's top 10 shopping streets
in 2007. The outdoor setup is entirely old school, with tables beneath multicolored tents displaying everything from vintage clothes to antique cameras to midcentury-modern furniture.
West 39th St. between 9th & 10th Aves.: 9 a.m. to 5 p.m. Saturday and Sunday (weather permitting)
What's Old Is New Again Antiques Garage | Chelsea
A $1 shuttle bus carries patrons from the Hell's Kitchen Flea Market to the Antiques Garage, where the focus falls mainly on home decor. Alongside the bazaar's namesake antiques, more than 100 vendors peddle paintings and prints, fabrics, fine silver, and rugs. Visitors may also find jewelry and handbags amid the sea of offerings, which covers two stories.
Time Out New York
suggests arriving early for the best deals—and the most elbow room—before the post-brunch crowds shuffle in.
112 W. 25th St.: 9 a.m. to 5 p.m. Saturday and Sunday