Flywheel Sports in Boston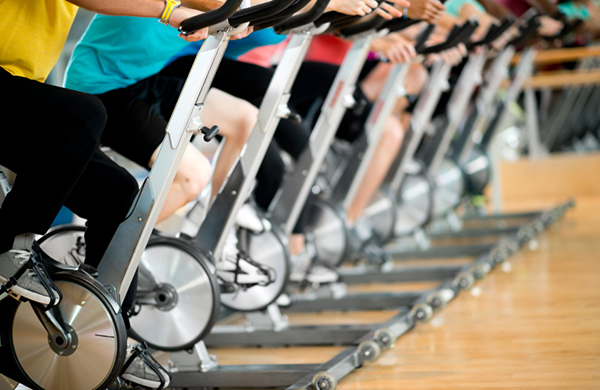 The concept of indoor cycling has taken on an intense new twist, with the nationwide Flywheel Sports opening its first Boston location at The Prudential Center. The spacious fitness studio, which is located on the Belvidere Arcade near the Huntington Avenue entrance, offers early morning, afternoon and evening cardio classes. Each rigorous session lasts between 45 and 60 minutes, with participants choosing their own intensity level. To get started, potential riders fill out an online registration form, choose an available class to attend and then simply show up. Upon arrival, riders are shown to the locker room to store belongings and are given a complimentary pair of cycling shoes for use during the class. After that, it's time to sweat. All of the 48 bikes at this Back Bay location are placed stadium-style, so each rider has a clear view of the instructor. The bike itself has a "tech-pack" that displays real-time digital feedback, allowing you to set and monitor your resistance, your speed, and your current and cumulative power. That way, riders can learn how well they climb uphill, descend or handle the straightaways. Riders push, pedal and sweat to the beats of rock and pop music, while inspiring, intense trainers, who create their individual music mixes, offer encouragement to those trying to reach specified resistance levels. Once the ride is over, participants are encouraged to take a nice cool shower – and then get ready to sign up for their next session. Perhaps the best part of Flywheel's powerful workout session is the ability to craft a regimen that works for novice riders and competitive cyclists alike. Each rider controls their own settings, while those looking for a challenge can display their performance against others in the class on a large viewing screen. Once participants step off the bike, their performance, including calories burned and highest speeds, is logged and can be viewed later online to track individual personal performance. With upbeat music, effective instructors and the ability to personally track your progress, Flywheel just might be the easiest and most fun way to burn those extra calories.
BY: Gayot
GAYOT.com serves as a leading worldwide authority on the good life. Millions of readers turn to Gayot's savvy, professional reviews on dining, travel and lifestyle. From "Best of" lists and travel guides, to a searchable restaurant and hotel database, Gayot provides dependable coverage while keeping up with the latest trends and news.