Follow This Mantra to Make a Bold, Boozy Punch
BY: Lisa Ladehoff |
Apr 3, 2014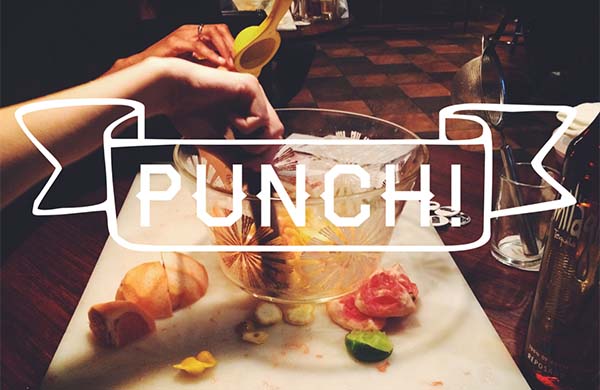 Strong, weak, bitter, sour, sweet.
This chant is emblazoned on all the matchbooks and coasters at
Punch House
, since it's the "equation," if you will, for every well-balanced punch. Myself and the three others in my group settled into our horseshoe booth around the table, where a vintage punch bowl filled with citrus fruits sat atop a cutting board. We were going to attempt to make that well-balanced punch. Will Duncan, the host of this month's punch class—as well as the general manager of both
Punch House and Dusek's
upstairs—stood behind the bar and explained some of the history of punch. He told us that in Hindi, the root word
pañc
means five, referring back to that five-word chant of components. Punch originated in India back in the 1600s, and as early as 1671, there are written records of thriving punch houses. The sweet sippers didn't spoil as fast as beer, and also prevented scurvy—thanks to the addition of the citrus. Our first step was to start the
oleo saccharum
. Literally meaning "oily sugar" in Latin, oleo saccharum is a magical thing. We peeled two lemons and one grapefruit, trying to avoid the white pith since it would lend a bitterness to the final product. Those peels were dropped into the punch bowl with 5.5 ounces of white sugar, and then pressed with a muddler to release the fragrant oils (much muddling at first, then periodic muddling every 15 minutes). Over the next 45 minutes, the sugar transformed from shiny clumps to a thick, soupy paste—the amount of oils released from the citrus was tremendous. And it smelled great.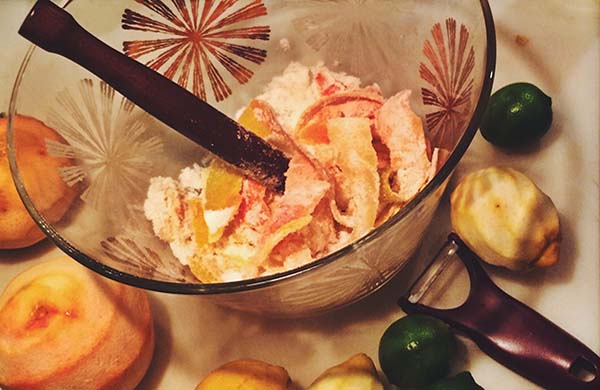 In the meantime, we juiced. For a final product that yielded roughly 16 servings, we squeezed two large
grapefruits
, three
lemons
, and three
limes
through a citrus press into a separate container while the oleo was still developing. (Cut the grapefruit into eighths in order to fit it into the press.) Ideally, this can
and should
be a day-before thing (actually, everything about punch can, which is just one part of what makes it so great for easy entertaining), and you can leave the oleo to sit for an extended period of time. Our instructions read, "Whenever possible, prepare a day in advance…punch always tastes better the second day." In theory, the next step is to boil a "
black pepper tea
," but through what Duncan jokingly referred to as "the magic of television," it had already been prepared for us (2.5 cups of water brought to a boil, simmered with 2 tablespoons of black peppercorns for 10 minutes, then strained), and we poured that in the bowl, which quickly melted the oleo into a thin syrup. Our juices made their way through a fine-mesh strainer into the bowl, too (tap the side or stir with the muddler to speed the process), and suddenly we had two components: sour and sweet.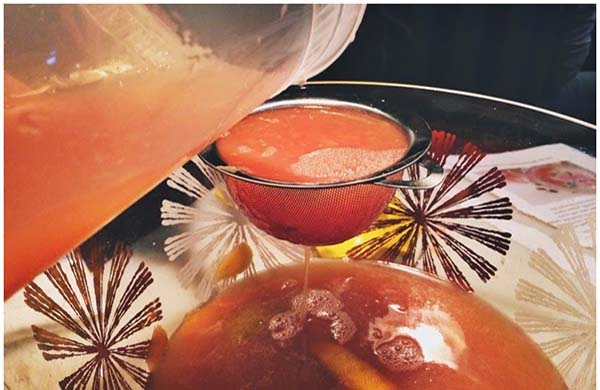 Next, the strong, weak, and bitter. Quite literally, one of the ingredients is
Luxardo Bitter
(which is basically the same as Campari, but cheaper! And good in Negronis!), of which we added 1 cup. And then the fun part: the primary spirit, in this case
reposado tequila from Milagro
(who had generously sponsored the event). Duncan showed us a trick: swirl the bottle in a spiral while gripping only the top, creating a little alcohol hurricane inside. While it's still spinning, uncork, flip upside down, and turn in the same direction the booze is spinning. It rushed out in less than 10 seconds. This is a handy trick if you're in a huge hurry to get drunk. Or if you're making 90 batches of punch. The final component is the weak—
sparkling wine
. If you're adding any sparkling component to punch, always wait until it's about to be served, otherwise it'll go flat. For the sake of transportation and convenience (since we all walked out with the punch we'd created), we added the 2 cups of sparkling white wine and stirred. The final product is garnished with a fresh sage leaf—do this at the last moment, too. The soft, fragrant sage adds a much-needed herbaceous component to the sweet and smoky layers of the punch. And just like that, we've made the most popular item on Punch House's menu: the
Space Juice for Jered
.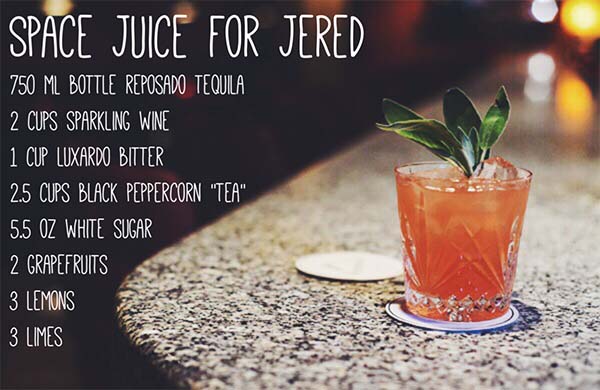 By far Punch House's most popular cocktail (according to Duncan, they make and serve twice as much of that particular punch than any other drink on the menu), the Space Juice for Jered was the
very first drink I tried at Punch House
, and I was bewitched. When I asked Duncan why he thought it was so popular, he said, "I think people respond to the unlikely, surprising contrast…the black pepper and sage provide a counterpoint to the sweet [and] tart grapefruit notes." And he was right. But of course I didn't know until the following day, since punch is always best the
second
day—especially if it happens to be a sunny, warm one.
Next month's class will be held on Saturday, May 10, and will feature a Templeton Rye–based punch. Tickets are $75 per group (of up to four), and can be purchased in advance. Follow Punch House on Facebook for the latest updates.
Top two photos by Lisa Ladehoff; middle photo by Kelsey Aanestad; bottom photo by Tim Burkhart with design by Lisa Ladehoff
BY: Lisa Ladehoff
Guide Staff Writer
A native of the city of big shoulders, Lisa is a small-shouldered books and booze enthusiast living on Chicago's Northwest side with a large cat, a tiny bar, and a medium-sized library.
Breweries, Wineries & Distilleries Deals in Chicago