Food Truckin' to a Great Meal
BY: Fiona Coxe |
Apr 3, 2014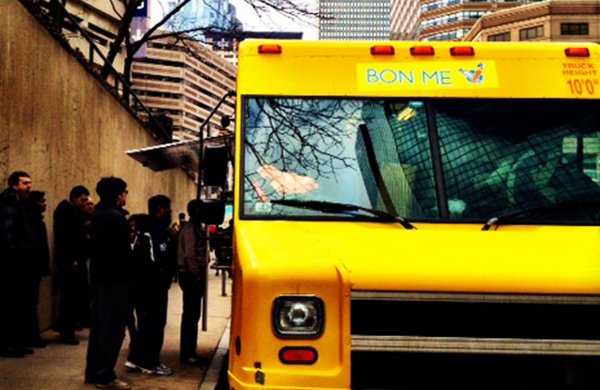 Food trucks, baby, you've come a long way….Years ago "food trucks" in their original form roamed the streets, office building to office building providing the workers inside with a selection of greasy breakfast sandwiches and hash browns, or equally greasy burgers and fries at lunch.  The food wasn't fancy, the opposite really, it was standard fare, that was made cheaply and sold cheap.  The trucks were able to drive between several office buildings a day, providing breakfast and lunch at set times.  It was fast.  It was convenient.  It was just food.
Today, Food Trucks have garnered an almost cult following as artisans the nation over utilize these mobile kitchens to introduce the world to their creations.  The food is often fusion, blending approachable dishes with more exotic ingredients, it's fun, and it's usually rather eclectic.  Boston jumped into the food truck scene just a few years back and the trend caught on, fast.  Seven days a week, over 25 different food trucks are setting up shop all over the city, from breakfast to dessert, and now…even later. Coming soon, Boston will be extending our T service until 3am, allowing our evenings to extend just a bit here in the city. To go right along with that, Mayor Walsh has approved ten food trucks to stay open until the T closes, giving the residents options where the late night dining scene was once desolate.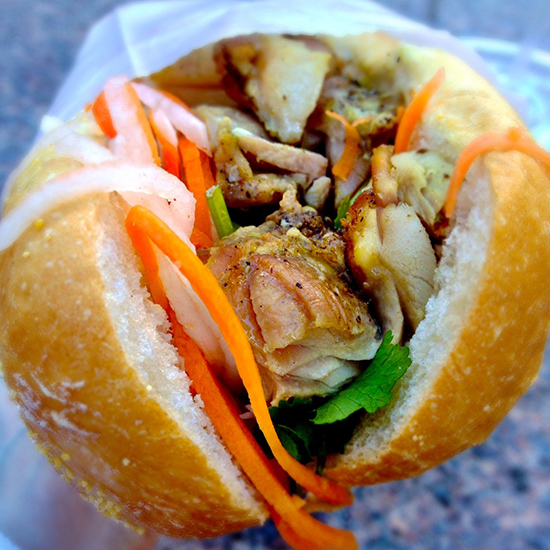 Of course, the food truck world can be a bit intimidating.  Which are good?  What do you order?  This is the best part of food trucks in my opinion, their offerings are limited, in a good way.  They have honed in on their best dishes, and best flavors.  They are confident in everything they offer, so the decision about where to go depends solely on your own preference.  Do you want something comforting and familiar?   Do you want to try something a bit more exotic?  The choice is yours.
Looking for something comforting?  How about a nice grilled cheese sandwich?  Roxy's Grilled Cheese, featured on the Food Network's "Food Truck Wars", will griddle you up a sandwich made of all homemade ingredients for the best grilled cheese you've ever tasted.  How about their Green Muenster which combines Muenster cheese with guacamole and applewood smoked bacon?  Name an ingredient on that one that you don't like- I dare you.  Or if you want something with a bit more "umph", how about their Mighty Rib Melt which adds their own bbq braised beef to Fontina cheese and caramelized onions.  There just isn't anything wrong with that.
The Taco Truck offers classic Mexican dishes with a twist to the environmentally minded.  Not only is their truck eco-friendly, but they've gone to great lengths to ensure that their meats are raised on an all-natural diet, and their produce is locally sourced.  These efforts are evident in the quality they serve when they hand you a gluten free Carnitas Michoacan, a combination of braised sweet pork with onions, fresh cilantro and tangy green salsa, or a vegetarian Berenjena Torta, a Mexican sandwich of toasted bread with crispy eggplant, white onions, pickled jalapeños, avocado, crema and a black bean spread.
Want to take a walk on the wild side?  Stroll on over to the Mei Mei Food Truck.  With a constantly changing menu, the Mei Mei is combining locally sourced ingredients with hormone free proteins to create dishes to tempt the palate daily.  They are best known for their Double Awesome which does vary slightly, but creates a sandwich out of crispy scallion pancakes, a rotating cheese, sauce, and two fried eggs.  It's their legacy for a reason.  Another favorite?  Their Whole Grain Berry Salad, a mix of wheat berries, pickled cranberries and watermelon radish tossed with a miso honey vinaigrette- a salad packed full of tasty flavors and textures to keep you full.
Bon Me is offering up unique spins on Vietnamese cuisine, as evidenced by their name twist on the traditional sandwich the Bahn Mi.  Here they make a variety of rice bowls, noodle dishes, and their own Bon Me, which stuffs your choice of tofu, chicken or pork into tender French bread and piled high with pickled vegetables, housemade pork pate, crunchy red onions and fresh cilantro (pictured above).  Traditional?  No.  Delicious?  Absolutely!
Of course, maybe you're just looking for something sweet?  Swing on by The Cookie Monstah for a homemade cookie in all the classic flavors you're craving, and some new combinations to mix things up.  Chocolate Chip or Oatmeal Raisin?  M&M or Red Velvet?  I'm not going to pretend this is an easy choice.
No matter your desires, the Boston food trucks have you covered from morning til, now, late night.  So get out there and find your favorite! Explore all of our
Boston restaurant deals.
BY: Fiona Coxe
Fiona is a free-lance food writer living in the city of Boston.  Born with an extreme love of food, she put her passion to paper in 2008 with the creation of her own blog, A Boston Food Diary.  It began as a way to keep track of her own kitchen adventures, and record her dining experiences in and around Boston.  Since its inception, A Boston Food Diary, showcasing its extreme love of both food and the city of Boston, has become a well-known resource for both the people of Boston and visitors to the city.  Fiona has also written for various publications around the city, as well as spot pieces for national publications.