For Joan Osborne, "Love and Hate" Is Only Part of the Story
BY: Collin Brennan |
Jun 30, 2014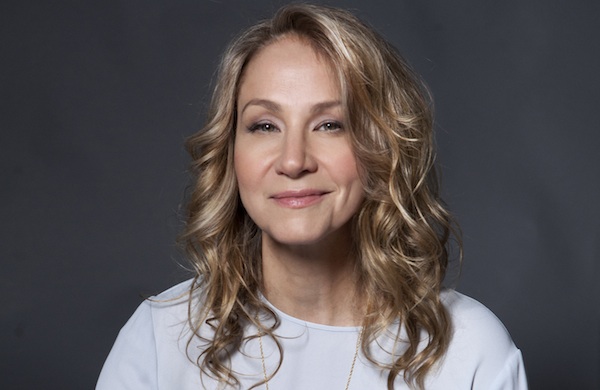 Joan Osborne must have thought she was busy back in 1995. That was the year the singer's Grammy-nominated album,
Relish
, officially launched her into pop music's stratosphere. Nonstop touring and radio appearances followed, and for a while it seemed like you couldn't go anywhere without hearing the album's ubiquitous lead single,
"One of Us."
Nearly 20 years later, Osborne has settled into a groove closer to the edge of the mainstream. While she's no longer focused on writing Top 40 hits, the perpetually active musician remains as busy as ever. She recently formed a new group,
Trigger Hippy
, with Black Crowes drummer Steve Gorman, and she's about to go on tour in support of her eighth solo record,
Love and Hate
. On top of all that, she now has a daughter. Fittingly, we caught up with Osborne while she was in transit ("I'm walking on the streets of New York trying to find a spot where I can actually hear you," she explained at the beginning of our call). Once she ducked into a quiet side street, we asked her how she manages being a mother and a musician who's constantly on tour.
GROUPON: Love and Hate is the first record on which you've written or co-written every song. Was it easier to paint a story this time around, when you had so much more control of the creative process?
JOAN OSBORNE: Well, it's not a completely new thing for me. ... I've done a good deal of writing on most of my records. But I think it's significant that you mention that, because this [record] is such a personal take on the subject of romantic love. I think that's augmented by the fact that I wrote every lyric and really had a hand in creating these songs as much or more than on any record I've ever done.
G: You recorded part of Love and Hate in the woods and part of it in New York City. Was there a creative rationale behind that?
JO: No, that was just a practical consideration. We all went up to the woods to my co-producer Jack Petruzzelli's place—he has a lot of great old gear, and we started the record that way. ... Inevitably, we had to move to working in New York City because that's where all of us live and it was a lot easier to schedule things. It's nice when we can all go away for a few days, but it's not really practical when you get to this point in your life, where everybody's got families and other gigs.
G: Speaking of scheduling, you're also in another band, Trigger Hippy, with Black Crowes drummer Steve Gorman. How did that come about? Did he approach you first, or were you looking for another project?
JO: Steve approached me at a time when I had been thinking about the fact that I wasn't really taking advantage of the connections I had made over the years. I had met so many great musicians and artists, and there were so many opportunities for me to collaborate with those people. ... I just felt like I wasn't doing enough of that, and that's when Steve started looking around and thought of me as someone who could join Trigger Hippy.
G: Did joining the band have any effect on your solo material, either in terms of getting new ideas from your bandmates or just having a dedicated outlet for your grittier, bluesier stuff?
JO: That's a good question. I don't know ... I'm sure the two things will inevitably inform each other, but right now it's nice to have these two different arenas to play around in.
G: Trigger Hippy's going on tour this summer, and you're also playing some solo dates to support your own record. What's it like trying to juggle the schedules of two bands?
JO: Well, that's just part of it. I also have a daughter to raise, and her school schedule and her vacation schedule get factored in as well. You know ... you have to have a lot of discipline. That was one of the things I was most in touch with when my daughter was born. I realized that if I was going to get anything done, I'd have to be much more disciplined about it. You can only go so far on being talented and waiting for inspiration.
G: What's the biggest difference between how you tour now and how you toured in the '90s?
JO: Well, I don't go out for months at a time. There was a time in the '90s when I would come home for a week and then be gone for two or three months. My life isn't like that anymore. I have a child and I have a home. I love going on the road, but there are other things I love as well and I don't want to be on the road all the time.
G: Outside of New York, where you live, do you have any favorite cities or regions of the country to play in?
JO: Oh God, there are so many. That's the one greatest thing about being on the road—you get to experience different towns and different places. ... I love the South. I love hanging out with people in the South, because I do feel there is a certain—well, Southern hospitality is what people call it—but an openness, a generosity that's more present in day-to-day interactions. But I also love places like Chicago, which is a beautiful city [with] amazing architecture. I live in New York, so I certainly have a lot of that at my disposal at home, but as many people find out, you don't always take advantage of the things around you.
G: Are you able to get out and explore much when you're on tour? Do you actually schedule days off?
JO: I've become pretty expert at taking advantage of whatever time we have off. We were in Lake Tahoe a couple of weeks ago and we had an hour and a half before we had to leave for the airport, so I just told everyone, "OK, we're going kayaking." So we raced down to the place where we could rent kayaks and we paddled out on Lake Tahoe for an hour and then raced back to the hotel. We're able to grab a little piece of it here and there.
G: "One of Us" was such a massive hit when it was released in 1995. You've done a lot since then, but that's the song so many people remember you for. How did that moment of stardom affect you? Did it change your expectations going forward?
JO: I think it did in that moment. I kind of fell into doing this for my living. It wasn't something I had really planned when I moved to New York City from Kentucky to go to film school at NYU. I never went into it thinking, "I'm going to become rich and famous and sell a ton of records."
Relish
did make me feel like I had gotten a big stamp of approval, like, "Yes, you are legitimate," and "Yes, people are really accepting what you're putting out into the world." ... I've had an amazing life in music partly because of that success, but I don't think I was meant to be a big star. It's not really my thing.
G: You seem really comfortable on the new record, like you've found the right place for yourself.
JO: Well, I'm really fortunate. ... The person I always looked toward when I first started doing this was Tom Waits. Tom Waits has a following that will go anywhere to hear what he's doing, and he has an audience that's ready to listen to anything he puts out. He'll go on tour and he's selling out big arenas, but he doesn't have to. ... I've always thought that's the ideal position to be in as an artist, where you don't have corporate people hanging over you and you can follow what's interesting to you. I certainly wouldn't say I'm like Tom Waits in any other way, but now I kind of have a career like that.
Listen to
Love and Hate
on Spotify, and check out Groupon for concert deals in your city.
BY: Collin Brennan
Guide Staff Writer
Collin is a senior editor and a staff writer for Consequence of Sound. He self-publishes zines and moderates writing workshops for The Chicago Publishers Resource Center (CHI PRC).