For the Love of Drinking: An Evening with the Overserved Society
BY: Lisa Ladehoff |
Jul 25, 2013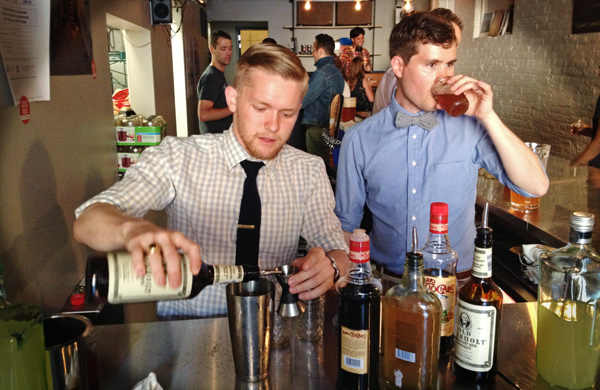 On an otherwise quiet street in the West Loop, as the sun slides toward the horizon on a Friday evening in midsummer, the front door hangs open at
the Garage
—the venue of choice at this month's
Overserved Society
. Inside, a small crowd gathers around the long, L-shaped stainless-steel bar, commandeered by Overserved's founders, Seth J. Putnam and Blake Royer. Together, the two mix, stir, and pour drinks into small, diamond-patterned Ball jars. As the pair slide the quarter-full glasses across the bar, Michael Kiser, the man behind
Good Beer Hunting
, tops off each glass with a hefty pour of beer out of a large pitcher drawn from the nearby kegs. Wait a minute, back up. Beer on
top
of the liquor? It's a head scratcher—a far departure from a beermosa or a michelada or a lemony shandy—and arguably way more dangerous. The first of the night's two "beer cocktails" consists of rye, amaro, nutmeg simple syrup, which is
then
topped with
Revolution Brewing
's Anti-Hero IPA. If there's one resounding conclusion drawn from attending an event like this, it's that the hosts aren't afraid of being adventurous—evidenced by not only the cocktail but also the rotating nature of the party (it's never held at the same location twice.) Someone hands me an explanatory, hand-stamped card: one side features the recipe for
the Flip
(this month's aforementioned beer cocktail); the other reads Overserved Society above a charmingly wicked quote from F. Scott Fitzgerald: "First you take the drink, then the drink takes you
."
The finished product stands on the bar in little clusters, free for the taking by any thirsty attendee, and they disappear quickly as the room begins to fill. The drink is boozy, rich, and a little sweet from the nutmeg syrup, balanced by the bitter hoppiness of the IPA. Putnam describes the second round of beer cocktails as an "easy drinker." It's bright and refreshing, the gin lingering subtly beneath
Solemn Oath Brewery
's clean and mellow belgian blond. After the event, I caught up with Putnam via email to pick his brain about all that goes into the Overserved Society (OS), how he and Royer keep from getting too drunk during their cocktail brainstorming sessions, and the logistics of a pop-up cocktail soiree.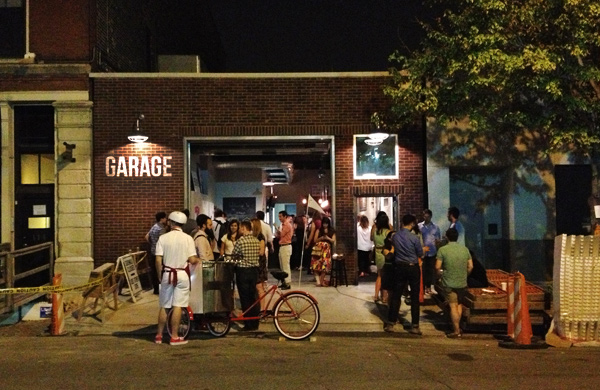 GROUPON: Why should I (and all those lovely and very innocent, fashionable-looking people in attendance) trust you to make me a drink? 
SETH J. PUTNAM: I guess I'd say don't knock it till you try it! Blake and I are both adventurers when it comes to food and drink (in that we'll taste just about anything), and I think the party appeals to similar people. We do try to give people an idea of the spirit we'll be using at each party. That way, if you've got a vendetta against, say, whiskey, you'll know to avoid this particular edition of the Society. If you don't like what you taste, no one's twisting your arm to have another.
G: It sounds like when you first started out, you weren't really sure what you were doing. What's made the biggest impact on you as a crafter of great cocktails? Was there a moment when everything clicked?
SP: Drink-wise, we're quick to admit we're novices in the cocktail world, and considering the truly amazing mixologists operating in Chicago today, I'm always intimidated that a real pro will show up, taste our drinks, and turn up his or her nose. But … I'd say the biggest thing I've learned is to try a lot of things. … So, the key is just to do a hell of a lot of exploring … which is really the best part.
G: How do you decide on the cocktails for each event? Can you talk a bit about your process of recipe selection, tweaking of classics, and deciding on ingredients?
SP: A lot of it just has to do with what we're drinking ourselves at the moment. And we have a tendency to drink seasonally. Once we pick the basic drink, Blake and I get together, and we make a bunch of different versions of it. Invariably, we'll think the first attempt tastes really, really good. But we'll look for anything that might be missing. (A good drink should be like a story, with a beginning, middle, and end.) So we'll take a second pass. And almost without fail, we'll turn to the first drink, look at each other and say, "We
drank
that swill?" Which is hilarious. But there's sort of an art to it, which includes making small quantities of each version, because at a certain point in the evening, everything tastes good.
G: What are the mechanics of the process with finding the space and making everything come together? The Garage seems like a unique venue; how do you decide where to host events? Is the planning a pain in the ass?
SP: One of the fun things about our party is that, so far, it's never been at the same place twice. We've been lucky to team up with a couple of venues [that] were just opening, and we're able to fill their space and spread the word. The Garage was one of these, as was
Gaslight Coffee Roasters
in Logan Square, where we partied the night before their official opening. The next morning, a bunch of their first customers were from our party, probably feeling the effects of the night before. It can be difficult, of course, to find new places every time. So we keep a list of likely spots, but we're always looking for more.
G: How would you describe the vibe? Do you think it changes from event to event? 
SP: I think the atmosphere has stayed strangely consistent from the very first one, which included 18 people in my apartment. I have no idea why this is, since there are now about 250 people on our invite list, and it's much broader than that original circle of friends. But we aim for a vibe that's based around camaraderie. When you come to one of our parties, we want you to experience the kind of joie de vivre you get when you're sharing good drinks and good music with old friends.
G: What's your biggest goal/dream for OS? Has that changed since the event first started? 
SP: We've talked some about opening up chapters in other cities, but that's still a little ways off. In the meantime, I'm sure we'd be more than happy to use it as an excuse to travel and throw one-off versions. We weren't thinking about anything on that scale in the beginning, so I guess you could say that's changed. But the only thing that mattered to us at the beginning was filling a room with people we loved and showing them a good time—and that hasn't changed.
G: Favorite thing to drink, currently?
SP: I've been drinking that
whiskey smash
we made last August, and I'm not sure I've tasted anything more refreshing for a summer that's as hot as the one we're having. Here's the recipe:
Ingredients:
2 ounces of rye whiskey (we prefer Old Overholt) 3/4 ounce simple syrup (1:1) 1 dash Angostura bitters 5 mint leaves 2 lemon pieces (take a quarter of a lemon and cut it in half)
Technique: 
Bruise the mint leaves with the simple syrup and bitters in the bottom of a shaker. (If you muddle the mint too hard, it gets stringy and bitter, so "bruise" it instead. Shaking it with ice will do the rest.) Toss in the lemon pieces and muddle on top of that mixture. Then add the whiskey and ice and shake until the tin is too cold to hold. Double-strain into a glass and garnish with a spring of mint. (Hint: If you clap the mint sprig between your hands, it'll release aromas that will enhance the drink as you bring it up to your nose. Oh, and the key is to serve this over crushed ice—preferably that you smashed yourself in a towel or a canvas bag.)
G: Sum up OS in three words. 
SP: Finesse, reimagination, and approachability.