Forklifting the Fourth Wall: Redmoon Theater and the Art of Public Performance
BY: Will Landon |
Jul 31, 2013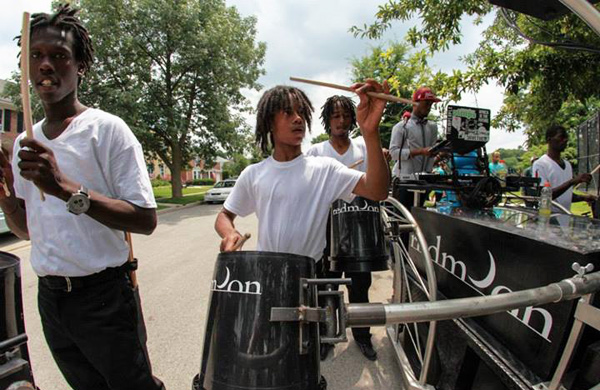 Ask a theater student to list the types of stages on which actors usually perform, and she'll likely name four: proscenium, traverse, thrust, and arena. She might neglect to mention some other possibilities, such as a platform suspended in midair between two massive forklifts. That last example is typical of Redmoon Theater, an experimental company that has moved away from the realm of traditional theatrics to explore the tactile relationship between humans and machines. Redmoon Theater has been around for more than 20 years, but the company is still searching for new ways to innovate. Given its recent move into a 57,000-square-foot performance space in Pilsen, the possibilities are endless. The company's first show in the new space,
Spectacle Lunatique,
transformed a traditional gala into an immersive spectacle in which performers periodically engaged their guests in curated "events."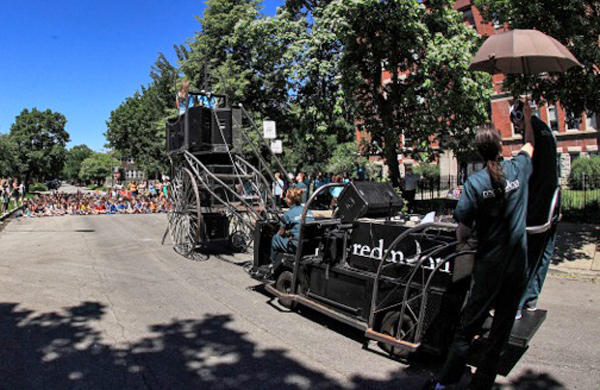 Bringing Theatre Outside the Theater
Redmoon's stage isn't always a stage. Alex and his company seek less conventional spaces for their antics—a converted warehouse, a crowded summer festival, and a public park, among others. In Alex's words, the end goal is always to "disrupt everyday life in a way that facilitates public engagement and community building." To facilitate this disruption, the company often turns to complex machines. Consider the Ladder Machine: originally used as a vertical puppet stage, the battery-powered ladder has since been outfitted with a giant speaker, a pair of metal wings, and a perch on the top rung. An aerialist stands on this perch, performing a circus-style routine while the stylized gramophone speaker plays whimsical music. Perhaps even more impressive than the Ladder Machine is the electric lift that Redmoon recently introduced. The so-called Two Rooms Machine functions as a pair of small stages that raise and lower on command. As actors perform on these dual platforms—one dressed as a Victorian bathroom, the other as a writing room—their movements are in sync with spectacular fire and water effects. Alex explains that it takes a certain kind of performer to realize each machine's full potential. The machines can dramatically affect the actors' performance, so the company must prepare for the unexpected. "To steer a fire-breathing forklift through a public space," Alex says, "certain requirements have to be met for safety and an effective performance." Adding to the creative challenge is the element of the unknown. The artists don't know which aspects of each machine are compelling until the audience experiences it for the first time. Multiple revisions are "customary," as company members add or replace components based on audience reactions.
The Sonic Boom: A Spectacle of Sound
Redmoon's latest work in progress is the Sonic Boom: a 27-foot kinetic stage and wagon on massive steel wheels. Company technicians have outfitted the stage with 13,000-watt speakers, high-end subwoofers, and musical interfaces, creating a machine that Alex describes as a "rolling chariot of sound." Aside from its main performance platform, the Boom features rows of percussive instruments affixed to its sides. When the machine is stationary, a winch lifts the main performance platform at the front end to create an elevated podium. In the future, the Sonic Boom may dock with a slide and what Alex describes as a "performance staircase." Audience members or performers could climb this staircase to reach the top platform, interact with the artists, and then slide back to earth. The Sonic Boom relies on a group of artistic collaborators from outside the company. Alex and the rest of the crew envision the machine as a launching pad for budding artists in and around Chicago.
The Summer Park Series 
Speaking of collaboration, the Sonic Boom is also the cornerstone of Redmoon's joint project with the Chicago Park District: the
2013 Summer Parks Series
, a calendar of roving performances at parks on the city's South and West Sides. At each performance, the company travels with the machine on a promenade through the park. Once they reach a designated point, the Sonic Boom elevates to its full height. Each event is followed by a free percussion workshop and a parade with—no surprise here—plenty of audience participation. To see the Sonic Boom up close, keep an eye on the following locations:
Midway Plaisance Park | Hyde Park
– Thursday, August 8
Dvorak Park | Pilsen
– Saturday, August 10
Humboldt Park | Humboldt Park
– Saturday, September 7
BY: Will Landon
Will Landon is a Chicago-based writer who sings punk rock songs with the Blue Ribbon Glee Club and occasionally works for free as an assistant stage director.