Fresh Picks: Convenient But Not Conventional
BY: Nathalie Lagerfeld |
May 23, 2016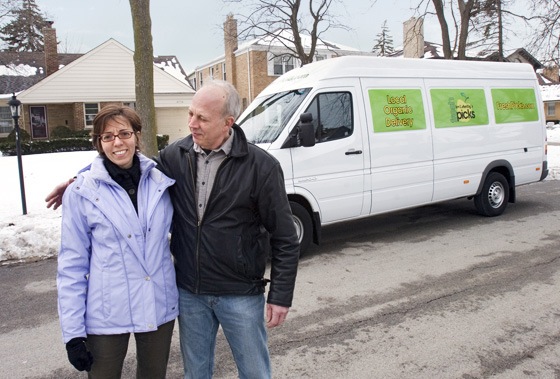 People, plants, then profits. That's the hierarchy of concerns for Irv Cernauskas and Shelly Herman, whose eco-conscious grocery service, Fresh Picks, delivers roughly 20,000 pounds of local and organic produce weekly to homes across Chicagoland. Though they fill out their selection with out-of-state organic purchases, many of Fresh Picks' suppliers are local. In 2012, Shelly said, they purchased more than $750,000 worth of produce directly from small area farms. For instance, on their website, customers can currently order sweet scarlet or gold turnips from Harmony Valley Farm in Viroqua, Wisconsin, and russet or yukon gold potatoes from Igl Farms in Antigo, Wisconsin.
Groupon caught up with the duo to chat about its unconventional approach to organic produce.
Q&A with Irv Cernauskas and Shelly Herman, Owners of Fresh Picks
Tell us a little about Fresh Picks' mission.
Shelly: We often like to say that our mission is to feed more people healthier food. Healthy food means that it is grown sustainably. The local piece is also important because we're not having food travel so far.
Irv: When the food is allowed to grow in the field for longer and picked when it's ripe, it has more nutrients. And it's tastier because nutrients are what makes for flavor. That's why those cardboard tomatoes don't taste like anything—nothing in 'em!
Shelly: We work on the "more [people]" part by focusing on affordability and convenience.
How are you different from a CSA?
Irv: It really is an effort on our part to offer more choice and flexibility and convenience and customer service. You can order what you want, when you want. So we have an option for the customer to select their own mix [or go à la carte]; they don't have to select a box.
Shelly: [Going back to affordability,] with a CSA, you sign up for the whole season and you pay it up front—not everyone can afford that. We're pay as you go.
Irv: There's also the convenience factor. [Most CSAs make you come to a pickup location to get your box every week, but we deliver.] If you have mobility challenges or you're busy or it's raining and you don't feel like going to your pickup location, no problem, because we deliver to your home.
Shelly: I do want to say that if people really want to connect with one farm, [and they have the money and the time to do so, then] they should absolutely do that. It's a wonderful relationship and we're [only] trying to provide for the other people where that doesn't work. I don't want any of this to come off [as being anti-CSA].
How do you find new growers to work with? Do you visit the farms? How many new ones do you add each year?
Irv: It's a really close relationship, and in many cases, the growers have become close friends. It's really what makes the business fun. I go to farm conferences and meet-the-grower events. Shelly: These really are people we share values with [and make] a lot of handshakes with. We don't have written contracts with [them]. It's all just a value relationship. [And] we probably work with over 100 small Midwestern farms at this point. Irv: It's a collaborative spirit we bring to this business. We aren't just looking for the cheapest carrot every week, where you can jilt the grower who sold you the carrots the week before. We really go the extra mile for each other. ... It's a longer-term thing than just trying to get the best deal we can this week.
Any plans to expand? For instance, I see you guys put up that you're starting to sell fresh milk this week.
Shelly: Oh yes, the milk! That's very exciting.
Irv: We've offered milk in plastic bottles from the beginning, but this is our first week offering the glass-bottle option. The market speaks—people want it, and we try to understand what our customers want.
Shelly: Some people want the glass bottle because they don't want to consume anything that's been in plastic. Some people like how glass bottles keep the milk really chilled. ... It took a while to find a glass-bottle milk that is organic—this is the only one available in the Chicagoland area. The other ones, like Oberweis, don't have the growth hormone, but they're not organic, so the cows could be eating GMO feed and stuff like that.
Photo courtesy of Fresh Picks
BY: Nathalie Lagerfeld
Guide Staff Writer
Nathalie is a writer and editor on the Guide's food team. Originally from Virginia, she now lives in Chicago, where she regularly indulges her love of tortas, bibimbap, and Cheez-Its. Follow her on Twitter @maviswillsaveus.