From Construction to Couture: How Midwestern Builder Matt Bernson Became a Coveted Celebrity Shoe Designer
BY: Sarah Gouda |
Jul 23, 2013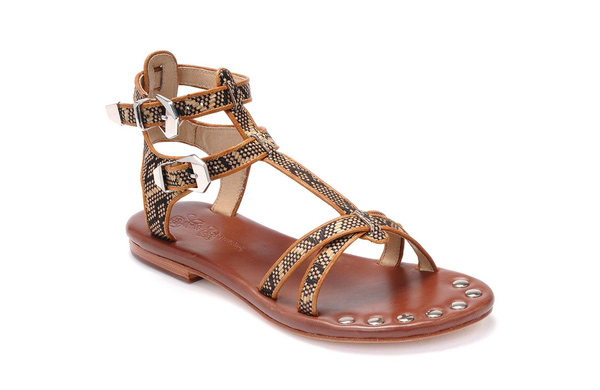 An Indiana University grad with a background in construction might seem an unlikely candidate for a designer of high-end women's shoes. Matt Bernson, founder of the celeb-adored
Matt Bernson
shoe and sandal line, admits it was a strange and serendipitous road that led him to a fashionable career crafting shoes for the likes of Sarah Jessica Parker and Blake Lively. But despite the adoration of movie stars and musicians, Bernson remains humble. "Maybe it's a personality defect, but I just don't feel like [success] has happened yet," he says. "The motivation has not been to succeed. It's been to do something well, and have people love it." Here he discusses his unconventional entrance into design, and why he no longer approaches girls wearing his shoes on the street.
GROUPON: How did you get started making shoes?
MATT BERNSON: I took a trip to India to study under the Dalai Lama . . . and then traveled around afterwards for a couple of weeks. I walked into a marketplace that had a whole bunch of sandals that looked modern, but also ethnic and interesting. I bought [beaded sandals] as a gift to my girlfriend, and she had such a positive reaction to them that it just sparked the idea to go find the source of those sandals and import them. That was the original idea, to import. I started researching factories and sources. When I went back [to India], I didn't want to just import what I found—I wanted to make them more comfortable, specifically. I immediately started trying to incorporate some sort of memory-foam padding. My mom is a jeweler [with] an antique jewelry collection, so I started taking her charms and putting them on the sandals. [Between the return trips to India] I was showing people in New York the product to see what they thought of it.
G: Did you have the artistic background or know-how to mess with the shoes, or was that all learned in the factories?
MB: I was a business major, [but] I always wanted to do something in a creative field. I really didn't come to it until I found these factories. What's nice is [that] I didn't have to be able to draw very artistically. Just sitting with the craftsmen, you figure out what you want by putting leather on the form. You don't need to sketch it out, you just figure out what you want and build it.
G: Did the craftsmen accept you openly as an apprentice?
MB: It slowly sort of built up to just letting me sit in the factory and watch. They were very open to the idea of working with an American, because they were interested in breaking into the US market. They saw it as an opportunity to grow their business. They were willing to let me sit there and take up their time. A lot of them didn't think I'd do anything. So when we came back with a ton of orders, they didn't really have the capacity to make them. This was an oversight on our part.
G: So what did you do?
MB: In India, I met someone from Brazil who I partnered with to open a factory in Brazil. He opened the factory, I filled the capacity. That's when I really learned the more technical aspects of shoes. The brand went from ballet flats to boots, by basically being a co-owner in a factory. I started with the sandal and moved up in complication and technical know-how from there.
G: You were initially inspired by this international, ethnic look. How has your style evolved since then? Does the Brazilian factory add a Brazilian flair to the end product, for example?
MB: I wanted to make something that had ethnic influences, but also had the feeling of being modern, sophisticated, minimal. The inspiration in the beginning was definitely more Indian, African, Middle Eastern, anywhere I traveled really. As the maturity of the collection developed and as I traveled more, I'd say it's still an influence, but it's been scaled back. Now we get influence from Europe or Native America [sic], something that's a little more tailored. The thought process behind it has evolved. Now we produce in several different countries.
G: You recently collaborated with Edun, a fashion brand focused on trade relationships with Africa. How did that collaboration, and the use of Kenyan materials, influence the process?
MB: [Edun] wants a percentage of their entire collection to be sourced from Kenya, so that it is economically viable for the people [there]. It's for profit, so it builds the [Kenyan] businesses . . . they are working with. We used [African metal] beads and canvas that would be sourced from a Kenyan factory. True collaboration: we advised on how to use the materials, they sourced [them].
G: Is the international aspect really important to you, and do you continually seek it out?
MB: Definitely. The collaboration with Edun was a good fit. My sister had lived in Africa for four years, and we've now traveled to many different countries that we were sourcing from. It was something that was a very easy and good fit for my personality and company. [We were] excited about the idea of discussing . . . the sources of the materials [with them], and had a similar idea of style and fashion. We look for interesting people that will expand our understanding of what we are doing. [From Edun], we got to learn different places to source from.
G: So that's how you might learn from fellow designers. Do you have any examples of how you've learned from customers in the store?
MB: Just watching people try shoes on. Seeing how something fits someone. [Customers] have an unvarnished opinion of things. You don't get that technical feedback [from a larger retailer], versus just watching people try on shoes and seeing what they hone in on. We can experiment more and introduce things that are not necessarily safe for a large retailer, which is more exciting for us. It may appeal to less people, but the people it does appeal to love it because it's unique.
G: What's the weirdest place you've ever seen your shoes?
MB: A [guy on Facebook] took pictures in one of the high-heeled boots we did . . . on his front porch with two thumbs up. [That was] one of the more entertaining ones. I've seen them passing in the street in European cities, which is mind-blowing to me, to think that we have that reach. The first place was in the New York City post office on 34th Street, near Penn Station. I had to get a certified letter sent, and some girl was standing there with her boyfriend [with] a pair of sandals on.
G: Did you have the impulse to talk to her?
MB: I did, and that was the first and last time that's happened because it didn't go as planned. Her boyfriend thought I was trying to hit on her.
G: Do you have any all-time favorite pieces?
MB: The
Love sandal
. We still sell it, and people really do love it. It's just well-made, [and] certainly memorable because it's the first real success I've ever had. The
KM gladiator
is the most known style we have to date—[it] sold five to six years ago, and a bunch of celebrities wore it. For me, it became something that took my company and brand to the next level. [The] Totundra boot helped change the perception of the brand from just a sandal company to something more. Our best-selling item became a shearling boot. I'd say it's something I'm proud of.