GROUPON GUIDE TO NEW YORK
From Number Crunching to Metalsmithing: A Manhattan-Based Jewelry Artist Discusses Her Career Transition
BY: Jorie Larsen |
Apr 16, 2013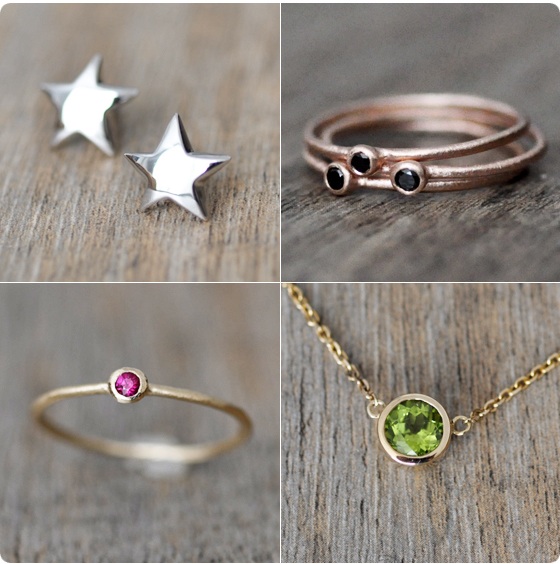 For nearly two years, Brooke deDiego, 29, led a double life. By day, she crunched numbers at a booming corporate firm in midtown Manhattan. But once night fell, Brooke traded her Excel spreadsheets for a jewelry saw and torch, churning out delicate, understated pieces for her line,
Porter Gulch
. The operation, based out of her Upper West Side apartment, has flourished in the two years since she set up her cyber shop. So much so that in early 2013, Brooke decided to say goodbye to the corporate world and focus full-time on jewelry design and production. Here, she dishes on falling in love with design, the "scariness" of leaving her job in finance, and why she loves being her own boss.
GROUPON: So, how did you begin making jewelry in the first place?
BROOKE deDIEGO: It all started when I complimented a friend on a ring that she was wearing and she responded that she had made it in a silversmithing class here in New York. I've always been someone who loves crafts and making things, so when I got home that night, I immediately signed up for the next class. I began by making designs for my sisters and me. I realized that I loved making jewelry, and others liked my designs too.
G: And when did you decide to turn your hobby into a business?
BD: It dawned on me that I might be able to sell my designs, so I opened my Etsy shop. At that point it was still a hobby, but it was nice that I could share my jewelry with a wider audience. Once my Etsy shop really started to take off, I realized that I might be able to make it my full-time job.
G: You must have been a pro at time management with a full-time career and a burgeoning side business. How did you make it work?
BD: I am going to be honest here—by the time I quit my job, I was a nutcase. I was still working full-time and I basically had another full-time job waiting for me when I got home. It was extremely stressful. Sometimes, I was making jewelry both before and after work. But I was able to get through it because I knew that it was part of the growing pains associated with moving Porter Gulch from a hobby to a real business. It was super important that I stayed organized. I always tried to be very honest with my customers by giving them realistic ideas of my turnaround times. I found that people are very understanding if you are upfront with them.
G: When you decided to quit your day job for good, did you have any doubts or "What am I doing?" moments?
BD: Oh, yes. Quitting my job was by the far one of the scariest things I have ever done. That might sound silly, but when it comes time to actually say goodbye to a steady paycheck and all the other nice perks that come with a salaried job, it becomes frightening. Luckily, I was surrounded by friends and family who reminded me that if I wasn't scared, it would be weird. They encouraged me and told me I had to do it. And in my heart I just knew it was the right thing to do. There was no doubt. I was scared yes, but I didn't doubt if it was right or not.
G: So far, what's been the best part of running your own business?
BD: I can't explain how lucky I feel to be running my own small business. It's something I dreamed of for so long. I was just out on a midday run—one perk of making your own schedule—and I was thinking about how lucky I am to be doing something I love so much all day long. It's especially great to be working during the day now, instead of at night when I was exhausted after working all day. I have more time to make new designs and to make my old designs better. I think that the best part is that I feel like I am giving it my all now.
G: What's next for Porter Gulch—and for you?
BD: Porter Gulch Designs has been selected as a vendor at Unique LA in Los Angeles next month, May 11–12, so I'm gearing up for that now. And over the summer, I'll be continuing to add the new styles that I dreamed up and sketched in notepads over the last couple of years but never had time to make. Also, I'm relocating to San Francisco with my fiancé so I look forward to entering the world of Bay Area artists.
G: What advice would you give Etsy artists who aspire to make their stores a full-time career?
BD: Do not underestimate the importance of great photography. Of course, first and foremost, you need to have a good product, but after that it comes down to how well you display it. In the age of Instagram and Pinterest it's worthwhile to invest time learning how to use a camera properly. I joke that in order to be a success in any category on Etsy, you need to be a pro at whatever you make and a pro photographer. Other than that, my advice is: don't give up. In the words of Conan O'Brien, "If you work really hard and you are kind, amazing things will happen."
BY: Jorie Larsen
Guide Staff Writer
Jorie would love to bend your ear about historic cities, national parks, and wildlife encounters. She's determined to visit Louisiana soon—her 50th state.