From Rural Soil to City Streets: Farmers' Markets in Chicago
BY: Halley Lawrence |
Apr 2, 2013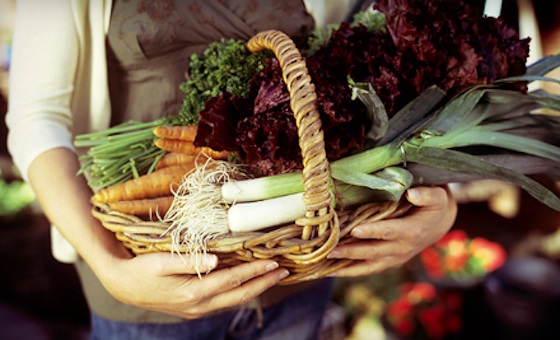 Katherine Duncan got familiar with the milk of jersey cows at an early age—she grew up on a Wisconsin farm where her father raised his own herd. She used their cream to make her first batch of caramels at age 10. Today, she continues to use cream from jersey cows in the sweets she sells at her shop,
Katherine Anne Confections
 in Logan Square. But the choice isn't merely sentimental. "Jersey cows have the highest butterfat of any cow," she explained. "Most cows range between 2% and 6% butterfat. The jerseys are all in the 5% to 6% butterfat range, so their cream is the richest and the thickest." She buys the cream from family-run Kilgus Farmstead in central Illinois, where jersey cows graze on scenic pastures. Cream isn't the only ingredient that Katherine sources locally to make her inventive caramels and hand-dipped truffles. She also works with local honey, homegrown herbs, and fruits from nearby Michigan. These ingredients don't come as cheaply as the high-fructose corn syrup and fillers that make up the bulk of mass-market candies. In order to break even, Katherine and other artisans like her must find customers willing to pay a bit more for locally sourced, wholesome products. She knows one place to find them. "If someone's shopping at a farmers' market, then by definition, they care about the same things we do," she said. "They care about [what is] organic, local, and sustainable…they care about local food artisans." Farmers' markets pop up all over Chicago in the warmer months and transform parks, streets, and plazas into temporary hotbeds of local commerce. In 2012, there were more than 40, including 5 brand-new markets that opened in areas designated as food deserts, or areas underserved by traditional grocery stores, the
Chicago Tribune
reported. Here, Katherine shares with us her top-three favorite farmers' markets in the city.
Daley Plaza Farmers Market
"My top one is easily Daley Plaza. It's the biggest. They have probably 40–50 vendors. It's every Thursday and is very well-established."
-
Located at 50 W. Washington St.
-
Held May through October on Thursday from 7 a.m. to 3 p.m.
-
Honey products from Kress Apiary in Indiana; Brun-Uusto "bread cheese" from Brunkow Cheese in Wisconsin; bath products from Abbey Brown Soap Artisan in Chicago.
-
This bustling market takes place beneath Chicago's Picasso sculpture, an iconic piece of abstract art that was initially reviled by skeptical Chicagoans until city aldermen discovered that they could slide down its steel incline.
Green City Market
"Green City Market is fantastic. I know several food artisans who go there exclusively, and that's their source of revenue."
-
Outdoor market: May through October on Wednesday and Saturday from 7 a.m. to 1 p.m. at the south end of Lincoln Park between Clark St. and Stockton Dr. (approximately 1790 N. Clark St.)
-
Indoor market: November through April on Saturday from 8:30 a.m. to 1 p.m. at Peggy Notebaert Nature Museum, located at 2430 N. Cannon Dr.
-
Handcrafted pastas from Pasta Puttana in Chicago; maple syrup from Burton's Maplewood Farm in Medora, Indiana; chestnuts from Hillside Orchards in Berrien Springs, Michigan.
-
Named one of the nation's
best farmers' markets
 by U.S. News Travel, Green City Market hosts monthly tasting series wherein chefs share sustainable cooking tips, such as how to defang a wild onion.
Glenwood Sunday Market
"We have a good following at the Glenwood Sunday Market in Rogers Park. We started off there three or four years ago. The first day the market opened, we were there."
-
Outdoor market: June through October on Sunday from 9 a.m. to 2 p.m. at Glenwood Ave. on the west side of the CTA Red Line, between Morse and Lunt Ave.
-
Indoor market: November through May on
select Sundays
 from 9 a.m. to 2 p.m. at The Glenwood, located at 6962 N. Glenwood Ave.
-
Organic herbs from Fat Blossom Farm in Michigan; sustainably produced milk, yogurt, and cream from Kilgus Farmstead in Fairbury, Illinois; organic oyster mushrooms from River Valley Kitchens in Wisconsin.
-
Glenwood Sunday Market supports low-income families by
matching
 up to $10 worth of Link purchases per card holder, per market day.