From World's Fair to Ecstatic Electronica: Friends of the Gamelan Carry On Chicago's Indonesian Music Tradition
BY: Nathalie Lagerfeld |
Jul 10, 2013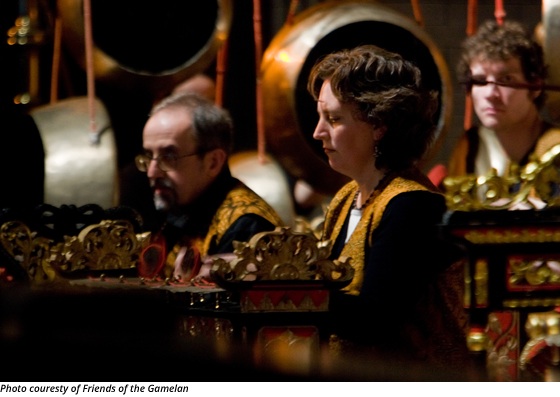 The members of Friends of the Gamelan agree that there's something familiar about Dan Deacon's music. But they can't quite seem to put their finger on it.
"You know how Dan's music is sort of hypnotic?" says Linda Maher, a founding member of the group—the only one in Chicago dedicated to performing and teaching the gamelan, an ancient Indonesian instrumental ensemble. "[The gamelan] is hypnotic." She backtracks a little. "Not like we're going into a trance or anything, though."
On Thursday, July 11, the Friends of the Gamelan—or FROG, as they're known—will open for Deacon as part of the Loops and Variations concert series at Millennium Park. The group's 20–30 members—who practice weekly in the basement of a Hyde Park church—perform up to a dozen instruments, from the rebab, or spike fiddle, to huge hanging gongs, to the gendèr, whose xylophone-like keys hang above a resonating tube. Several ensemble members sing as well. When layered one on top of each other, the instruments and voices create a full, haunting sound that can indeed lull one into—if not a trance, then at least a very relaxed state.
On the surface, at least, this ancient, meditative music seems an odd match for Dan Deacon's hyperactive brand of electronica. (Though the songs on his latest release, USA, tend to be more sedate, he's still best known for blasting high-BPM dance music from a DJ rig surmounted by a green plastic skull.) But FROG's ties with Deacon go deep. Ensemble member April Camlin, a needlework artist, performer, and musician, is a member of the Baltimore-based Wham City collective, of which Deacon is also a part. On his side, Deacon incorporated gamelan-like instrumentation into some of his songs—such as 2009's "Paddling Ghost"—and was even at one point planning to write an original composition for FROG, according to Maher.
"You could keep playing forever"
Though he knows "nothing" about electronic music, by his own admission, FROG board member Peter Ludwig says he could guess as to how the form might relate to the gamelan. He fastens onto the "loop" part of "Loops and Variations"—usually taken to refer to the "looped" or repeated samples common in electronic music. Songs composed for the gamelan, he explains, aren't like Western symphonies, which have a set form for each movement. Instead, the ensemble usually plays the same series of notes over and over in a cycle until they are signaled to change. "It creates a kind of philosophical quandary," says Ludwig, who has played with the ensemble since 2006. "If you're playing and no one gives you a signal to move on, you could keep playing forever." In fact, on some ceremonial occasions, gamelan ensembles do play the same songs over and over in a loop, sometimes for hours.
But FROG won't be subjecting their audiences to that. "We [Westerners] have a shorter attention span," Ludwig says. Instead, at their July 11 concert, the group will be playing four shorter pieces. These include "Talu," a traditional song usually played as an overture for shadow-puppet shows, as well as the poppier "Caping Ngung," which incorporates elements of Indian tabla music and a danceable samba beat. Another piece, "Kutut Manguung," showcases the complexity of traditional gamelan, with multiple vocal styles and interlocking parts that increase in density as the song progresses.
At the World's Fair
The exposure of the Millennium Park concert will be a great opportunity for FROG, who are "hoping to introduce some new people to the gamelan," Maher says. But July 11 won't be the first time that a gamelan has made a splash in Chicago. It was actually here—specifically, at the Java Village of the World Columbian Exposition of 1893—that the form was heard for the first time in the West. Though some visitors found the unfamiliar rhythms at Midway Plaisance abrasive, many Westerners were inspired by the new sounds. A wax-cylinder recording made by Benjamin Ives Gilman at the fair is believed to be the earliest recording of gamelan music, ever. Later, a similar instrument played at the 1889 World's Fair in Paris would inspire pieces by Impressionist composer Claude Debussy.
The World Columbian Exposition also inspired—albeit indirectly—the founding of FROG. When the fair was over, the gamelan instruments that had been played there were auctioned off to the Field Museum. They sat mostly in storage for decades, until they were rediscovered—in the aftermath of a basement flood, according to Maher—in the late 1970s. The discovery coincided with an upswing of interest in gamelan music, due in part to its influence on minimalist Western composers such as Steve Reich and Philip Glass. Following in the footsteps of many colleges and universities, the Field Museum began offering gamelan classes to the general public.
A FROG is born
Maher, who had then just finished a master's degree in music at DePaul University, was one of the first students at the Field Museum. She had "had it up to the eyeballs" with Western music, she says. Gamelan was a refreshing change because it was wildly different from the traditional classical pieces she'd been studying.
The main reason was the tuning. When you play a Western instrument such as a violin, for instance, an F sharp is always an F sharp, no matter what orchestra you're playing with. Not so with a gendèr or siter. Each gamelan is "tuned to itself," which means that the intervals between notes vary from ensemble to ensemble. This idiosyncrasy can be grating for listeners with perfect pitch—"it sounds like the gamelan hasn't been tuned properly," Maher says—but it also helps create a unique sound. Some experts can even tell which set of instruments is being played just by listening for the tuning.
Maher was hooked—and so were several of her classmates. When the Field Museum stopped performances on the World's Fair instruments, citing their age and fragility, the crew banded together to raise funds to buy their own gamelan. And thus, in 1980, FROG was born. Playing first on a cheaper iron gamelan, and then on an upgraded bronze one—bronze resonates better, creating a richer sound, Maher explains—the group has given performances at least once a year in the decades since.
"The most relaxing thing"
Besides attending weekly practices, a few members of FROG also volunteer to teach introductory gamelan classes to around 15 new students each fall. They can start "making noise" almost immediately, Ludwig says, because the structure of the ensemble makes it possible for even inexperienced players to contribute to the whole. Some of the most important instruments—such as the large gong that signals the beginning and the end of each movement—are also the simplest to play. "There aren't too many solos or anything," he says. "It's more about playing together as a group."
It makes sense, given its unique sound, that the gamelan has influenced contemporary Western musicians from Deacon to Xiu Xiu and Sonic Youth. But it seems like a less likely hobby for a group that includes grad students, lawyers, nonprofit managers, and other professionals. The key to the gamelan's appeal, Maher says, is how it gets you out of your daily routine. "It's so different from what we typically do with our regular days, like office work or staring at a computer," she says. "It's the most relaxing thing."
Friends of the Gamelan and Dan Deacon will perform on July 11 at 8 p.m. in Millennium Park. Admission is free.
BY: Nathalie Lagerfeld
Guide Staff Writer
Nathalie is a writer and editor on the Guide's food team. Originally from Virginia, she now lives in Chicago, where she regularly indulges her love of tortas, bibimbap, and Cheez-Its. Follow her on Twitter @maviswillsaveus.