Game of Cocktails
BY: Sandra Kofler |
Jun 7, 2013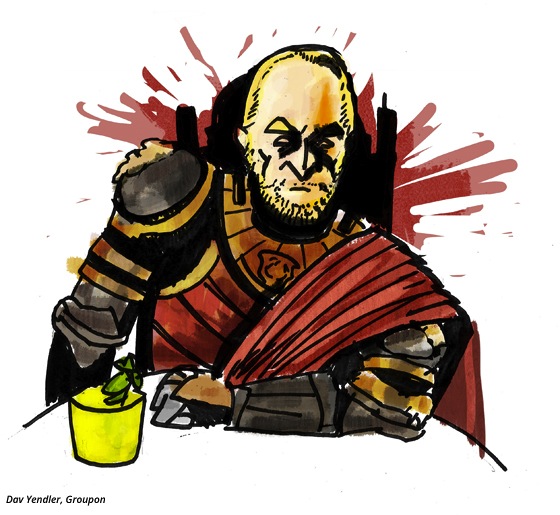 Once upon a time, New York State's
Brewery Ommegang released Iron Throne
, a beer intended to celebrate HBO's
Game of Thrones.
Sorry, Chicago. Our sources tell us finding that beer here is about as likely as Hodor reciting poetry. Instead of turning the city upside down for Season 3 finale on Sunday, June 9, we asked Mike Freeman, a bartender at
The Palm
(323 E. Wacker Dr.), to put together a few
GoT
-inspired cocktails you can make at home.
Dracarys
The drink:
First, make a
simple syrup
by combining equal parts hot water and sugar; mix until all the sugar is dissolved. To make the drink, fill a shaker with ice. Then add 3/4 ounce
pomegranate juice
, 3/4 ounce
lemon juice
, 1/2 ounce
simple syrup
, 3/4 ounce
brewed cold black tea
, and 2 ounces
Bulleit bourbon
or other bourbon. Cover and shake well. Pour into a frosty martini glass or any dragon's-egg half-shell you have lying around.
The verdict:
To hear Mike describe it, Dracarys is "a graceful balance of smoke and fruit." A dark, pinkish red, this frosty drink is most appropriate for quenching a thirst after taking care of bad guys or calming flames from too much fire-breathing. Come to think of it, it's potent enough to help fuel even more fire-breathing.* *
Do not use to breathe fire.
All the Gold in Casterly Rock
The drink:
In a shaker, combine
simple syrup
(recipe above),
orange
and
lemon slices
, and 1–2 tablespoons
mint leaves
. Muddle the ingredients to a pulp. Add
ice
and 2 1/4 ounces
Absolut Cilantro
to the shaker, then cover and shake vigorously for 30 seconds. Fill a rocks glass with ice and strain the mixture over the ice. Garnish with a healthy sprig of mint.
The verdict:
When friends come around asking for the gold you owe them, hand them one of these instead. Bright and golden yellow with a hint of lime from the vodka, this drink is "perfect for summer," Mike said, and easily helps anyone drinking it forget about winter for a while. Mint and cilantro also make the concoction pleasantly herbal, like a curative drink a maester might make if it could help ease pain or regrow a hand.
Red Wedding
The drink:
Pour 3/4 ounce
apricot brandy
into a champagne glass. Add a
sugar cube
or 1 teaspoon of sugar, a splash of
prosecco
, and 2 long dashes of
Angostura bitters
. Gently crush the sugar cube and mix until the sugar is dissolved. Fill the rest of the glass with prosecco. Twist a generous lemon rind over the glass and drop it in.
The verdict:
Some drinks help celebrate an event, and others blessedly help you forget. A drink fit for any high-class nuptials or massacre, the Red Wedding mixes up to a coppery gold and packs a punch you never see coming. Mike said the Red Wedding's combination of effervescence and potent spirits makes it "a dangerous drink." But you knew that already.
If cocktails aren't your thing, the Midwest has plenty of other homegrown bottles you can feel good about raising for a toast this Sunday. Here's our shortlist:
Revolution Brewery Rosa Hibiscus Ale
Sharing this rose-colored beer with the unwashed masses is the surest way into their hearts. It's available at Revolution Brewery's
brewpub
at 2323 N. Milwaukee Ave.
Koval Lion's Pride Whiskey
Luckily, drinking this doesn't make you a liar, a cheater, or a kingslayer. It's available at Koval's distillery at 5121 N. Ravenswood Ave.
Three Floyds Alpha King Pale Ale
First one to finish gets to be king. If only it were that easy. Grab these in six-packs at
Binny's
.
New Holland Brewing Dragon's Milk
This brew helps train your dragon to sit, stay, and roast mini marshmallows. It's available at
Haymarket Pub & Brewery
at 737 W. Randolph St.