"Game of Thrones" Embroiderer Michele Carragher Talks Dragons and Dresses
BY: Stephanie McDaniel |
Nov 13, 2013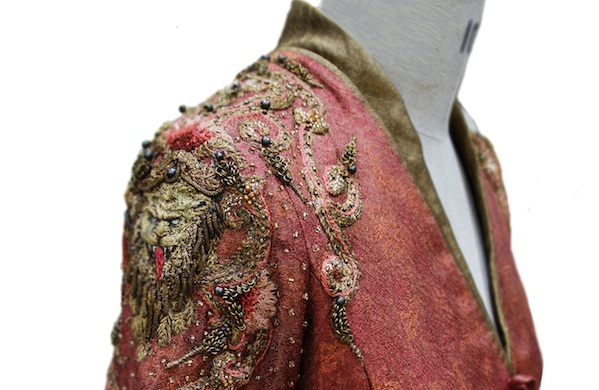 Warning: Spoilers.
For 10 weeks during the summer, viewers step out of their ordinary lives and enter a world filled with political intrigue, courtly settings, and ice zombies. The HBO series
Game of Thrones
made the world of George R.R. Martin's novels feel real—as if you could hop aboard a ship and sail to the far-west continent Westeros, anchoring at the infamous spot on the map that reads "Here Be Dragons." Of course, much of the show's believability stems from its talented actors and special effects. But it's the details—right down to the stitches on a queen's gown—that complete the illusion. Helmed by costume designer Michele Clapton, a team of armorers, weavers, and embroiderers create the entire wardrobe of
Game of Throne
s from scratch. We talked with Michele Carragher (below in her studio), the chief embroiderer for the show, to see how her artistry helps bring to life an era of political and magical warfare.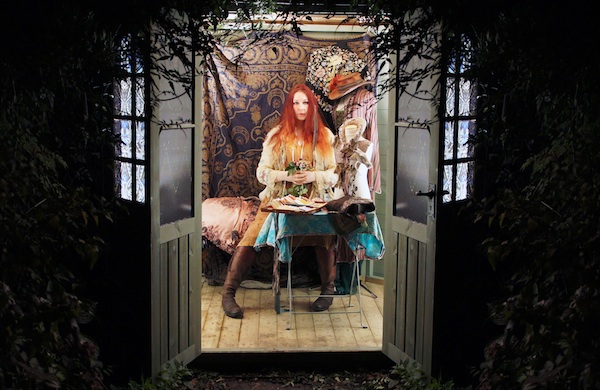 Painting with Thread
In Westeros, noble families—or "houses"—carry sigils that feature lordly lions, direwolves, and fish. Carragher's job is to create the embroidered pieces that decorate the costumes, many of which visually reference the wearer's personality or house sigil. When embroidering one of Cersei Lannister's queenly dresses, for example, Carragher may want to incorporate a lion's head—the symbol of House Lannister. She starts by researching photographs, sculptures, architecture, and other historical artworks that feature lions, so that she can "use elements of each and fuse [them] together." Carragher then sketches ideas for the design on tracing paper, referencing the costume to help her determine width and placement. Finally, she embroiders beads and threads in layers that gradually become the three-dimensional image of a lion's head. This process is painstaking and often takes a long time—embroidering Lady Sansa Stark's wedding dress (below), for instance, took 11 10-hour days of careful stitching.
Carragher compares her approach to that of a painter or sculptor who continually frets over a work in progress. Even when the design has been applied to the costume, she says, "I'll work into it again and add more stitches, and it grows."
Characters Captured in Fabric
In her role as costume designer, Michele Clapton envisions clothes that portray a character's history and mindset. Catelyn Stark (née Tully) has the Tullys' silver trout swimming across her collar, whereas her daughter Sansa's wedding dress incorporates various house symbols, such as the Starks' direwolf and the Lannisters' lion. "It's an interpretation of Sansa's life so far, embroidered around her," Carragher explains. When asked about her most complex character projects, Carragher mentions the dragon-scale dress of Daenerys Targaryen. This ornate piece involved "building up a texture" over three stages to reflect the character's growth in strength and her dragons' growth in size. Carragher began with a light dragon-scale texture on the shoulders, which she created with an American smocking stitch (below left). As the story progressed, she added more spots of scaly texture that traveled down the dress. In the third stage of the costume's evolution, Carragher used a "richer paper silk that had more dragon-scale smocking on the shoulders (below right), and embroidery stitching coming down the bodice and skirt." By stacking flat, square-cut beads, she made the reptilian transformation even more pronounced.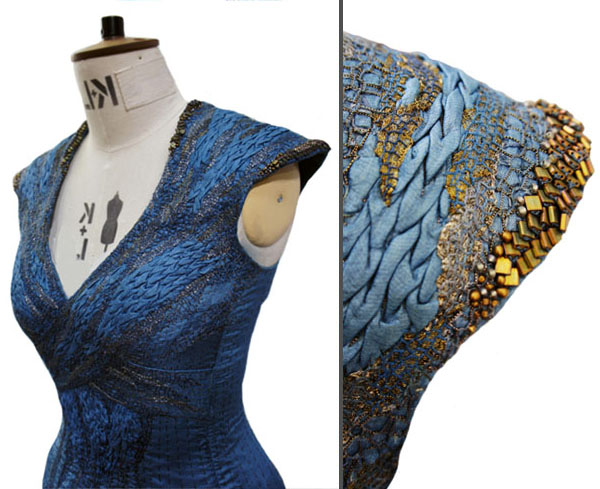 On the other hand, some designs rely on subtlety to give the viewer a deeper understanding of the character. The blue bird on Cersei's dress (below), for instance, "reflects her position at the time," Carragher explains. "She wants to be an equal with the males in the male world she inhabits. The soft feminine look of the embroidery belies her underlying intentions of power."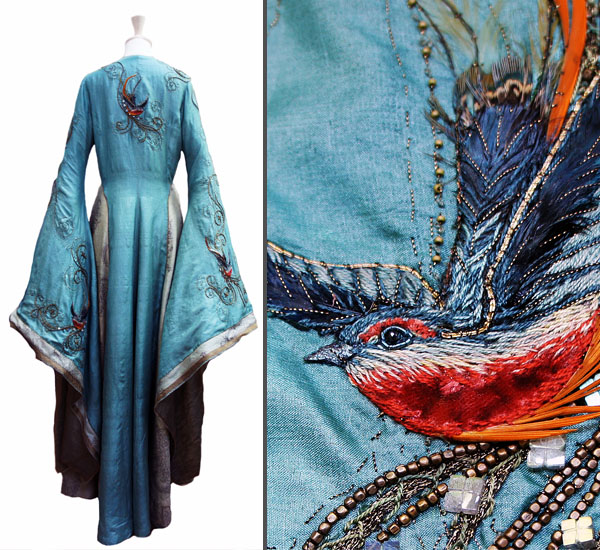 When Days of Work Go Unseen
Though the crew puts a great deal of effort into their costume pieces, much of it is obscured on screen. "You may work on something for days and days, and ... it may be completely cut from a scene," Carragher says. And, when the costumes are visible, they're usually not pristine. The pieces go to a "team of breakdown artists" who "dirty them down" before they're worn by an actor. That way, they're grimy enough to befit the setting. Carragher is confident that, even if you can't inspect the embroidered patterns under all that grime, they still make an impact on the show's aesthetic. "You'd miss it if it wasn't there," she says. At the end of the day, she finds her job immensely rewarding—especially when she sees the final product. "After you've been working on a costume, you still don't know how it's going to look on the actor. The actor breathes life into the costume and it all comes together." For Carragher, who previously worked resturing historical textiles for private collectors and museums, there's a thrill in seeing her work in motion.
Royal Ensembles for Everyone
When asked what her personal
Game of Thrones
outfit would look like, Carragher admits, "I probably wouldn't know where to stop; I'd be covered in all sorts of organic material and bugs and little birds flying about the place. I'd have it all." For fans hoping to work a Carragher-caliber design into their own wardrobes, there are two options. The first is to explore the couture end of the market. The Valentino, Elie Saab, and Alexander McQueen lines "always have beautiful embroidery and detail," Carragher says. This is even true of those designers' more affordable pieces, such as "necklaces and hosiery with baroque embellishment on the legs." The second option is for fans with a DIY streak. "You can find decorative trim or lace embroidery motifs to apply to cuffs and collars, or make a brooch-like appliqué," Carragher suggests. Even if you've never tried to create your own clothing accents, she believes that "everyone should have a go" at embroidery—"It's not hard. ... It's only stitching."
To see more of Carragher's embroidery for film, television, and exhibition, head to her website.
Photos: costumes © Michele Carragher; portrait of Michele © Scott JG Flockhart
BY: Stephanie McDaniel
Stephanie McDaniel is a political theorist-turned-novelist from South Carolina. On the rare occasion she's not writing, she spends her time folk dancing, singing, and adding sea salt to Lake Michigan.