Game On: Billiards at Marie's Golden Cue in Irving Park
BY: Collin Brennan |
May 3, 2013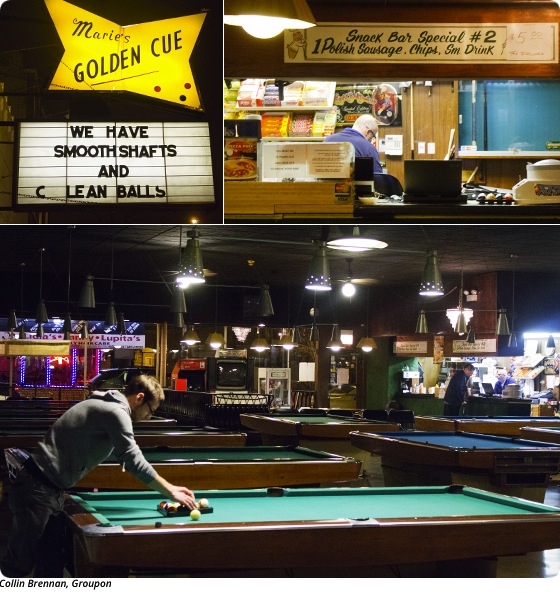 Two writers go off Chicago's beaten path to find the best darts, billiards, and all-around gaming bars in the city. This week, they cover billiards at Marie's Golden Cue in Irving Park.
The gilded dome of Our Lady of Mercy towers above the intersection of Montrose and Kedzie Avenues. It casts a long shadow on the crowds that filter into church on a Sunday evening, and many regard it with a mixture of awe and reverence. But for all of its splendor, this dome isn't the first thing most Chicagoans notice when driving along the northernmost border of the Irving Park neighborhood. That honor is reserved for the shabby marquee of
Marie's Golden Cue
, which aims squarely for the gutter instead of the heavens. "We Have Smooth Shafts And Clean Balls," it reads, and the double-entendre needs no further explanation. We meet in the darkened alley outside Marie's on a cold Tuesday night, a cigarette in one hand and a six-pack of Schlitz tall boys in the other. Though no signage on the exterior explicitly states a BYOB policy, one look at the aforementioned marquee is enough to conclude that this place plays by its own rules. A quick survey of our surroundings confirms that those rules aren't the only thing that's old school about Marie's. There's also a vintage hot-dog roller perched on the snack bar, a pair of arcade consoles (
possibly
broken), and an Illinois Bell payphone (definitely broken). There may be a certain shabbiness to Marie's wood-paneled walls and slightly crooked rec-room paintings, but the pool hall deserves credit for paying attention to what counts: the tables. After grabbing a tray of balls from the gruff owner, we walk over to Table 9 as four conical table lamps spring to life and shower the green felt with light. Sure, the rest of Marie's may be dim enough to require a flashlight when searching for lost change, but the table itself is perfectly lit as we agree on a game of eight ball and begin to rack.
A Pool Hall for the People
You never know if you'll feel welcome in a place like Marie's. Pool halls generally cater to a crowd of well-worn regulars, and just walking through the front door sometimes qualifies as a feat of courage. Thankfully, Marie's is a pool hall for people of all backgrounds and creeds. The cheesy rock-station tunes that tumble out of the speakers confirms as much, though it takes backseat to the familiar crack of cue balls. The room itself is also strangely inviting—intimate in its own way yet spacious enough to accommodate nearly 20 regulation-sized Brunswick tables and a longer snooker table at the front. We never run into the familiar problem of crouching down, taking aim, and poking an unsuspecting bystander at the bar. Crowding isn't an issue tonight, and with so many tables we can't imagine it ever would be. A young couple plays a casual game of eight ball in the far back corner, and even interrupting them to ask if we can take their photo seems like a breach of a romantic moment. In any case, they seem more intent on making googly eyes than corner shots. The pro at Table 10, on the other hand, barely looks up as he plows through a nine-ball rack with the intensity of a sniper. Some friends from the neighborhood share a six-pack a few tables down, and that just about sums it up: pool shark or romantic date, Marie's takes all kinds.
Planning Your Trip
To make the most of a night out at Marie's, it pays to plan ahead. The lenient BYOB policy compels you to pick up some booze beforehand, but here are a few disclaimers: we didn't see anything harder than cheap beer, and we can't vouch for the official policy (we neglected to ask). David's Food & Liquor (31158 W. Montrose Ave.) is just a block east on Montrose and carries a good selection of domestics, which is enough to get our recommendation. If you can't subsist on Marie's potato chips and polish sausages, there are a few restaurants nearby that are worth checking out.
Rocky's Tacos
(3111 W. Montrose Ave.) makes some of the best tortas in the city, and there are literally dozens to choose from. Just a few blocks north on Kedzie,
Golden Crust Pizza & Tap
(4620 N. Kedzie Ave.) is a great place to catch a Bulls or Blackhawks game. If you're looking for a different style of game,
Gamblers
(4908 N. Pulaski Rd.) is a short bus ride away and ranks among Chicago's premier darts venues. You can read more about Gamblers in
our last feature
; check in with us in a few weeks to see where our penchants for drinking and gaming take us next.
Written in collaboration with Scott Hirsch.
BY: Collin Brennan
Guide Staff Writer
Collin is a senior editor and a staff writer for Consequence of Sound. He self-publishes zines and moderates writing workshops for The Chicago Publishers Resource Center (CHI PRC).