Game On: Gamblers in Albany Park
BY: Collin Brennan |
Apr 22, 2013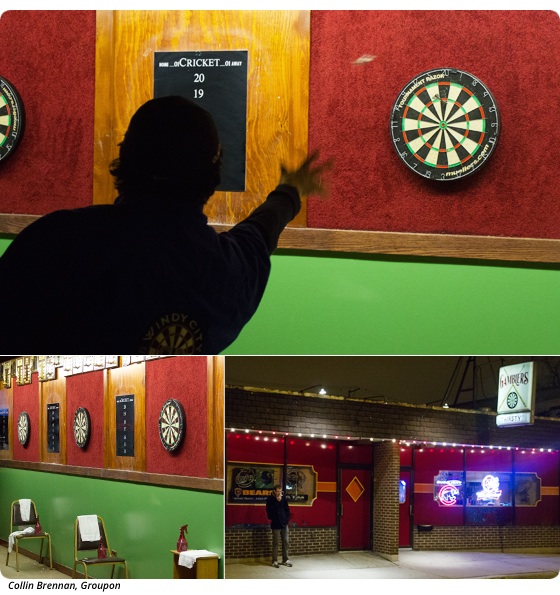 Two writers go off Chicago's beaten path to find the best darts, billiards, and all-around gaming bars in the city. This week, they cover darts at Albany Park's Gamblers.
It seems that every time Chicago kicks your soul to the curb, there's a lady who sits you down, pours you a shot of Jameson, and tells you to just relax because "life is too hard outside these doors." Such was the case on a Tuesday night too frigid for spring, when we found ourselves dodging darts and errant cue balls at Gamblers in Albany Park. The lady in question is Jackie Siivonen, but everyone in the bar calls her by a different name: "Mama." That's how we were introduced by bartender Kevin Shea, who takes the nickname more literally than most. Once upon a time, Kevin was a late-night fixture on one of the bar's torn leather stools. When Mama had an opening for a new bartender, she didn't bother placing an ad in the Tribune—she simply looked across the bar and hired Kevin on the spot. "When I got this job, she didn't ask if I wanted to work," he remembers. "She asked if I wanted to be part of the family." All of this might ring unfamiliar to the average reader's ear. Not everyone equates a long night of drinking with quality family time. Gamblers, however, seems to exist in a different universe entirely. The bar's doors are more than a physical entry point—they're a threshold between the Chicago of today and another, far older version of the city. As soon as we crossed over from that lonely stretch of Pulaski, we were inundated with the bizarro world of Gamblers—a world in which Kevin offers you a drink and a handshake when you enter, in which Mama regales you with stories of her childhood, and in which strangers teach you the correct form for throwing darts.
A Lesson from the Windy City Darters
Aside from the people, darts are Gamblers' main attraction. They're why we hiked out to this western outpost of Albany Park in the first place, and they're a big reason why we'd recommend this place to hardcore gamers. An entire wing of the bar is devoted to six regulation-size dartboards, though we never got to take a stab at them thanks to a group that calls itself the
Windy City Darters
. It seems we had stumbled unknowingly into the Darters' league championship match, and it didn't take long to find out that these guys take darts as seriously as any other sport. They hold
league play
at bars throughout the city, though Gamblers got the nod for the championship round thanks to its status as Chicago's premier darts venue. Once the champions had been named, Collin shook hands and spoke with the coach of the runners-up. In a thick Irish brogue, he graciously explained the ins and outs of the game. Though the accent didn't help matters, we did manage to glean the following:
-
There are three kinds of darts games that qualify for league play:
Dirty Cricket (DC)
,
501
, and
301
.
-
In
Dirty Cricket
, the goal is to hit numbers 15–20 three times each—when you hit a number three times, you have "closed" that number.
-
In
501
, each player starts with 501 points. Every time a player hits a number, that number is subtracted from their total. To get to zero, the last dart must land in one of the double rings.
301
is essentially an abbreviated version of the same game. Interestingly enough, Chicago has its own darts format. The
Chicago Format (CF)
combines all three of the above games, and the eventual winner must take at least two of the three matches. For a more comprehensive take on these rules and bylaws, you can visit the Darters'
website
. While you're there, check out the
Darts Directory
, which lists nearly every darts bar worth visiting in the city and surrounding suburbs. In the coming weeks, we'll be checking in at some of these bars and reporting on our findings. In the meantime, it's nice to know that places like Gamblers still exist in this city. If we had left our keys on the bar, they would have been waiting for us the next day, along with a warm smile and perhaps a little hair of the dog. We left with keys intact, but the last thing we needed was another reason to come back.
Written in collaboration with Scott Hirsch.