Genius by Committee
BY: Kevin Moore |
Jun 6, 2013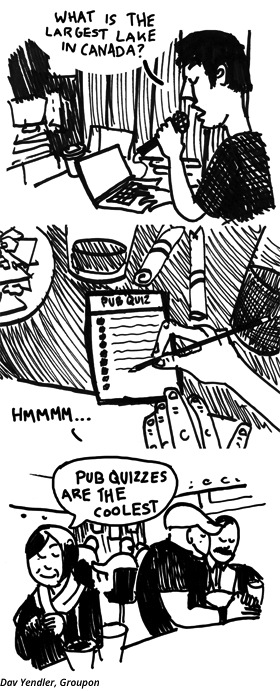 QUESTION:
"Which actor—born in Queens in 1943—made his first major film debut in
Annie Hall
before going on to appear in movies such as
Wayne's World 2
and
Pulp Fiction
?" This is quizmaster Dan Burns's opening query for Thursday-night trivia at
Bad Dog Tavern
in Lincoln Square. With the question posed, some 25 scattered teams of pub-trivia contestants huddle together, filling the Bad Dog with muted conversation, hushed tones, and whispers that sound an awful lot like
Rob Lowe
?
Christopher Walken
?
John Travolta
?
Who Asks Questions About Christopher Walken on a Thursday Night?
Dan arrives 15 minutes early wearing a vintage New England Patriots sweatshirt and immediately begins setting up the laptop with this evening's questions. He frequently apologizes for going off on rants. He loves to talk about the nuance of a precisely worded question. The Boston native fell in love with pub trivia on the East Coast, making quizzes a weekly ritual with his friends. After moving to Chicago and discovering a less vibrant trivia culture, he decided to found
Whaddayaknow? Free Pub Trivia
and lend his quizmaster skills to bars, pubs, and taverns throughout Chicagoland.
What's Wrong with Cheating?
During his welcoming speech before the first round, Dan lays out the two ground rules: no shouting out answers and no using outside sources—in other words, no Internet. In this age of smartphones and Google searches, information has become a disposable commodity. Almost every factoid is one wireless connection away. The question then becomes: why bother learning something when you can just look it up at your convenience? Dan loves trivia. However, he doesn't see it as memorizing information just for the sake of memorizing information. He sees it as a way to expand one's worldview. Quickly looking up a fact may yield a reliable answer to a bar bet or a puzzling question, but retaining something new develops a greater sense of awareness about the world at large. "There's also a certain pride in just knowing about geography, politics, and even pop culture," Dan says. "It's great to be aware." After five years of studying everything from science to Emmy nominees, Dan has come to realize that a wide base of knowledge "dramatically increases the amount of people you can converse with and learn from." On the surface, trivia nights may seem to celebrate the regurgitation of obscure and useless factoids. However, they actually reward competitors for possessing permanent wells of knowledge in a variety of topics. Treating information as disposable inherently devalues it. Pub trivia encourages people to celebrate the ways that they engage with the world and learn from it, which means that cheating completely misses the point of the game. Also, it's kind of a dick move.
You Are What You Know
Each time a song fades on the bar's sound system, teams start to turn in their current answer slips and prepare for the next question. People sit back in their chairs and conversation picks up slightly—a combination of futile, last-minute debate and casual catching up among friends. It's more fun to watch than to listen, though. Body language and cadence convey everything about a team's confidence in its answers, and it's easy to guess how a group is doing by watching them make the long walk to Dan. Steady strides and a meaningful smile means that someone is especially proud of knowing a clue, such as the fact that, besides the United States and the United Kingdom, France is only nation outside of Asia that has conducted nuclear-weapons tests. Sometimes, people approach with dragging steps and downcast eyes, almost as if they're ashamed of guessing Germany or Iran. Knowing an answer gives people the confidence they need to stay for a second and joke with Dan; not knowing tends to cause a hasty retreat. The representative from the team Clear Out Urlacher takes an entirely unique approach. He doesn't have far to travel, but he takes slow, measured steps, all without allowing his eyes to drift from the answer his team scrawled onto the paper. Maybe he's waiting for one last flash of inspiration, or maybe he's trying to force the answer to be correct through sheer willpower.
Playing for Pride
First prize for the evening is $25 off a bar tab and a complimentary pitcher of Budweiser or Miller. But it isn't necessarily money or free drinks that motivates teams. The members of Camo Cans all work together at the same Patagonia store and are regulars at the weekly Bad Dog Tavern trivia nights. But this evening, something is different for team Camo Cans. A team of Patagonia employees from another store decided to attend as well, setting up a rival operation one table away. Camo Cans is committed to defending its home turf. Earning a better score is a point of pride. It signifies a steadfast commitment to learning more about history, sports, and everything else the world has to offer. Dan admits that this sort of amiable yet competitive spirit is what makes a great team, and it turns beer-drinking venues into settings for deeper bonding. Only 3 of the 25 teams can come away with prizes, but everyone can have personal goals for the night. And the only way to improve over time is to continue learning.
What Makes a Good Pub-Trivia Question?
Dan designs distinctive questions. The long, clue-laced interrogatives brim with hints that take some effort to decipher. "I'm definitely not reading Trivial Pursuit questions," Dan laughs, acknowledging that the sprawling sentences have a very specific purpose: stimulating table conversation. It typically takes him about four hours to research and design his trivia nights. The most important part is the wording. "A question will never be, 'What is the capital of Norway?'" he says. "That's the kind of thing that you either know or you don't." Instead, he tries to combine two or three different hints in order to give multiple avenues of approach. If a contestant can't remember when
Citizen Kane
was released, maybe another teammate will remember that 1941 was when Ted Williams finished the season with a career-high batting average of .406. This layering technique is part of Dan's signature style, and it rewards teamwork as well as a wide, collective base of knowledge.
The Thrill of Defeat
The fourth round presents teams with a string of clues about famous people, brands, and even toys that all have "dd" somewhere in their names (eg, John Madden or Teddy Ruxpin). Dan makes his questions a bit more difficult, especially as the rounds progress. Not only does this foster more of a team spirit as everyone discusses answers together, but it's also more rewarding for players who manage to ace a particularly vexing clue. Trivia nights shouldn't be so hard that they're no longer fun, but there's little reward without challenge. Being unable to recall an answer is the ultimate frustration. Although cheers, applause, and maybe even a quick toast may accompany a correct answer, Dan loves to hear the groans of recognition that accompany a near miss. He believes that memories of these elusive questions stick with people the longest and inspire them to return. Perfection may be unattainable since it requires knowing every detail from all time, but trivia rewards an unquenchable thirst for knowledge and refuses to treat any piece of information as disposable.
Habit or Ritual?
By the time the quiz rounds come to an end after two hours, Bad Dog Tavern has emptied a bit. The remaining crowd includes die-hard competitors, casual groups of friends, and even one team that hasn't missed a match in two years. Dan admits that about 90% of the teams are regulars. The evening's champions—team SMDH—raise a celebratory toast, clinking together the pints they filled from their free pitcher. Everyone else begins to stand up, and spirits are high as people put on layers of coats and prepare to leave. They'll be back next week. ------------------------------------------------------------------------------------------------------
Whaddayaknow? Free Pub Trivia hosts events throughout the week at a variety of Chicagoland locations. Test your mental mettle at one of these weekday spots: 
Monday:
Bleeker's Bowling Lanes
Evergreen Park Starts at 8 p.m. $10 domestic buckets and $1 sliders
Tuesday:
Division Ale House
Wicker Park Starts at 8 p.m. $4 Dos Equis and $2 fish tacos
Wednesday:
O'Malley's West
Lincoln Park Starts at 8 p.m. $4 Fireballs and $0.25 wings
Thursday:
Bad Dog Tavern
Lincoln Square Starts at 8:30 p.m. $10 domestic buckets
Friday:
Merkle's Bar & Grill
Wrigleyville Starts at 7 p.m. during the Cubs' away games $15 all-you-can-drink Bud Light and wings until 9 p.m.
BY: Kevin Moore
Iowa-born, Arizona-raised, and Illinois-tax-paying writer who can answer any Trivial Pursuit question about wine or snakes.