Get The Natural Sun-Kissed Look Year-Round at Femme Fatale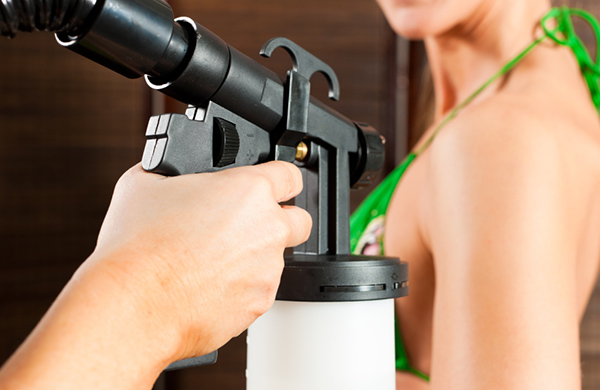 Everyone loves the beautiful look of a nice summer glow, but the rising health risks are making many turn away from once-popular tanning beds and beachside overexposure. In years past, the concept of spray tanning sounded good, but the result was too often an orange, splotchy hue that barely resembled the sun-kissed look that seems so natural. Now, with updated technology that has come to Femme Fatale Airbrush Tan in Boston, it's possible to achieve a warmer, more blended look, without suffering all of the potential health hazards. Amy Holman, owner of Femme Fatale in Kenmore Square, knows the long road of sun tanning well. That's why she opened the city's only Infinity Sun airbrush tanning salon in in the spring of 2013. Inside the salon, Holman patiently hand-sprays the entire body with an airbrush device that resembles a hair dryer, at about five inches from the body itself, delivering an even, natural coating of golden tone. The fine mist is applied in a private room, and guests are given disposable undergarments for the process. The tanning agent used at Femme Fatale Airbrush Tan is DHA, or dihydroxyacetone, a color additive that interacts with the amino acids in the outer layer of the skin to produce a rich, beautiful golden brown color. The solution also contains a natural keto-sugar that, when combined with DHA, makes the tan last longer, fade better and keep its color tone. The final results are stunning, and guests leave looking vibrant and healthy, without the after-effects. Of course, such intricate and professional processes will always have their adherents, and celebrities like Jennifer Aniston, Jessica Alba and Britney Spears all swear by the Infinity Sun system used at Femme Fatale. Unlike the popular Mystic Tan system, which is carrot-based and contributes to the off-color glow of lesser tan jobs, the Infinity Sun formula combines those DHA and keto-sugar molecules with a sampling of walnuts, leaving the skin a predictable rich brown. The final mixture also relies on antioxidants like Vitamins A, C and E, as well as green tea, ginger root extract, walnut shell extract and aloe. And the process, from start to finish, takes about ten minutes, so it's easy to achieve a streak-free look on your lunch break. And if you can't make it out to Femme Fatale Airbrush Tan often, Holman offers a take-home misting spray for personal application during the long winter months.
BY: Gayot
GAYOT.com serves as a leading worldwide authority on the good life. Millions of readers turn to Gayot's savvy, professional reviews on dining, travel and lifestyle. From "Best of" lists and travel guides, to a searchable restaurant and hotel database, Gayot provides dependable coverage while keeping up with the latest trends and news.