Get to Know Two of Chicago's Foremost Experts on Chili…and Synthesizers
BY: Mae Rice |
Feb 11, 2014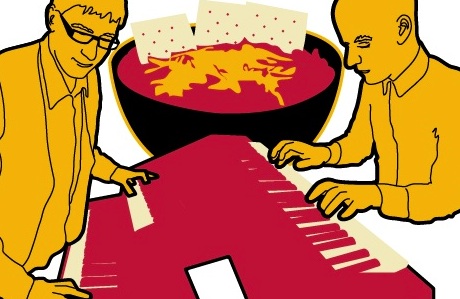 The Empty Bottle will host its fourth annual Chili Synth Cook Off on Sunday. Before they smear chili on each other's keyboards, we ask two contestants to settle their beef.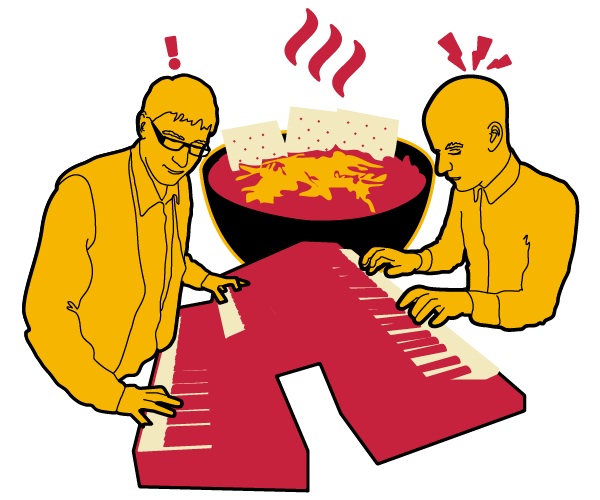 Chili and synthesizers: it's an unlikely marriage, but somehow it works. "I think the reason they go together," explains Beau Wanzer, "is because they
don't
go together. It's an absurd pairing that works due to its complete stupidity." Beau would know. He cofounded the
Chili Synth Cook Off
with close friend Brett Naucke in 2011, and he's now preparing to oversee his fourth annual contest this Sunday, February 15, at the
Empty Bottle
(1035 N. Western Ave.). If you're unsure of what exactly a Chili Synth Cook Off is, you're not alone. Luckily, the event's rules are surprisingly simple: four contestants prepare a homemade chili for the crowd to sample, then compose a "sonic interpretation" of their chili on an analog synthesizer. The audience, trusting their ears and taste buds, picks the winner. According to Brett, the event is typically a relaxed, low-key way to spend a frigid Sunday—"No food fights [or] chili dunks," he promises. But don't let the congenial atmosphere fool you. The contestants are all battling for the same glamorous grand prize: an invitation to next year's Cook Off. In the spirit of competition, we've invited two of this year's contestants to participate in a pre-Cook Off, get-to-know-you grudge match. Before they spitefully smear chili on each other's keyboards, they'll try to win the people's hearts by answering some questions about their odd areas of expertise. Without further ado, let's meet the contestants.
THE CONTESTANTS
Travis Thatcher
, 31, a programmer and builder of synthesizers. Listen to his music
here
.
Ben Billington
, 27, an erstwhile restaurant manager who answers questions in a stoic, Sphinx-like manner. Listen to his music
here
. See a picture of the Sphinx
here
.
THE ISSUES
In its natural state, is chili a liquid or a solid?
TT: Chili is a state of mind, but I like to think of it as a sort of plasma—electrically charged particles, highly energized and waiting to create a flavor explosion. BB: Solid.
What's the most underrated ingredient in chili?
TT: The beans! I'm not a meat chili purist, first of all. I'm down with garbanzos, pintos, white beans, you name it! Beans are a blank slate upon which a myriad of taste sensations can be smattered. BB: Fruit.
[Ed. note: When pressed to elaborate, Ben mysteriously declined. We hope it's not raisins.]
Which came first: the chili or the synth?
TT: I'm taking a holistic approach to this whole thing. The synth is the chili and the chili is the synth. BB: The chili.
What's the coolest sound you can get out of a synth?
TT: The kind that makes the booty drop. Bass! Like the Junkyard Band's bass on
"Sardines."
BB: The sound of a million insects swarming.
What is your favorite synth-heavy pop song?
TT: This is pretty difficult. The Edgar Winter Group's
"Frankenstein"
[has] one of the most over-the-top insane synth solos ever. Also, Herbie Hancock's
"Chameleon"
is one of my favorite ever jams. BB:
"We Built This City On Rock 'N' Roll"
by Jefferson Starship . [This song's] chili would taste like sewage water from Cleveland.
If you had an infinite budget for your stage show, what would it entail?
TT: Lasers. Lots of lasers. Also, one of those walkways that all of the big pop bands get to have, like Bono with U2…and dancers, dressed most likely as cosmic chili gods ladling out my magical chili to the audience. BB: Lasers and lasers.
Do you have any closing words of warning (or encouragement) for your competitors?
TT: I honestly can't wait to eat some chili! It's the duty of each of us to bring the party. BB: Have fun, catch a buzz, eat some TUMS.
Catch both of these guys (plus two others) in action at Sunday's Chili Synth Cook Off, which starts at 7 p.m. Tickets are $5, and you can buy them here.
Illustration: Gregory Blake