GROUPON GUIDE TO SAN FRANCISCO
Get Your Oyster On
BY: BarFlySF |
Apr 14, 2014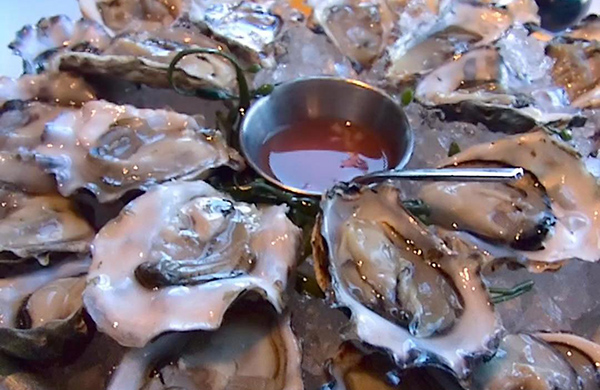 Oysters are ubiquitous at San Francisco restaurants.  The City's Pacific setting makes it one of the best places to imbibe on several different types of bi-valves, whether they are harvested locally from Drake's or Tomales Bays or flown in from the East Coast or Canada.  Oysters typically cost about $3 each at fine dining establishments, but there are deals to be had where they can go for as little as $1 per shellfish.  Below are our favorite locales to shoot up a dozen or more.  Since we're BarFlys, we've highlighted the places that also have a full bar to take in a cocktail or two while slurping on the briny snacks.
Waterbar | 399 The Embarcadero
Waterbar has an excellent oyster raw bar, offering over a dozen varieties.  We prefer to dine at Waterbar before 6 pm, while the daily oyster special is $1 (still just $2 after 5:30 pm). With their fresh, high quality seafood, it's a great place for a weekend brunch, especially with the $1 oysters.  The spectacular views of the bay and the Bay Bridge add to the overall experience.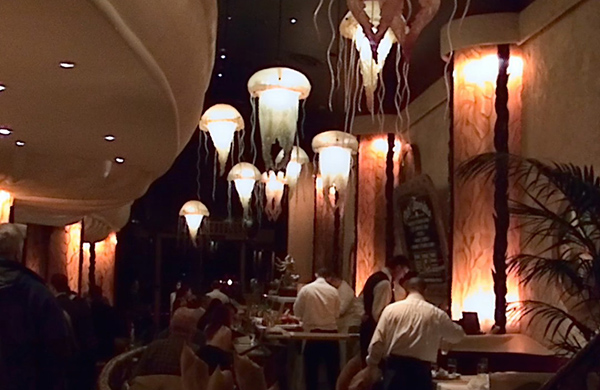 Farallon | 450 Post St #4
The big sister restaurant of Waterbar offers an excellent daily happy hour in their Jellyfish bar.  Farallon's Six Before Seven menu features several different bar bites and drinks, including a killer Manhattan, each for just $6 as long as it's ordered before 7 pm.  Locally harvested Drake's Bay oysters need to be ordered by the half dozen for $6, but would you want any fewer?
Hog and Rocks | 3431 19th St
The City's first and only ham and oyster bar is serious enough about bi-valves that it makes up half its namesake.  A rotating chef's choice of $1.50 oysters are featured during their weekday daily happy hour from 5-6 pm and all day Sunday.  Start with the oysters, but be sure to make your way to their selection of fine hams, or any of the other great gastropub fare.  With a lively bar scene serving excellent whiskey and cocktails plus great food, this Mission spot is a local favorite.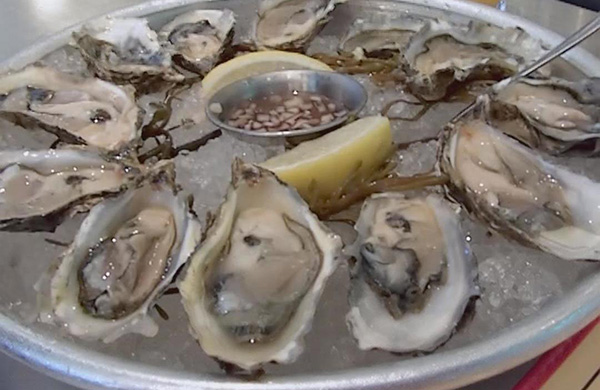 Café des Amis | 2000 Union St.
Café des Amis is Bacchus Management Group's bistro with an excellent raw bar, located in the heart of Cow Hollow.  Weekdays from 4-7 pm and during brunch on Sundays, a featured oyster can be had for $1.25 each.  Always delivering fresh and perfectly shucked shellfish, this is a great place to shoot a dozen or more oysters.  A decent Bloody Mary is the perfect brunch drink to accompany the salty bites.
BY: BarFlySF
BarFlySF are a dining and traveling duo that blog about eating and drinking at restaurant bars (mostly).   Based in San Francisco, California, they occasionally post about their eating adventures while traveling and an occasional cocktail recipe.  They prefer to eat at the bar because it's easy to get seats, service is great and it's almost always instant gratification for drinks. They feel that sitting at the bar is usually more private than sitting at tables set 6-10 inches apart which seems to be the norm nowadays.  They dine and drink at all ranges of restaurants from Michelin-starred places to the local dive and blog about it at BarFlySF.com.