Get Your Rave On (During Lunch) at the Chicago Cultural Center
BY: Emily Wachowiak |
Mar 14, 2014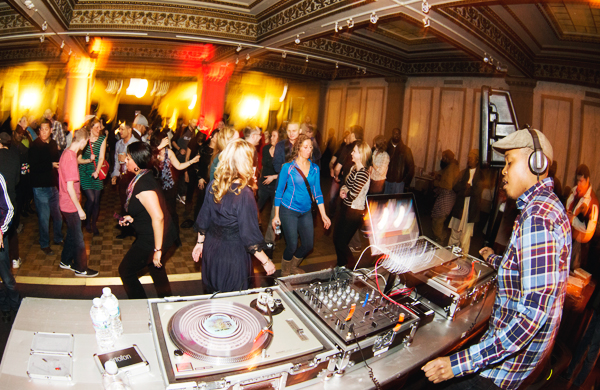 What brings college kids, moms, and senior citizens to the same dance floor in the middle of a weekday? A free lunchtime rave hosted by the Chicago Cultural Center.
Businessmen and women take their lunch at tables pushed against marble walls. Mothers lean over strollers to coo at their young children. A group of senior citizens lounges in folding chairs. These people ostensibly have little in common, but then the clock strikes noon, the lights dim, and a pounding disco beat fills the air. Suddenly, everybody's on the dance floor. Such is the scene at
Wired Fridays
, a free biweekly event hosted by the
Chicago Cultural Center
(78 E. Washington St.). Or so I had been told. I had to see this strange lunchtime rave for myself, so I showed up on March 7 to watch
DJ John Simmons
spin in front of an unfathomably eclectic crowd. Nearly 150 people milled about the stately Beaux-Arts hall, which has played host to the event throughout the course of its one-year run. Simmons has spent the last 20 years spinning late-night sets at clubs across Chicago and the world. Still, he wasn't at all worried about bringing people to the dance floor during daylight hours. Although this was his first time playing a Wired Friday, he already knew the most important detail: "People come to dance." "I didn't know just how good it was going to be," Simmons admitted, "but I did expect to see some people out there getting down." Aerobics instructor Quwa was one of those people. After he worked up a sweat with some well-rehearsed moves, I asked Quwa what he likes about dancing in the middle of the day. "[After] you go clubbing and dancing, you have all this energy," he said. "Everyone's all pumped up, and then when you get out, it's like there's a whole big world out there of things to do. You've got all this oxygen flowing, endorphins popping off everywhere. … That's why this is so great."
Chicago's Most Diverse Dance Floor
During his one-hour DJ set, Simmons presided over what was arguably the most diverse dance floor in Chicago. College students shimmied next to moms, toddlers, and office workers of all colors and creeds. It was the older dancers, though, who really brought the moves—and the style. Dressed to the nines in a black zoot suit, hat, and sunglasses, Richard "Kool Aid" Alexander is hard to miss. The 54-year-old has been perfecting his moves since the age of 3, having grown up on a steady diet of Shirley Temple and Fred Astaire. Today, he counts tap, salsa, and soul among his many dance influences. Kool Aid took to the floor with dancers well into their 60s, many of whom barely paused to catch their breath over the course of the hour. Not far from Kool Aid was behavioral-health clinician Janette Gilmartin, who had shown up with a group of clients from work. She attends the event regularly, relishing the chance to integrate her mental-health patients into the community through dancing and music. "It really shows the healing power of the arts," she said. Looking around, it was hard to disagree.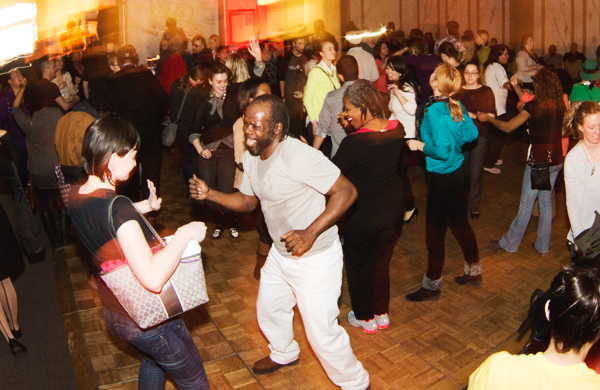 Playing to the Crowd
Wired Fridays alternate between showcasing juke and house music. Scheduled to play one of the house-music sets, Simmons deviated from his normal playlist to accommodate the audience. "When I saw it was kind of an older crowd, I said, 'I'm going to play some disco early on,'" he said. "People might not necessarily be familiar with house, [and] I wanted to get them into it." Still, Simmons was sure to throw in a few tracks that represent Chicago's unique brand of house music once the crowd had sufficiently warmed up. Although he prefers manning the DJ booth, Simmons is excited to hit the dance floor at one of the next Wired Friday events. "I know
Gant-Man
's playing [on May 16]. He's a good buddy of mine. ... 
Maurice Joshua
, the Grammy Award–winning house-music producer, is playing [April 4]. I definitely will come back to dance a little bit." DJ
Jammin Gerald
is scheduled to play the next Wired Friday on March 21 from noon to 1 p.m. DJ John Simmons regularly spins at
The Whistler
(2421 N. Milwaukee Ave.),
Simone's Bar
(960 W. 18th St.), and other clubs around Chicago. Check his
Twitter feed
for updates.
Photos: Timothy Burkhart