Girl Group Chicago Takes the Stage at The Hideout Block Party & A.V. Fest
BY: Dan Caffrey |
Sep 5, 2013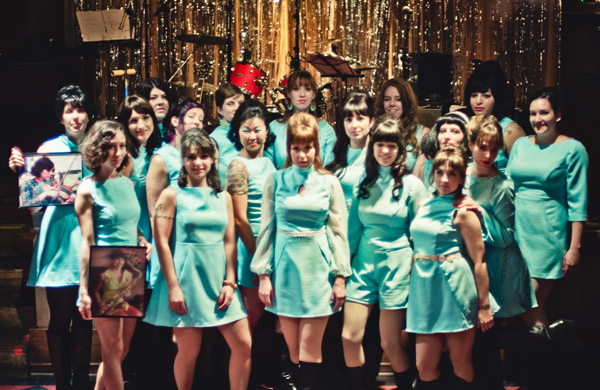 Girl Group Chicago
is a local collective that puts a spin on the decades-old genre by featuring female vocalists
and
musicians. With a rotating roster of up to 20 members onstage at any given time, the group poses a unique challenge for clubs with small stages and limited mics. But their band size won't keep them from turning
The Hideout
into a time warp at the venue's
Block Party & A.V. Fest
this Saturday, September 7. We talked to GGC founder and bandleader Shana East about the group's formation, its future, and which songs they sing better than the boys.
The following interview has been condensed and edited.
GROUPON: Would you say the Block Party & A.V. Fest is your biggest gig so far?
SHANA EAST: Definitely. People say that upwards of several thousand people go to both days. I think the most we've ever played for is about 350, so it's quite a jump for us.
G: Was the lineup also something that made it appealing to you? There are some pretty iconic women of music involved: Neko Case, Aimee Mann (performing with Ted Leo as #BOTH), Mavis Staples.
SE: We're all about highlighting female talent. To hear that we were playing the same fest as Mavis was amazing. We love The Staples Singers, and she's just a Stax Records icon. We were actually hoping we'd play the same day as her, but we found out it was a different day. They probably wanted to spread out the girl love. [Laughs.]
G: When you heard that Mavis was playing, did you start daydreaming about sharing the stage with her?
SE:
Yes! We found out from The Hideout that she was definitely not going to be able to come out and do something like that. So we attempted to contact Aimee Mann and Neko, but their schedules didn't allow them to do any rehearsing with us. But that all went through our minds— "Oh, maybe Neko Case will want to do a song!" Oh, well. Maybe another time. [Laughs.]
G: Are you going to try to catch their sets?
SE:
I'll be there all day Saturday, for sure. I'm really hoping I get to go [Friday], but I just had to move and I opened this new storefront for the band. This is all happening simultaneously. I'm going to do my best to go to both nights, but I might have to rest up for our performance. We have to be there at 10 in the morning on Saturday, so we shall see.
G: Is the storefront a new rehearsal space for the band?
SE:
It's a rehearsal space for the vocalists and for our choreography, because we all do synchronized choreography to our songs. But it's also a female-forward meeting space [for] quieter, one- to two-person shows or book-club meetings or movie nights. It'll be female-forward programming that's hosted by Girl Group. It's our Girl Group headquarters.
G: You could probably use some more space. Aren't there 20 or so members in the band? 
SE: We have 20 people in the band that have played at one time, but now we rotate different members in and out. If a trombone player can't play, we've found three other trombone players in Chicago. We've had all three play at once—I believe we've played with up to 33 people. We have two new members playing with us at this [upcoming] show, and then we have Gina Bloom from the band
The Congregation
, who's this amazing soul singer. [She's] performing with us for a couple songs on Saturday. She came to the last practice, and it was off the hook.
G: With so many band members, does scheduling practices and gigs become a logistical nightmare? 
SE: Well, it's a manager's job, and it's a complicated one for me. It's basically a full-time job, and right now all of our funds go back into the band because we've only been playing since November. So it's tough. But we have weekly practices, and on top of that, we have sectionals. So the horns have their own separate practice, and the vocalists have their own choreography and vocal practice. So yeah, it's wild. [Laughs.] It's all somehow working.
G: You've expressed an interest in branching out into other genres, as well as writing original material. Do you think your original material will fit in with the traditional "girl group" sound, or will it explore other genres?
SE:
When we decide to do original material, it will probably be in the girl-group genre. But we're interested in different eras—we have all the instruments to do a big-band, '40s-era set, or a whole French-pop set, or a more psychedelic '60s set. These are all ideas we want to [explore], but we would have to take huge chunks of time out of playing shows to coordinate and add these new songs on. This is something that, hopefully in the next year, we'll be able to do. We've also been asked to do a Hideout residency, and we want it to be more of a variety show, because everyone in the band is so talented in different areas. We have actresses, we have metal musicians … it would be great to have these other parts of Girl Group come out in a variety-show format. We have a lot of plans.
G: The Hideout seems to be a pretty big supporter of you guys.
SE: Oh, yeah. They've been great supporters. Our "coming-out" show, as I like to call it, was right before New Year's Eve last year. It was Jonathan Toubin's Soul Clap night, and we were asked to perform. There was also a dance contest that night. I've never seen The Hideout more packed. We were all upstairs doing our hair and getting our costumes and makeup on, and we just saw car after car, cab after cab pulling up and dropping people off. There was a line all the way down Wabansia.
G: You've mentioned how the girl groups of the '60s were always backed by male musicians. When you formed Girl Group Chicago, how much of it was a result of wanting to challenge these historic gender roles, and how much of it came from just wanting to play music with your friends? 
SE: Basically, the whole idea came out of a very dark place I was at, personally. I was just looking for something and daydreaming about what would be fulfilling to me. I had a vision of this all-female band … this collective where we're together to make music and have fun and be social. I thought of that as something therapeutic. To sing in front of people is something I always wanted to do, but I'd been told for so many years that you can't be a singer in a band unless you write music. I'd been kind of rejected as a lead singer, and I said "You know what? I'm just going to make it happen. I'm not going to wait around for someone to ask me to do it." Getting back to gender roles, though … I definitely felt [aware of] that because I'm such a fan of '60s music. The Shangri-Las—their music is so deep that I really feel like these women had experienced these dark relationships. It's really amazing that they didn't write the music [because they] just emote so much. It's just something that interests me. I thought, "How would that come across in a different era?"
G: Are there any songs you'd love for Girl Group to cover, but haven't gotten around to yet?
SE: I want to do a "Girls Do It Better" showcase, where we do girl group–style arrangements of male-led songs. I don't know if we ever will or if other people are into it, but I really think it would be hilarious to do "California Girls" by The Beach Boys with an all-female harmony.
G: Will you be debuting any new songs at the Block Party this weekend?
SE: There are two new songs, and then there's a surprise. We're also having our friends,
The Revelettes
. They're like our hype women. They go out into the audience and get everyone dancing. Then they come onstage for several songs and do a whole routine that matches [our] choreography. Also, everybody who wants to go but can't because of financial reasons can play in my friend Steve's Vision Celestial Guitarkestra. You get in for free. Have you heard of this?
G: I was just looking at the lineup and wondering what Guitarkestra was.
SE: I was actually in the first one. Everyone who wants to perform in it just brings a guitar, a practice amp, and a power strip to the venue. You don't have to have any skill or talent—you don't even have to tell him in advance. Just show up that day with a guitar or stringed instrument, a practice amp, and a power strip, and you will get in for free. And you will get to see us play 30 minutes later.
G: That's good to know.
SE:
The Hideout is very generous to us, and we don't want to take ticket sales away from them. But there are a lot of people that won't go if they don't get in for free because it's a little pricey. So just come at 1 p.m. and play with Guitarkestra at 1:30. Then Girl Group goes on at 2. You can stay the whole day—you don't even have to leave after that!
Girl Group Chicago plays The Hideout Block Party & A.V. Fest on Saturday, September 7, at 2 p.m. Read about more tales of The Hideout.
Photo: © Richard Rhyme
BY: Dan Caffrey
Guide Staff Writer
Outside of Work, Dan is a playwright, Senior Staff Writer for Consequence of Sound, and contributor to The A.V. Club.