Girls' Night Out Spots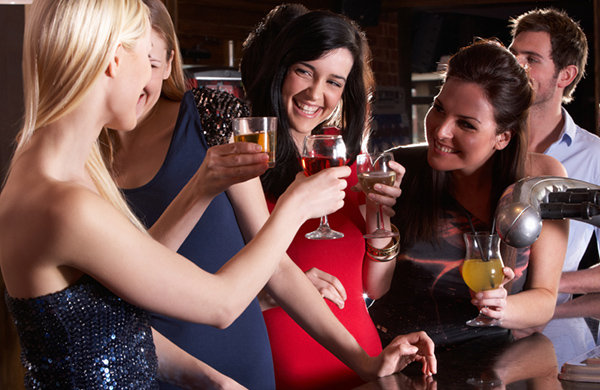 As a female, one of the challenges of a sprawling city like Atlanta is finding fun things to do when your friends are spread out all over town. The trick to getting your gal pals to coordinate their schedules and actually put something on the calendar is often as simple as finding a unique activity that everyone can enjoy. From the arts district of Castleberry Hill to drag queen bingo on Buford Highway, there are adventures any night of the week if the right woman knows where to look.
Castleberry Hill's monthly art stroll takes place on the second Friday evening of every month, and makes for a fantastic excuse to get the girls together. Meet for a drink or appetizers first at No Más! Hacienda & Cantina, and then hit up the volunteer information booth in front of the restaurant to get a map of galleries participating in the evening's tour. Walk through the neighborhood at your own pace, checking out the wide variety of styles and immense talents of Atlanta's art scene. Some galleries offer wine and snacks, and you can always end the night with an inexpensive tasting at Wine Shoe, a woman-owned wine bar run by one of the local gallery owners.
If the crew is in a rowdier mood, head out to Buford Highway for drag queen bingo at Lips on Wednesday nights. Dozens of disco balls hanging from the ceiling and the giant bedazzled stilettos set the tone for the party officially known as Bitchy Bingo, and the hostess never fails to deliver a side of attitude with your drinks. Speaking of which, the pours at Lips are stiff, with lots of options to choose from. You can take in the scene from a few seats at the bar, but it's best to get to one of the tables up front to really appreciate the show. And besides, it's all about the laughs and the chance to just be one of the girls.
BY: Gayot
Gayot
GAYOT.com serves as a leading worldwide authority on the good life. Millions of readers turn to Gayot's savvy, professional reviews on dining, travel and lifestyle. From "Best of" lists and travel guides, to a searchable restaurant and hotel database, Gayot provides dependable coverage while keeping up with the latest trends and news.