Giuliana Rancic Loves Her Chicago Stylist ... and Cotton Candy
BY: Favin the Maven |
May 30, 2014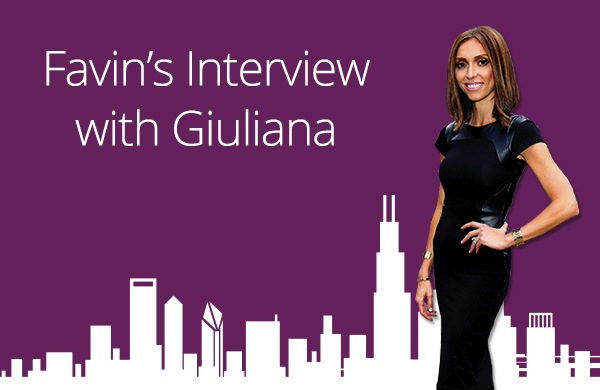 To me, Giuliana Rancic always seemed like a Hollywood girl through and through. She interviews celebrities for a living, she has her own reality show on E!, and she and her family have a total of 4 million Twitter followers. Her 1-year-old son Duke even
has his very own Twitter
account with two whole tweets! The final part of my totally airtight thought process: both Giuliana and her husband, Bill,
look
like they live in Hollywood. They're always tan! But despite their West Coast affiliations, the Rancics actually split their time between LA and Chicago. And Giuliana knows the Windy City well, as you can tell from the
deal collection
she just put together for us. When I chatted with her over email, I asked about her favorite Chicago health and beauty spots, and also learned a little about her childhood dreams and—perhaps most importantly—her take-everywhere self-tanner. Now maybe I can look like I live in Hollywood, too!
FAVIN: You're a news anchor for E!, a red-carpet reporter, a reality star, a fashion designer—you basically have a million jobs. When you were a kid, what did you think you wanted to be when you grew up?
GIULIANA: When I first moved to America [from Italy] when I was 6 years old, I actually learned English by watching the local news. One day in school, my teacher gave us an assignment to draw a picture of what we wanted to be when we grew up, and while all the other girls in my class drew pictures of Dallas Cowboys cheerleaders, I drew a picture of Barbara Harrison, the local news anchor for Washington, DC. When it was my turn to share, everyone—including my teacher—laughed at me. I remember that moment so clearly, and I'm actually so grateful for it. It gave me the drive and determination to follow my dream.
F: You showed them! But you also do so many things besides that—you're even a partner in Chicago's RPM Italian Restaurant (52 W. Illinois St.). For people who want to check it out, what's an entree-drink pairing you recommend there?
G: My favorite drink of all time is made at RPM. It's called the G-Rizzle—it's tequila, ginger beer, and lime, and it is amazing! My favorite dish on the menu is Mama DePandi's Buccatini Pomodoro. It reminds me of my childhood. I would eat it every single day if I could.
F: Besides the food at RPM, what's your favorite Chicago indulgence that you can't get in LA?
G: The huge ice-cream sundae from
Allium
(120 E. Delaware Pl.) at the Four Seasons. It is unlike anything I have ever seen before. It has cotton candy on top!
F: Let's talk about some of your other local favorites. Who's your favorite hairstylist in Chicago?
G: I love Nicole Passolano at
Studio 110
(110 E. Delaware Pl.). She gives the best blowouts, and she's great with any hair length. She has seen me go from long to short and from blond to brunette over the years!
F: I've read that you love to shop on the Mag Mile. What's your favorite piece you've found there?
G: It's actually a gift that Bill gave me, my Cartier Love bracelet from Cartier on Michigan Avenue. It's so special to me. I wear it every day, and it reminds me of Chicago every time I wear it.
F: How about your favorite workout in the city?
G: Definitely taking long walks with Bill and Duke on the lakefront, starting at North Avenue Beach. There's nothing like the Chicago skyline! We also love taking long walks to the Lincoln Park Zoo.
F: It sounds like between walking and work, you're on the go a lot. What makeup items do you never leave the house without?
G: I never leave home without my
Catalina Su
lip liner and lip gloss,
Acqua di Parma
body cream, and
Vita Liberata
self-tanner.
F: I am definitely going to try that self-tanner. One last thing—on the rare occasion when you actually have time to relax, what's a spa treatment that really helps you unwind?
G: My favorite is a 90-minute full-body massage. Bill and I love doing couples massages in the same room together. It's nice to just turn off my phone and put it away for a few hours to de-stress.
Photo courtesy of Giuliana Rancic
BY: Favin the Maven
For me, both beauty and fashion need to be accessible and not intimidating. I love a great deal and a good DIY beauty treatment. I pride myself on trying new trends, being open minded and getting a great treatment without breaking the bank. In the name of beauty I will try anything once.